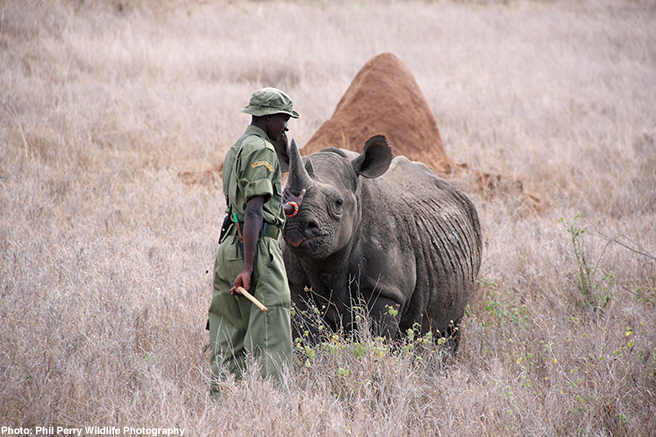 AWF's Andrea Athanas is currently attending the 39th Session of the UNESCO World Heritage Committee Meeting in Bonn, Germany.
Everyone in the chamber stood and the room fell silent—you could have heard a pin drop. 
The first morning's deliberations on the state of conservation of those UNESCO World Heritage sites listed as "in danger" was full of sad reports of African rangers losing their lives in defense of wildlife.
Recognized for their valor, these rangers paid the ultimate price protecting areas the world has recognized for their Outstanding Universal Value. So many of these brave men and women were cut down by poachers who arrived on the "battlefield" better armed and better equipped.
The struggle to defend Africa's World Heritage sites from violent aggressors is nothing new. Just last month, four park rangers came under attack in Virunga National Park—a designated World Heritage site since 1979. While three rangers emerged from the incident with injuries for which they are currently being treated, their fourth colleague was tragically killed. This death brings the park's total number of rangers lost in the line of duty to a staggering 140 in just the past few years..
Garamba National Park, another World Heritage site in Democratic Republic of Congo (DRC), also lost one of its courageous rangers a few weeks ago, as well as two soldiers accompanying the park unit. The attackers are suspected to be poachers from South Sudan, who, according to the park director, are increasingly relying on sophisticated equipment—like helicopters—to slaughter elephants for the sake of selling their ivory tusks.
The risk to rangers is not limited to run-ins with poachers, however.
In November, during a routine patrol of the Iyondji Community Bonobo Reserve—a newly established protected area in DRC—a nine-man patrol unit led by Pacha Lotango, a female ranger who graduated top of her class, came under attack. Pacha was badly beaten and remained unconscious for several hours before being evacuated to Kinshasa for treatment and recovery. The unit's attackers turned out to be villagers who were angry about one of their members being detained for illegally hunting in the reserve.
Poaching is a scourge on the continent of Africa. It gives back nothing and instead takes only lives. It empties our most treasured protected areas—Tanzania's Selous Game Reserve, Senegal's Niokolo-Koba National Park, Democratic Republic of Congo's Virunga National Park—of their most precious jewels.
Yet we owe tremendous gratitude to the heroic men and women who continue to put themselves on the front line of the fight against such a menace. Their work is invaluable, their bravery unquantifiable. The future of Africa's incredible natural heritage—from its iconic wildlife to its picture-perfect landscapes—depends on maintaining the integrity of the ecosystems in which flora and fauna thrive. The protection of these ecosystems rests squarely on the shoulders of park rangers and eco-guards.
Just last week, on her own request to the reserve warden, Pacha returned to the field. Her commitment to the cause—like the commitment of rangers across the continent—inspires us at AWF to continue doing our part, ensuring that these conservation heroes have the training, equipment and support they need. In the heat of Africa's poaching crisis they deserve nothing less.
Learn more about the ways AWF is enhancing the capacity of park rangers across Africa.
---
About the Author
Andrea Athanas is a Program Design Manager with the African Wildlife Foundation. She has experience building business practices for biodiversity conservation and advising companies such as Shell, Nestle Nespresso, and Rio Tinto on managing their environmental footprints. Her current portfolio focuses on bringing wildlife conservation into the transformation of African economies focusing on agriculture and energy and building partnerships in Europe for AWF.