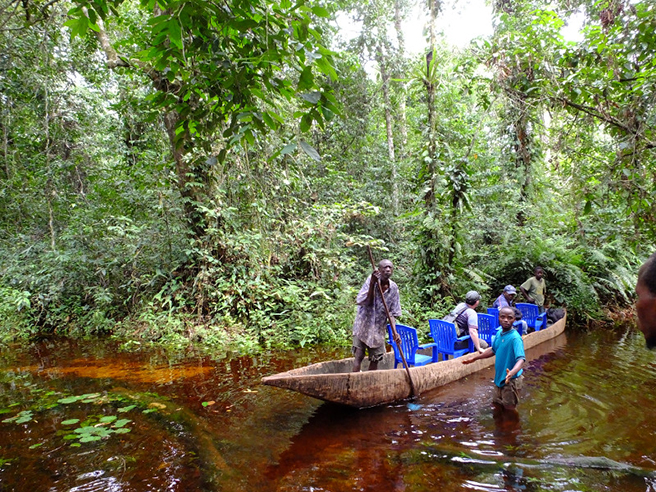 A Boat Ride Into the Congo
At the moment we are deep in the Nairobi Headquarters section of the project; we have almost another month here yet. Our work is an eclectic mix of different aspects of different projects, from having sessions with different people and having the chance to seek out particular activities that we want to work on.
Having the ability to ask anyone in an organisation that spans so many thematic areas almost anything I like is really great. I have learnt about a seemingly random range of topics, from how stock exchanges work to how tribes in the north of Kenya make decisions.
For the next few days I will be looking at the financial side of a boat in the Congo. This boat is part of the efforts there to improve the stability of farmers' incomes. One of the main obstacles to sustainable profitability, as far as the farmers are concerned, is access to markets. To get to the areas we are working in, you have to travel 14 hours by canoe and then 16 hours by motorbike from Kinshasa, the capital. This is the nearest suitable market for their produce and obviously transporting 2 tons of carrots there is nigh on impossible. The logic therefore was that if AWF could persuade some of the boat operators to come to this area, they could profit from lugging the produce back to the market. The problem, however, was that none of the boat operators believed there would be anything for them to transport once they arrived, weeks later, in the middle of the Congo Basin. In order to jump-start the system, AWF in collaboration with the U.S. Agency for International Development (or USAID) bought a boat and a barge (basically a large raft). The plan was to have a few profitable journeys and thus lure the other boat operators up to this area. Unfortunately, driving a boat into the Congo—à la "Heart of Darkness"—is almost exactly as simple as it sounds. I have been tasked with looking at the situation and assessing whether the entire carry-your-veg-to-market-along-a-river-through-an-enormous-forest-whilst-trying-not-to-crash-and-sink idea is a good one.
I have also been looking at a project in Samburu where they are working with local pastoralists to try and stop the various predatory animals from eating their livelihood. There are a number of angles to the plan. Firstly, they want to use the data to figure out where conservation action could prevent the most losses. Secondly, they want to investigate whether building secure bomas would be an effective way of stopping predation.
A Death-Defying Ride to Work
I think I should also write briefly about the Matatus. These are small buses driven by a strange people. As best I can figure, they have a mission to die in the most incredible and devastating manner possible. In order to achieve this, they fill aging busses with innocent people for a token payment and then attempt to crash spectacularly. The main thing seems to be to keep moving no matter what. Whilst roads are a useful way of achieving this, it's only coincidental if you see one actually driving on a road and even then you're lucky if they are going the right way. They prefer driving across roundabouts or on pavements as, bar the occasional bump as they go over someone, it's faster. Anyway, this is how I get to work.
This blog is from our Conservation Management Trainee series. Our trainees will be providing you with updates as they progress on their journeys with AWF. To follow them on their travels, read their blogs.
---
About the Author
Sam came to the AWF Conservation Management Training Program from London. He received a master's degree in conservation science and served as a research and development manager for Frontier —working on wildlife corridors, land-use plans, and large mammals. Sam spent his childhood exploring the woods in England and France, and he continues to pursue any opportunity to have an adventure.