Volcanoes National Park: a success story for Rwanda's communities and conservation
About the Author
Grace Wairima Ndungu is a former Senior Communications and Advocacy Officer at African Wildlife Foundation. She supported the implementation of internal and external communications strategies and helped strategize on ways to promote AWF's media and ... More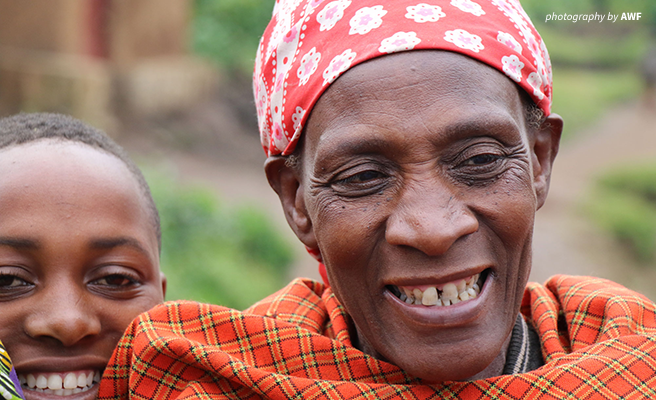 To most Rwandans, the Volcanoes National Park is evidence of beauty and source of tourism revenues to the national treasury. To the residents of the Kinigi sector, Musanze District—right at the edge of the national park —this park is "everything."
For Lorance Uwimana, a mother of three and the leader of the Social Affairs Bisoke Cell, Kinigi Sector, life would have been entirely different had it not been for the existence of Volcanoes National Park in her proximity.
Proximity to the park has created job opportunities for Lorance's family and improved the social welfare of her family and that of her neighbors. "This park has blessed us with stability and the best climate as compared to the rest of the country," said Lorance. "Needless to say, it is an important source of income. Our livelihoods as women in this community have improved greatly."
She adds that "The park has provided several of my neighbors with jobs such as porters, park rangers, and wardens — among others."
Much of the economic opportunities are a result of the rich biodiversity of Volcanoes National Park. Both the critically endangered mountain gorilla and the endangered golden monkey call this park home.
Mountain gorillas are found only in the Virunga Massif and in Uganda's Bwindi Impenetrable National Park. They represent one of the four great apes that live in Africa and are the only great ape increasing in population.
According to the 2010 census of mountain gorillas in the Virunga Massif, there were an estimated 880 individuals: 480 in the Virunga Massif and 400 in Bwindi. This represents an increase of 26.3 percent over the previous seven years or an average growth rate of 3.7 percent per annum.
In 2016, the Volcanoes National Park generated US$ 16.4 million from park entry fees, supporting employment, community engagement and empowerment, livelihood development, social services, and infrastructure development.
According to the Rwanda Development Board, over US$ 600,000 was distributed last year to more than 158 community-based projects through the revenue sharing program.
"We have seen many schools and health facilities being built, as well as roads rehabilitated through tourism revenue sharing scheme. We are truly fortunate to have this park in our area. says Lorance.
Volcanoes National Park was established in 1925. It is Africa's oldest national park and lies in northwestern Rwanda bordering Virunga National Park in the Democratic Republic of Congo and Mgahinga Gorilla National Park in Uganda, and straddles five of the eight volcanoes of the Virunga Massif — Karisimbi, Bisoke, Muhabura, Gahinga, and Sabyinyo — spanning 160km covered in rainforest and bamboo.