Tuesday, May 27, 2014

Hong Kong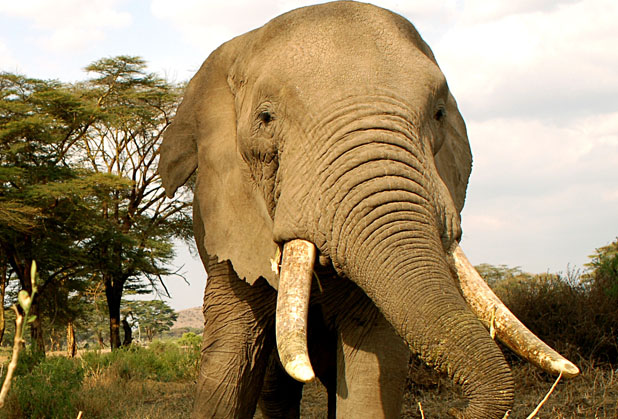 Yue Hwa Chinese Products Emporium has become the third Hong Kong retailer to announce it is no longer selling ivory, which AWF hopes will lessen the poaching and trafficking pressure on Africa's elephants. Photo by AWF.
Hong Kong's Yue Hwa Chinese Products Emporium Ltd. announced that it is no longer selling ivory products, according to a memo obtained by WildAid.
The statement follows similar announcements from fellow retailers Chinese Arts & Crafts (H.K.) Ltd (CAC) and Wing On Department Store earlier this year. Prior to these announcements CAC, Wing On, and Yue Hwa were Hong Kong's largest retailers of elephant ivory.
According to the memo, Yue Hwa stopped selling elephant ivory products as of May 7 this year. "Our ivory products have already been off the shelf, and Our Company is no longer selling ivory products since yesterday. Our Company realized the trend of protecting endangered species in the society; we respect and agree with the will of the general public to protect these animals."
"Hong Kong's three largest ivory retailers are leading by example and demonstrating the importance of stopping the trade in these products," said WildAid Executive Director Peter Knights. "We applaud Yue Hwa for taking this important step toward protecting elephants by reducing the bloody trade and thereby lessening poaching pressures in Africa."
Yue Hwa's decision followed public pleas to end the ivory trade in Hong Kong and came one week before the government began burning 29.6 tonnes of confiscated ivory on May 15. Hong Kong's ivory stockpile was originally 37.8 tonnes of which 6.5 tonnes has already been reportedly incinerated and crushed to test destruction methods and 1.7 tonnes was donated for CITES-permitted uses.
"Governments and citizens around the world are beginning to realize that ivory demand is leading to the decimation of elephants in Africa. Yue Hwa's decision to stop selling ivory is one more indication that the tide is beginning to turn. We hope that governments will supplement these actions with an ivory ban that will shut down the ivory market once and for all," said Dr. Patrick Bergin, CEO of African Wildlife Foundation.
"This is solid proof that government held ivory destruction events can effect positive change," said Hong Kong-based WildAid consultant Alex Hofford. "It's no coincidence that all three of Hong Kong's largest ivory retailers decided to remove ivory from their shelves in the final hours leading up to the Hong Kong ivory burn. We encourage the government to continue their great work by banning ivory sales permanently."
Member of the Hong Kong Special Administrative Region Legislative Council Elizabeth Quat said, "I am very pleased that Yue Hwa Chinese Products Emporium Ltd. can follow our advice. I am expecting more and more local, or even foreign companies to contribute to elephant conservation and stop all trading of ivory products as soon as possible. In addition, I expect that the Government to take a more active role in combating illegal ivory trade, as well as looking into the possibility of drafting new legislation prohibiting sales and trading of all ivory products. We need to allow our next generation to have real contact and interaction with these precious creatures, not just learning them from books or videos."
The General Manager of Yue Hwa Chinese Products Emporium Ltd, Mr. Yu Kwok-Chun, said, "Yue Hwa Chinese Products Emporium Ltd will always support the promotion of environmental protection and the protection of endangered animals. After receiving the call from the Hon Elizabeth Quat, we showed our support by taking immediately action to stop the sale of ivory products in our shops the very same afternoon."
In April 2013, former NBA star Yao Ming launched a campaign in China to reduce demand for ivory and rhino horn with WildAid, the African Wildlife Foundation, and Save the Elephants.
China's government has already taken positive steps by crushing more than 6 tonnes of seized ivory this past January and in 2013, China's State Forestry Administration appealed to travelers through SMS alerts not to purchase ivory or rhino horn. On February 27 of this year, China's top business leaders publicly pledged to never purchase, possess, or give ivory as a gift. WildAid China Chairman, Huang Nubo spearheaded the pledge, which included Cao Guowei, CEO of Sina Corp., China's largest internet portal, as well as 10 individuals from the Forbes 2013 China Rich List including Jack Ma, founder of the Alibaba Group. Then on March 4, Yao Ming and several fellow delegates delivered a petition during the Chinese People's Political Consultative Congress asking the government to ban sales of ivory.
Recent surveys indicate a large portion of China's population is unaware of the death toll to create ivory and rhino horn products, yet a greater number of residents support government enforced bans.