Friday, January 11, 2013

Nairobi, Kenya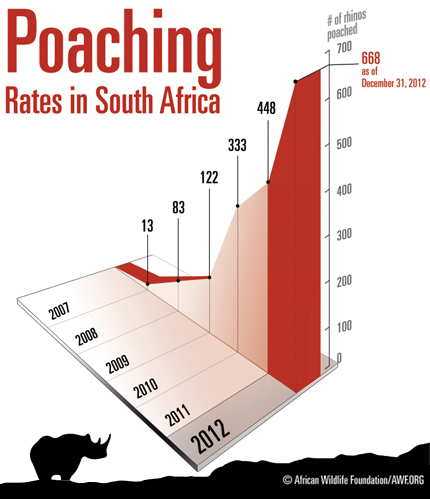 Total of 668 poached in South Africa in 2012, exceeding 448 poachings in 2011
NAIROBI, Kenya, January 11, 2013 -- An unprecedented number of rhinos--668 in total--were poached in 2012 in South Africa, according to final numbers released by South Africa's Department of Environmental Affairs on Thursday . This is a new poaching high, exceeding 2011's 448. Since the beginning of 2013, five of South Africa's rhinos have already been killed.
"As evidenced by the growing numbers, poachers are becoming increasingly sophisticated and militarized," said African Wildlife Foundation (AWF) CEO Patrick Bergin. "African Wildlife Foundation believes the challenge is not insurmountable, however. Governments around the globe are stepping up their anti-poaching efforts. The South African government, for example, achieved a record number of poacher arrests, at 267, and a number of African nations have announced or are considering moratoriums on wildlife hunting permits. African Wildlife Foundation, too, will continue with our ongoing anti--wildlife crime programs and introduce new initiatives to combat poaching."
In addition to AWF's work with legislators and prosecutors to institute harsher sanctions for wildlife crime and its ongoing work with wildlife scouts, AWF recently provided a $50,000 grant to Great Fish River Conservancy in South Africa to protect the critically endangered black rhino subspecies, which lives there.
# # #
About African Wildlife Foundation
Founded in 1961, the African Wildlife Foundation (AWF) is a leading conservation organization focused solely on the African continent. AWF's programs and conservation strategies are based on sound science and designed to protect both the wild lands and wildlife of Africa and ensure a more sustainable future for Africa's people. Since its inception, AWF has protected endangered species and land, promoted conservation enterprises that benefit local African communities, and trained hundreds of African nationals in conservation--all to ensure the survival of Africa's unparalleled wildlife heritage. AWF is a nonprofit organization headquartered in Kenya and registered as a 501(c)(3) in the United States. For more information, www.awf.org.
Contacts
African Wildlife Foundation (AWF)
John Butler
+1 202 939 3313
[email protected]