Friday, November 2, 2012

Nairobi, Kenya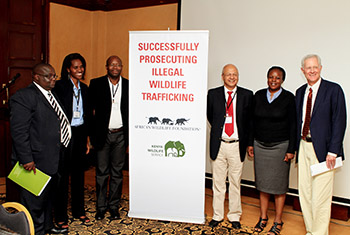 Successfully Prosecuting Illegal Wildlife Trafficking Luncheon. Photo by Noor Khamis
Strategies to Deter Crimes, Such as Poaching, Discussed at Judicial Luncheon Convened by African Wildlife Foundation and Kenya Wildlife Service
NAIROBI, Kenya, November 2, 2012 -- Top legal minds came together at a judicial discussion surrounding the need to enforce harsher penalties for wildlife-related crimes. Convened by African Wildlife Foundation (AWF) and Kenya Wildlife Service (KWS), the comprehensive discussion focused on the successful prosecution of illegal wildlife trafficking, with the goal of effecting more meaningful deterrents. The event was well attended by individuals from top law firms, as well as representatives from state law offices and the judiciary.
"Africa is experiencing an unparalleled surge in wildlife crime that seriously threatens the continued survival of key species and the associated benefits, such as tourism," said Helen Gichohi, president of African Wildlife Foundation.
The entry of organized crime syndicates into the illegal wildlife trade, most notably of rhino horn and elephant ivory, has created a crisis situation in many African countries. These syndicates have employed cutting-edge technologies and sophisticated methods to poach, then illegally traffic, wildlife parts off the continent, making wildlife protection difficult, dangerous, and expensive. The situation calls for a united approach that will not only facilitate the capture of those involved in wildlife crime, but also enhance prosecution of the illegal killing and trafficking of wildlife.
"Our wildlife authority counterparts across the continent have all increased their efforts to protect their wildlife. In some cases, however, the ability to arrest and successfully prosecute these criminals is not quite there," said William Kibet Kiprono, director, Kenya Wildlife Service.
More than 1,000 rhinoceros--an all-time high--have been poached in the last three years, and current poaching of elephants is documented to be the highest since the 1980s. The illegal poaching of wildlife for commercial purposes is also decimating many more species.
"As of the end of October, 488 rhinos have been slaughtered this year in South Africa," said Dr. Hector Magome, managing executive of the Conservation Service Division, South African National Parks. "However, increased arrests in South Africa demonstrate that as a country we have implemented some successful measures worthy of consideration by others."
During the lunch-time discussion, participants discussed current processes, identified successful strategies being used for prosecuting wildlife crimes, noted gaps that exist in the system, and developed a comprehensive response to enhance prosecution of poaching.
Participants came out of the meeting having agreed on some initial approaches for enhancing the prosecution of illegal wildlife crimes. Participants agreed to work together to:
Enhance awareness on the part of magistrates, legal professions, and the law enforcement community on the atrocity of illegal wildlife crime and their potentially crippling effects on national economies and national security;
More strictly enforce sanctions currently in place in Kenya's penal code;
Raise awareness of other legal avenues that may be applied to capture and prosecute wildlife crimes, such as organized crime legislation; and
Determine what additional measures should be incorporated into Kenya's new wildlife legislation.
"This luncheon allowed us to begin the critical discussion of how to close the loop on wildlife crime," said African Wildlife Foundation's Gichohi. "Many NGOs, wildlife authorities, governments, and others have been able to make strides in increasing on-the-ground protection of critical wildlife species, enhance cross-border security measures, and more. It's clear that those in the law enforcement and legal communities have been desiring more stringent prosecution and enforcement measures for some time, and this meeting has provided an important way forward."
# # #
About African Wildlife Foundation
Founded in 1961, the African Wildlife Foundation (AWF) is a leading conservation organization focused solely on the African continent. AWF's programs and conservation strategies are based on sound science and designed to protect both the wild lands and wildlife of Africa and ensure a more sustainable future for Africa's people. Since its inception, AWF has protected endangered species and land, promoted conservation enterprises that benefit local African communities, and trained hundreds of African nationals in conservation--all to ensure the survival of Africa's unparalleled wildlife heritage. AWF is a nonprofit organization headquartered in Kenya and registered as a 501(c)(3) in the United States. For more information, www.awf.org.
About Kenya Wildlife Service
The Kenya Wildlife Service (KWS) conserves and manages Kenya's wildlife for the Kenyan people and the world. It is a state corporation established by an Act of Parliament Cap 376 with the mandate to conserve and manage wildlife in Kenya, and to enforce related laws and regulations. To tackle the many issues confronting wildlife and biodiversity conservation in Kenya, KWS employs a multi-pronged approach, engaging different interest groups, stakeholders, and partners. For more information, visit www.kws.go.ke.
Contacts:
African Wildlife Foundation (AWF)
Beatrice Karanja
+254 0 735 632 811
John Butler
+1 202 939 3313
Kenya Wildlife Service (KWS)
Paul Udoto
Corporate Communications Manager
Mobile: +254 721 453 981
Office: +254 20 3992088