Thursday, April 30, 2015

Brazzaville, Congo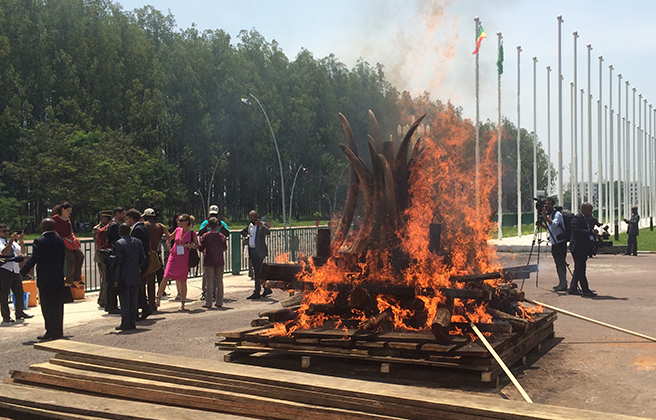 On Wednesday, His Excellency President Denis Sassou Nguesso of the Republic of Congo set fire to 5 tonnes of ivory, including this ceremonial pile at the Palas de Congrès. Photo credit: Daudi Sumba/African Wildlife Foundation
Today, April 30, concludes the four-day International Conference on Illegal Trade in Wild Fauna and Flora in Africa in Brazzaville, Republic of Congo.
The conference brought together regional and international stakeholders to develop an African-led strategy and action plan for combating the illegal trade in the continent's natural resources. The Action Plan calls on stakeholders to strengthen the institutional and legal framework for handling wildlife and environmental crimes; improve trade control and enforcement of national and international laws; and strengthen the capacity of national authorities to better manage Africa's protected area network, among other priorities. It also urges parties to look beyond protected area borders and adopt a large landscape-style approach to conserving wild fauna and flora.
"In the past, we have had various initiatives from New York to London to Kasane where illegal wildlife trade issues have been discussed," said African Wildlife Foundation's Daudi Sumba in his address to conference attendees at today's closing session. "A striking observation concerning these noble initiatives is that we have missed a strong and coordinated Africa-wide strategy that is developed, owned and implemented by Africans themselves. "
Please find a copy of Sumba's full statement below:  
STATEMENT BY THE AFRICAN WILDLIFE FOUNDATION'S DAUDI SUMBA AT THE CONFERENCE ON ILLEGAL EXPLOITATION AND ILLICIT TRADE IN AFRICAN WILDLIFE PRODUCTS
BRAZZAVILLE, CONGO, 27-30 APRIL 2015
Mr. Chairman, distinguished participants, ladies and gentlemen; all protocol observed:
I would like to thank His Excellency, President Nguesso, and the Republic of Congo for hosting this important meeting, and the African Union and the United Nations Environment Programme for organising the conference to develop a continent-wide strategy for combating the illegal exploitation of Africa's wild fauna and flora.
Mr. Chairman, this conference is a major milestone in the fight against illegal wildlife trade in Africa. In the past, we have had various initiatives starting from New York to London to Kasane where IWT issues have been discussed. A striking observation concerning these noble initiatives is that we have missed a strong and coordinated Africa-wide strategy that is developed, owned and implemented by Africans themselves. AWF is extremely delighted that this conference at last creates the roadmap for coordinated African response to the illegal wildlife trade.
Mr. Chairman, there is no question that the illegal wildlife trade is a global catastrophe with serious and long-lasting consequences, one that not only threatens the viability of magnificent ecosystems but also undermines economies along with peace and stability at the national and regional level. The many voices we have heard from over these past 4 days—from heads of state and government ministers, to representatives from African and non-African institutions, as well as members of the international community and private sector—underscore the scale of this crisis and the fact that the illegal trade in our natural resources has infiltrated and impacted all levels of society. It also underscores the commitment of parties to squarely address this crisis that is robbing Africa of her heritage, sabotaging our economies and threatening our peace, security and even health.
Mr. Chairman, given the catastrophic situation with the illegal wildlife trade, this strategy agreed in Brazzaville provides an important opportunity for Africa to move swiftly to action. We must muster strong political, financial and nationalistic commitment with all government parties to approve, adopt and fully implement the strategy that has been agreed in this conference. We must also develop a strong coordination and implementation mechanism within the framework of the African Union to oversee implementation of the strategy and ensure success.
AWF is an international organization working exclusively in Africa – our program focuses on 22 African countries. Our program to address the illegal wildlife trade works across Africa and in South-eastern Asia on three main themes: Stop the Killing; Stop the Trafficking and Stop the Demand. Our work spans from providing boots on the ground, improve local law enforcement; working with governments to detect and disrupt trade; and working in South Eastern Asia among consumers to raise awareness and educate them as we seek to reduce/curb ostentatious demand for wildlife products. We have created a $10 million Urgent Response Fund to rapidly deploy urgently needed resources to address illegal wildlife crime around key wildlife populations of Africa. This fund has enabled us to help improve all round protection of threatened and endangered species; improve enforcement of the law; train magistrates and judiciary officials in correct application of penalties; improve detection of illegal wildlife products at ports of exit using appropriate technologies such as canine dogs; and instituting awareness and education campaigns to sensitize people on consequences of the illegal wildlife trade. We are also engaging Asian business leaders through dialogue to steer investments in a manner that does not exacerbate the illegal wildlife trade.
Mr. Chairman, many of our countries are experiencing unprecedented economic growth and development, and setting a course for the future. It seems that wildlife and its habitats are being sacrificed for infrastructure and economic developments that rightly so seek to modernize Africa and lift its people out of poverty. This ought not to be so – it will be a tragedy to lose the special and magnificent species of Africa in this manner. At AWF we believe that it is possible for wildlife to exist in an Africa that is modern and economically developed. Therefore we must first and foremost value our natural resources enough to institute strong regulations and protective measures, and we must adopt a zero-tolerance approach toward those that seek to destroy our heritage.
Finally, AWF hopes that this strategy will not become a wasted opportunity. AWF looks forward to contributing to the execution of the strategy through continued partnership with African countries, the African Union and other parties including the international community. We also avail our expertise to the secretariat to help finalize and streamline the strategy that will be agreed in this conference.
I thank you all for your attention. Merci.