Monday, March 11, 2013

Nairobi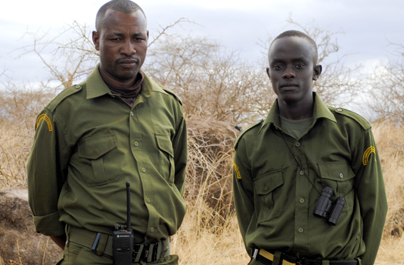 As the CITES conference ramps up this week, the African Wildlife Foundation supports scouts and communities on the front lines in the struggle against illegal wildlife trafficking. Photo credit: Amy Barriale
As the CITES conference ramps up, conservation NGO urges Africans to stand up for their natural heritage and join in the fight to end illegal wildlife trafficking
NAIROBI, Kenya, March 11, 2013 -- As the 16th Conference of the Parties (COP16) to the Convention on International Trade in Endangered Species (CITES)—the treaty that regulates the global trade of endangered wildlife and plants—enters its second week, the African Wildlife Foundation (AWF) calls on Africans to make a stand to save their natural heritage. Rampant poaching has ravaged the continent in recent years, and the ramifications of this illegal wildlife trafficking extend far and wide.
"Illegal wildlife trafficking destabilizes economies and jeopardizes national security for source countries and destination countries alike," said African Wildlife Foundation CEO Patrick Bergin. "As we've seen from recent events, vast populations of savanna and forest elephants are being wiped out across Africa just for their ivory, posing a grave risk to the species, local people, and their land."
CITES Secretary General John Scanlon recently announced that the elephant death toll for 2012 most likely surpassed the 25,000 African elephants poached in 2011. Last year also saw the poaching deaths of 668 rhinos in South Africa alone, where 93 percent of the continent's rhinos live; this year, approximately two rhinos are being killed each day, putting South Africa on a course to lose another 703 by the end of 2013. According to TRAFFIC, a wildlife trade monitoring network, these killings fuel an international criminal industry estimated by to be worth as much as $10 billion, the fourth-largest illicit industry after drugs, counterfeiting, and human trafficking.
"Halting illegal wildlife trafficking demands the leadership of Africans. We cannot let criminals intimidate our communities and steal our most precious natural resources," said Philip Muruthi, African Wildlife Foundation's senior director of conservation science. "If we don't hold our governments, law enforcement officials, wildlife authorities—and ourselves—responsible for ending the poaching that takes place in our midst and for stemming illegal wildlife trafficking, we risk losing a significant part of our natural heritage forever."
Already, international pressure ahead of the CITES conference has prompted host country Thailand to end its own legal ivory trade. The conference has provided an opportunity to bring illegal wildlife trafficking to the world's attention, but too often the focus remains on national law enforcement and international action. Although these high-level efforts are essential to ending illegal wildlife trafficking, they cannot succeed without corresponding initiatives on the ground.
AWF works throughout Africa to empower communities to better manage their natural resources. AWF helps people benefit from the wildlife in their backyards through community-owned lodges and other conservation enterprises, sustainable agriculture and husbandry programs, and employment opportunities as researchers and scouts. As a result of AWF's conservation initiatives, many communities have taken a proactive stance to protect wildlife from poachers and conserve land. Examples include:
Scouts on the front lines: In the heart of a critical elephant corridor in Zambia's Sekute Chiefdom, community scouts funded by AWF trailed suspected elephant poachers for a month and turned them in to the Zambia Wildlife Authority (ZAWA) after gathering enough information. Thanks to the scouts' initiative, ZAWA was able to arrest the poachers and recover 41 pieces of ivory from at least 21 adult elephants from Botswana and Zimbabwe. Such collaboration helps curb poaching at its source by sending poachers a message that communities are taking ownership of their natural resources.
Ex-poachers turn park protectors: In the 2,900-sq.-mi. Virunga Heartland, which harbors the world's remaining mountain gorillas in Democratic Republic of Congo (DRC), Rwanda, and Uganda, AWF works through the International Gorilla Conservation Programme (or IGCP, a coalition of AWF, WWF, and Fauna & Flora International), to support national park cleanings by an ex-poachers association. In the past few years, participation in park cleanings has grown from several hundred to more than 1,000 community members, who remove garbage, exotic plant species, snares, and other debris from mountain gorilla habitat.
Proactive community action: Thanks to a partnership between local communities and AWF, the DRC government formally recognized a new nature reserve in April 2012, granting a higher level of protection to a pristine forest block inhabited by endangered bonobos, forest elephants, and other species. The 1,100-sq.-km Iyondji Community Bonobo Reserve's gazettement resulted from the interest of local communities, who sought AWF's assistance after seeing the success of a nearby faunal reserve that AWF helped establish in 2006.
Community land use planning: In response to the alarming pace of land fragmentation and development in an area adjacent to Nairobi National Park, local pastoralists with AWF support launched a community-driven land use master plan. The first formal plan of its kind in Kenya, the land-use plan provides a sustainable, 20-year framework for wildlife dispersal and livestock grazing across 60,000 hectares of the Kitengela–Isinya–Kipeto area. Communities living near Amboseli National Park in southern Kenya and in the Regional Parc W Heartland in Benin, Niger, and Burkina Faso have also worked with AWF to designate distinct areas for wildlife and human activities, to protect wildlife by deploying scouts, and to engage in long-term land use planning, ensuring that their land can continue serving the needs of people and wildlife in the future.
Africans taking the lead in conservation: AWF is helping recent master's degree graduates jump-start their careers in conservation through the selective Conservation Management Training Program. Of the three members of the current class, two are native Africans: One is implementing a climate change and forestry program in Kenya's Mau Forest Complex; the other is executing community land and livestock management plans in northern Kenya. All three trainees will come away from this program armed with the knowledge and experience that will allow them to take leadership roles in African conservation.
"Solving a crisis rooted in staggering demand for wildlife parts like rhino horn and elephant ivory will require cooperation from the local to the international level," said Bergin. "Everyone's participation is necessary to save species under threat and to prevent illegal wildlife trafficking from compromising land health, economic well-being, and national security."
Both Bergin and Muruthi are representing AWF at CITES' ongoing COP16 in Bangkok, Thailand. Currently 177 countries are signatories to CITES.
# # #
About African Wildlife Foundation
Founded in 1961, the African Wildlife Foundation (AWF) is a leading conservation organization focused solely on the African continent. AWF's programs and conservation strategies are based on sound science and designed to protect both the wild lands and wildlife of Africa and ensure a more sustainable future for Africa's people. Since its inception, AWF has protected endangered species and land, promoted conservation enterprises that benefit local African communities, and trained hundreds of African nationals in conservation—all to ensure the survival of Africa's unparalleled wildlife heritage. AWF is a nonprofit organization headquartered in Kenya and registered as a 501(c)(3) in the United States. For more information, www.awf.org.
Contacts
John Butler
+1 202 939 3313
[email protected]
Mayu Mishina
+1 202 939 3324
[email protected]