Friday, June 24, 2011

Washington, D.C.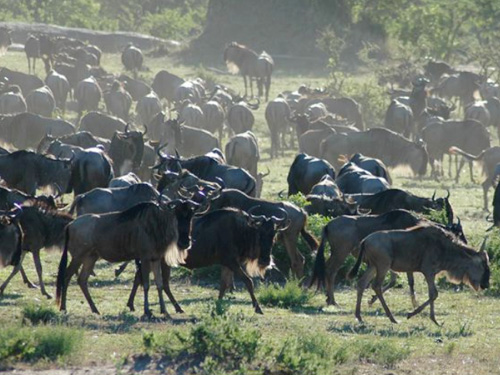 The Serengeti ecosystem is home to the great migration, the largest mass movement of land mammals on the planet. [Photo: Ann Keating Luskey]
CEO Outlines Possibilities for Positive Outcome in World-Renowned National Park Debate
ARUSHA, Tanzania, June 24, 2011 -- Some conservationists are declaring a partial victory today as the Government of Tanzania announced that it is not constructing the proposed tarmac road that would have dissected the Serengeti, affecting the migration habits of hundreds of thousands of wildebeest, antelope, and zebra. The African Wildlife Foundation (AWF) is pleased with the evolution, but stresses there are still many critical aspects of the ongoing development that need to be addressed.
"We believe that the most recent position statement from the Government of Tanzania provides the fundamentals of a formula that can resolve this dilemma between conservation and development," says AWF CEO Patrick Bergin. "However the details of implementation will be essential to its success."
"First, we hope the Government of Tanzania will confirm the decision to construct a tarmac highway along the southern route from Mugumu to Arusha for East-West access. Second, we hope Tanzania National Parks (TANAPA) will enforce all normal park rules for the unpaved section of the road in northern Serengeti including maintaining park gates, closing the road at sunset, charging park entry fees to all vehicles using the park road, and prohibiting commercial through traffic. If this southern road is built, and TANAPA follows its normal conservation practices on the gravel road, this new plan could represent a workable and acceptable outcome," Bergin reinforces.
Expressing its concern about the road last June in a formal letter to Tanzanian President Jakaya Kikwete, AWF acknowledged the need to balance good conservation planning with economic development. AWF respectfully requested that the Government reject the road proposal, and offered alternative route recommendations that would achieve similar commercial goals without degrading this treasured National Park.
In most countries around the world, poor planning and lack of vision and foresight have meant that significant wildlife populations have been lost to the forces of modernization. AWF firmly believes that with good planning, and a will to conserve, alternatives can be found that will meet human needs and aspirations while saving many of the most precious wild areas on the continent.
Contact: John Butler, +1 202 939 3333 or [email protected]
Read the letter from Government of Tanzania
Read AWF's Official Position Statement on the Proposed Highway and Alternative Routes (June 2010)
Support AWF's work on issues like ensuring roadways are developed to benefit both the people and wildlife of Africa.
If you have an opinion, please join the conversation on our Facebook Page