African youth lead the future of biodiversity conservation
African youth lead the future of biodiversity conservation
By David Onenchan | February 21, 2020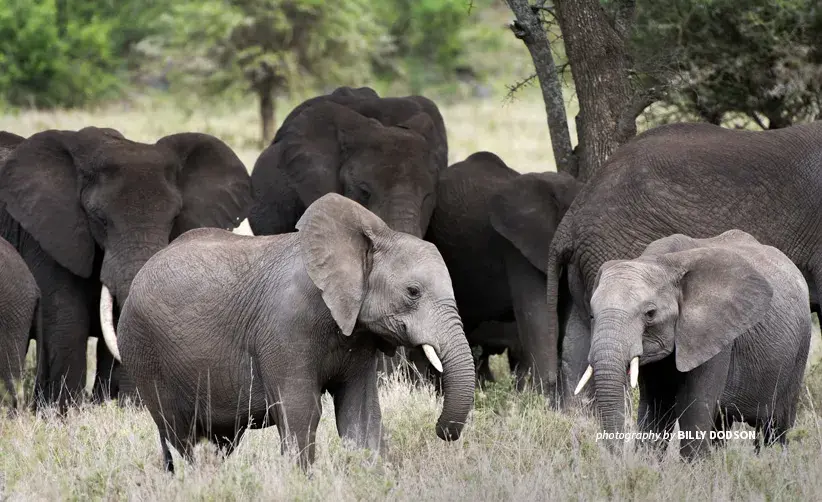 About the Author
David Onenchan was African Wildlife Foundation's Senior Manager, Youth Programs and Engagement. He joined AWF in 2019 with more than ten years' experience in managing different youth programs at various organizations, including Plan International, Save the Children, and the American R ... More
African Wildlife Foundation has valued the role of youth in wildlife conservation since its creation, establishing the College of African Wildlife Management in 1961. Of the hundreds of students trained at the institution in Mweka, Tanzania, many developed careers in conservation leadership as scientists, park managers, and rangers.
In the last decade, AWF embarked on a systematic youth engagement initiative aimed at strategically building ownership and stewardship of the global conservation agenda among African youth. We hosted the launch of the African Conservation Youth Council in Kenya in September 2018, after which we held an intensive training workshop of the Global Youth Biodiversity Network in November ahead of the U.N. Biodiversity Conference in Egypt. The following year, AWF provided technical support to the major youth group representing young Africans at the Fourth U.N. Environmental Assembly held in Nairobi, Kenya; in November, we facilitated the participation of 15 African youths from 10 countries at the Club of Rome Annual Summit in Stellenbosch, South Africa.
Why does AWF empower African youth? People between 18 and 35 years old are the largest population group on the continent, yet over 55 percent are unemployed. AWF acknowledges that the youth understand their needs better; that they are risk-takers who can provide innovative solutions to current global challenges including biodiversity conservation. Given that youth have been socially and politically excluded even though they bear the biggest burden of both current and future ecosystem degradation, we believe that engaging youth in conservation fulfills their right to participation and ensures the continued survival of Africa's magnificent natural resources and wildlife.
Inspiring African youth to make responsible choices for biodiversity
As African youth look for employment in the rapidly growing industrial and extractive sectors, there is a real risk that they will rise up the ranks destroying biodiversity. As we reckon with this harsh reality, the journey of AWF Technical Advisor Hensel Fopa comes to mind. The 30-year-old working with hard-to-reach communities in the Dja Faunal Reserve in Cameroon once worked at a logging company. "We were ready to devastate acres of forest just for a log," remembers Fopa. Crucially, he "decided to become more accountable toward nature," and embarked on a career in conservation.
Fopa's journey, passion, and commitment are indeed very inspiring. The difficulties he and all the other field teams go through every day to advance conservation is enormous. Fopa's previous involvement in logging and his current commitment to advance conservation attests to the reality that youth can be both destructive or constructive. The 2019 Ibrahim Forum Report indicates that over 60 percent of Africa's population is below age 25 and over one-third is between 15-34 years old. This demographic is expected to grow by 181.4 percent between 2019 and 2100. In fact, Africa's youth population is projected to be twice Europe's entire population in the next 80 years.
Just imagine how formidable this huge section of the population can be if it is mobilized into embodying conservation like Fopa. As African leaders of tomorrow, they will drive the shifts in policy, planning, and finance that conserve African biodiversity and reverse years of degradation.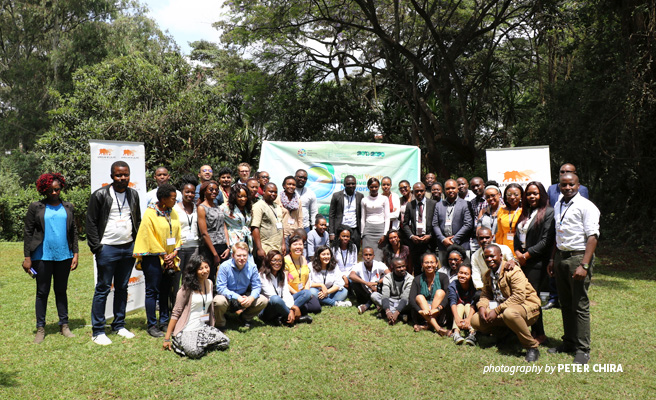 AWF facilitated the Global Youth Biodiversity Network Workshop in Nairobi
Collective youth action advances conservation
For youth to actively champion conservation, we need to leverage existing assets to improve their conservation knowledge, attitude, skills, and practices. It is also important to build a critical mass of empowered and inspired youth networks to advocate for conservation. At the same time, we must strengthen their connectedness to national, pan-African, and global networks, and coalitions to unify the youth voice advocating for conservation-centered policies.
Apart from pushing the systemic shifts needed to empower youth as decision-makers, we must nurture individuals by providing the knowledge and skills that inspire responsible conservation choices. AWF recognizes youth both as beneficiaries of conservation interventions and strong mutual partners for advancing the conservation agenda. AWF will continue to build the capacity of youth groups, networks, and youth-led community-based organizations, bearing in mind that African youth have their own unique voice. Our mission is to amplify, inspire, and connect those voices for biodiversity protection.
> Learn how a young Ugandan wildlife scout is growing her career in conservation