Monday, September 7, 2015

Naivasha, Kenya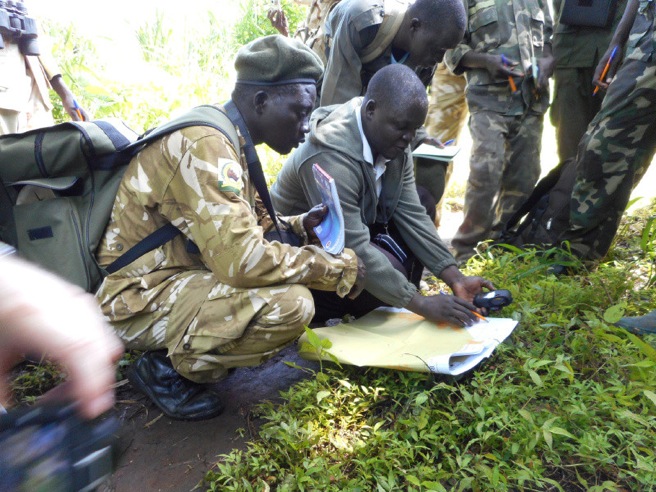 Wildlife rangers and forest guards undergo training in South Sudan. Photo credit: John Wani/African Wildlife Foundation
On Monday, law enforcement and wildlife officials from eight African countries joined African Wildlife Foundation (AWF), FREELAND Foundation and the International Fund for Animal Welfare (IFAW) to launch a new program aimed at increasing wildlife traffickers' risk of detection, arrest and conviction.
The program, called Africa's Regional Response to Endangered Species Trafficking, or ARREST, will sensitize members of the wildlife and law enforcement community to the scale of the global trade; improve application of available legal mechanisms to address organized wildlife crime; and provide the latest techniques and technologies for information collection, analysis, surveillance and criminal asset recovery. ARREST, which is sponsored by the US State Department Bureau of International Narcotics and Law Enforcement, is being launched on the first day of a week-long, wildlife trafficking training course in Naivasha.
"We are excited that KWS was chosen to host this ground-breaking international training," says Robert Muasya, the Kenya Wildlife Service Deputy Director Security. "This will no doubt enhance cross-border and regional collaboration in the fight against wildlife crime which has been on the increase in the region. The training accords the officers being trained a great opportunity to interact with colleagues whom they can always contact in future when pursuing cross-border wildlife criminal gangs."
Law enforcement representatives from Ethiopia, Kenya, Mozambique, Republic of Congo, South Africa, Tanzania, Uganda and Zambia are attending the training, alongside representatives from the Lusaka Agreement Task Force, INTERPOL the United Nations, and the U.S. government. Investigative teams established under ARREST in Africa will engage with investigative teams under a similar ARREST program in Asia—supported by the U.S. government—in an effort to jointly disrupt the illicit wildlife trade. 
Training materials and curricula developed by FREELAND Foundation for front-line personnel in Asia have been adapted to the African context and will provide senior law enforcement investigators with the skills needed to conduct major trans-boundary investigations into criminal organizations. Competency-based training will also be provided to mid- and senior-level officials, including police, customs and prosecutors, who can use the materials to also enhance the capacity of their home agencies.  
"With global criminal syndicates moving wildlife efficiently along the supply chain from poaching fields in Africa to markets in Asia, we have designed a program that will unite African and Asian law enforcement and conservationists to stop them," says Steve Galster, founder and executive director of FREELAND Foundation.
African Wildlife Foundation (AWF), through its Urgent Response Fund, has invested heavily in anti-poaching and anti-trafficking initiatives, including a new Conservation Canine Programme that trains canine detection units to monitor and patrol seaports, airports and other major chokepoints through which wildlife products are trafficked. In addition, prosecutorial and judicial training based on a review of existing policies and legal reviews will help lead to more consistent and deterrent sentencing of convicted wildlife traffickers.
"We need to not only increase the level of law enforcement and detection but also to be innovative in order to stay ahead of the criminals who are taking away our valuable heritage," says Dr. Philip Muruthi, African Wildlife Foundation's vice president of species protection. "The economic value of Africa's wildlife can only be realized with initiatives like this being driven from within Africa while collaborating with our global partners."
Since 2007, IFAW has held more than 76 training workshops on the prevention of wildlife trafficking where more than 2,600 officers from 37 countries in Africa, the Middle East, Asia, Oceania, and the Caribbean have been trained. Trainings have been held in collaboration with national institutions in the respective countries and other organizations including Interpol, Lusaka Agreement Task Force (LATF) and national wildlife and conservation institutions in Ethiopia, Kenya, Uganda, Djibouti and Tanzania at the Horn of Africa.
Says IFAW Program Director for Wildlife Trade Kelvin Alie: "Given the prevailing levels of wildlife crime in the world, there is a need to improve the capacity for collaboration amongst law enforcement agencies through information sharing. Fighting wildlife crime requires concerted efforts involving pooling financial, human and information resources. We must share intelligence because this is one of the most critical prerequisites to effectively fight the ever-increasing sophistication in wildlife crime."  
The ARREST program will build on existing regional initiatives to combat trans-boundary wildlife crime, according to the Lusaka Agreement Task Force (LATF), an inter-governmental organization established in 1996.
"The collaboration through such an initiative demonstrates our collective effort as partners in bolstering capacities of our law enforcement officers and prosecutors, which is critical in combating illegal exploitation of wild fauna and flora in Africa," says LATF Director Bonaventure Ebayi.