AWF at the Africa Climate Summit: Day Three Highlights
By Mike Seay | September 6, 2023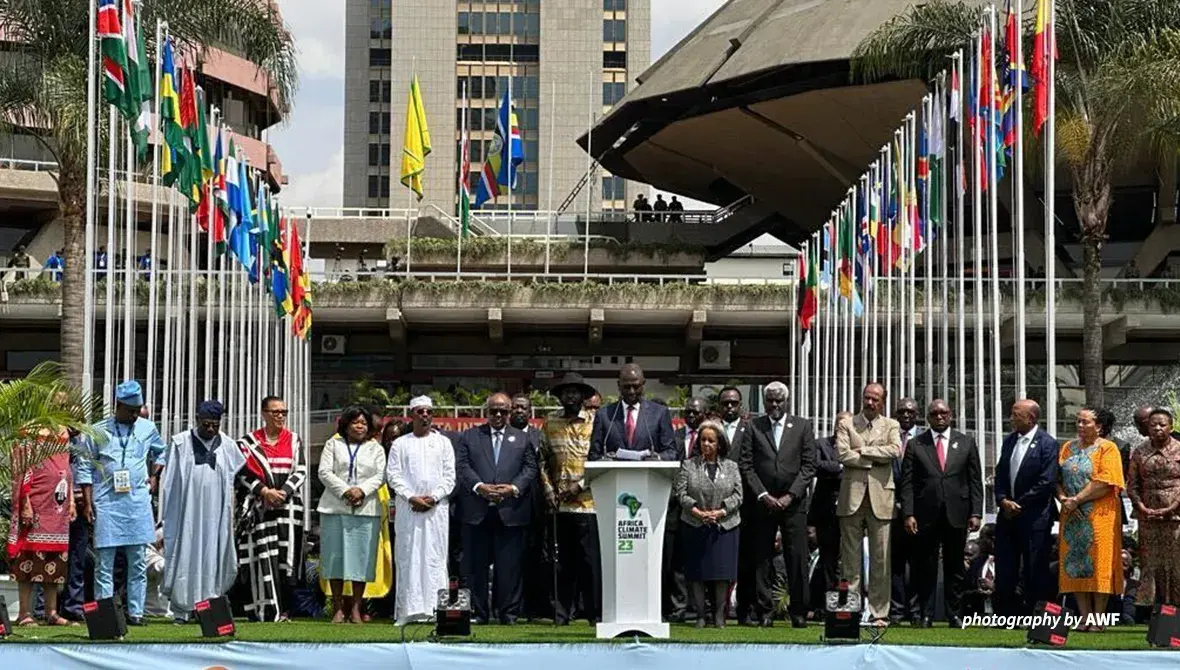 About the Author
Mike Seay is AWF's Digital Marketing Officer. Mike strives to advocate for conservation as he writes, edits, and strategizes for AWF's advocacy campaigns, e-newsletters, marketing initiatives, and website. After graduating with a B.A. in Political Philosophy, Policy, and Law from&n ... More
On the final day of the Africa Climate Summit, African Heads of State and Government unanimously adopted the Nairobi Declaration, a landmark document that will be brought forward to the United Nations General Assembly and will form the basis of Africa's agenda at COP28.
Kenya's President H.E. William Ruto asserted that the declaration sets the stage for a new phase in the global climate and socioeconomic agenda.
"Africa is the future of the world," he said, hailing African solutions as not just appropriate for Africa, but necessary for the whole world.
Among its key messages, the declaration signatories commit to make policy that attracts investment in green growth and inclusive economies; strengthen actions to halt and reverse biodiversity loss, deforestation, and desertification; restore degraded lands; focus economic development plans on climate-positive growth, including expansion of just energy transitions and renewable energy generation for industrial activity, climate-aware and restorative agricultural practices, and essential protection and enhancement of nature and biodiversity; and many other commitments.
Among other demands, the declaration calls for collective global action to mobilize the necessary capital for both development and climate action. It invites development partners everywhere to align and coordinate their technical and financial resources directed toward Africa, boosting the sustainable use of Africa's natural assets.
>>Read: Youth perspectives on the climate summit
Before the declaration was brought forward, the morning plenary covered a summary of the summit so far and a pathway from Nairobi to COP28 and beyond.
Elizabeth Wathuti, the lead coordinator of the Africa Youth Climate Assembly, proclaimed that young people should be systematically embedded in climate decision-making. She carried the message from her peers that young people are not watching from the sidelines—they are innovators and actors who are shaping the continent and driving solutions at the local, regional, and global levels.
Dr. Priscilla Achakpa of the Women Environmental Programme corrected the narrative that women are helpless victims just because they are disproportionately impacted by climate change. In truth, women are leaders who can make a change for climate action. She championed a range of bold solutions, calling on the Global North to end fossil fuel use, contribute their fair share of funding, and expand financial solutions beyond market-based and debt-based finance.
Selwin Hart, Special Advisor to the UNSG on Climate Action, said that the world cannot continue "business as usual." Africa's priority is a just and equitable transition, which requires global enabling conditions like affordable finance at scale, fair trading arrangements, debt relief, tech access, and reform of the international financial architecture.