AWF at the Africa Climate Summit: Day Two Highlights
By Mike Seay | September 5, 2023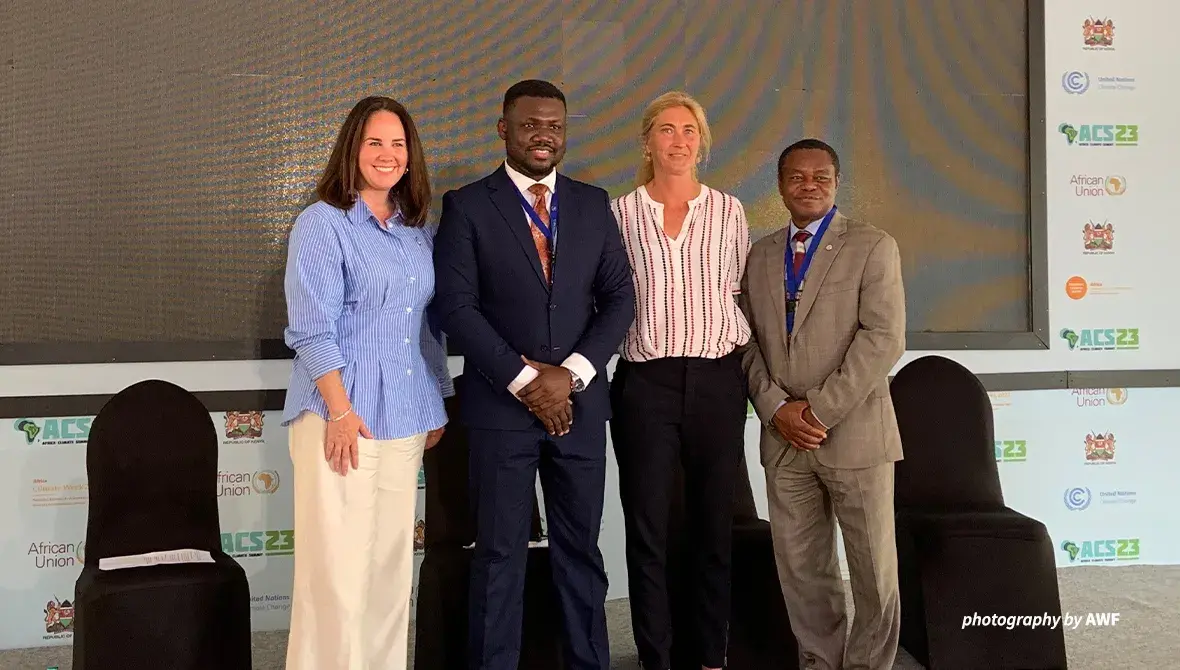 About the Author
Mike Seay is AWF's Digital Marketing Officer. Mike strives to advocate for conservation as he writes, edits, and strategizes for AWF's advocacy campaigns, e-newsletters, marketing initiatives, and website. After graduating with a B.A. in Political Philosophy, Policy, and Law from&n ... More
On the second day of the Africa Climate Summit, Frederick Kwame Kumah, AWF Vice President of Global Leadership, joined the Clean Cooking Alliance for a panel discussion on "Unlocking the Value of Clean Cooking for Nature." Panelists expressed their enthusiasm for strengthening partnerships across sectors and meeting local communities where they are. 
In the spirit of such transformative network-building, the event was centered on the announcement of the African Conservation and Clean Cooking Collective, a partnership of leading conservation, clean cooking, and financial institutions, including the Clean Cooking Alliance, Mwangaza Light the African Wildlife Foundation, and the African Development Bank. 
Two-thirds of Africans today depend on biomass like wood and charcoal for cooking their food. Inefficient stoves are harmful to the health of household members, especially women, as well as contributing to deforestation and biodiversity loss. The panel affirmed that to meet global climate goals and empower the prosperity of local communities, we must facilitate the transition to clean cooking energy in a way that is context-specific to each community.
"For a while, we thought the biggest threat to conservation was poaching, but we now know it's habitat loss," said Frederick Kwame Kumah. "The use of biomass has a significant impact on our biodiversity, and it is a priority for us to look at what is impacting the degradation of land as well as habitat loss. It impacts people. We have a responsibility to improve the health of people and take pressure off the landscapes."
Our round-up of key messages
AWF delegates highlighted takeaways from other main and side events that put forward compelling solutions for Africa and the world.
At the opening of the day, heads of state and government gave their national statements in the lead-up to tomorrow's Nairobi Declaration. President William Ruto of Kenya called to shift the narrative from Africa as a victim to looking at climate with an opportunity lens. President Paul Kagame of Rwanda stressed the need to secure climate and nature finance for Rwanda. Furthermore, UN Secretary-General António Guterres advocated that we center justice in all climate discussions. 
In another session, United Nations Kenya hosted an insightful dialogue on sustainable investment, consumption, and production, with key contributions and commitments from development partners and the private sector. Speakers were adamant about the high cost of inaction on food systems, stressing the need to leverage what we have to create sustainable solutions that take on a whole-of-society approach. Among the panelists, Carole Kariuki of the Kenya Private Sector Alliance emphasized the need to adopt a circular economy that is resilient and inclusive.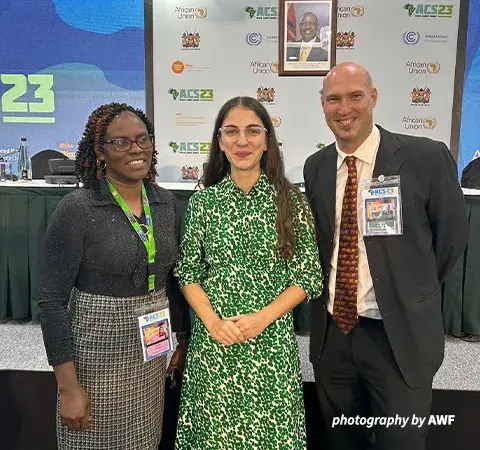 At the Presidential Panel on Nature, the African Natural Capital Alliance launched the "Nature Voices Pledge," an initiative that brings together its members to support conservation and restoration efforts, integrate nature into their decision-making, and promote sustainable financing solutions. Its members include major financial institutions with collective assets of US$390 billion, governmental organizations, the African Wildlife Foundation, and other civil society organizations. The cross-sector commitments embodied in this pledge represent a critical step to realizing nature's potential for Africa. 
At the same panel, Romina Pourmokhtari, Sweden's Minister of the Environment, announced a four-year partnership with AWF to ensure ecological integrity, connectivity, and resilience of the ecosystems in Kenya's Southern landscapes. Alongside the Land Development and Governance Institute of Kenya and the Indigenous Livelihoods Enhancement Partners as well, the partnership will support community and biodiversity resilience against climate change. 
Throughout the talks, Africans showed up as architects and co-creators in climate and development agendas and beyond. The spirit of sharing knowledge and resources, building networks, and taking collective action was palpable, generating powerful momentum ahead of tomorrow's Nairobi Declaration. 
Watch: A Message for Africa Climate Week
Eileen Kairu and Wambui Odhiambo contributed to this article.