Tuesday, September 27, 2011

Washington, D.C.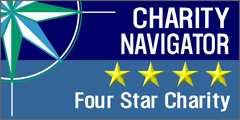 Fewer than 1% of Charities Receive This Exceptional Designation
WASHINGTON, D.C. September 27, 2011 -- African Wildlife Foundation (AWF) proudly announces that it has received the coveted 4-star rating from Charity Navigator for an almost unheard of 10th year in a row.
Fewer than 1 percent of charities rated by Charity Navigator have received at least 10 consecutive 4-star evaluations, indicating that AWF consistently executes its mission in a fiscally responsible way and outperforms most other charities in America. Charity Navigator is America's largest independent evaluator of charities.
AWF received four out of four possible stars, recognizing the organization's sound fiscal management, its adherence to good governance, and its commitment to accountability and transparency.
"This 'exceptional' designation from Charity Navigator differentiates African Wildlife Foundation from its peers and demonstrates to the public it is worthy of their trust," said Ken Berger, Charity Navigator's president and CEO.
"Donors today want to know that their hard-earned dollars are being used wisely," said Patrick Bergin, CEO of AWF. "African Wildlife Foundation has always made sure that our donors' contributions are used wisely, to help achieve our organization mission, and we are proud that this has been verified independently by Charity Navigator. In this competitive philanthropic marketplace, we are privileged to have earned the trust and loyalty of all of our donors."
Visit AWF's Charity Navigator profile.
Read Ken Berger's letter to AWF announcing it's 4-star rating.