Wednesday, October 10, 2018

London, U.K.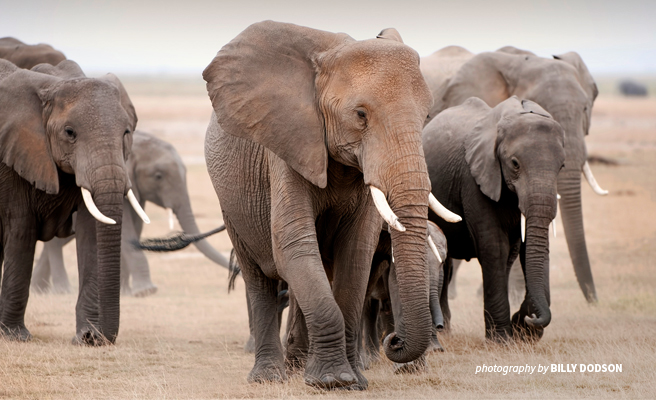 "Evidence from our work shows that we can win this war." — AWF President Kaddu Sebunya
The African Wildlife Foundation (AWF) is doubling down on our commitment to support African governments and local communities to fight the threat of poaching.
Speaking in London ahead of the Illegal Wildlife Trade conference (October 11 and 12), Mr. Sebunya said poaching and illegal trade in wildlife products posed an acute threat to Africa's rich heritage and future development.
"We need more resources and new alliances to combat this threat. Soaring demand for illegal wildlife products is emptying forests and savannahs of key species, undermining efforts to put in place good governance and sustainable development. This conference is a good starting point for strengthening partnerships across borders," he said.
Mr. Sebunya said while the international efforts to disrupt markets in illegal wildlife products, such as the Ivory Alliance being launched by the U.K. Government this week are critical, the IWT agenda in Africa must be led — and owned — by Africans.
"The trade routes trace back to decisions taken on the ground and while we are focusing this week on the commodities traded from dead wildlife, our interest is in seeing the living species remain part of modern Africa. We know from our work that leadership at every level — from the families living in wildlife-rich areas to the heads of state — is an essential ingredient," Mr.Sebunya said.
Since 2014, AWF has invested $13.1 million to counter IWT in Africa, and implemented a further $5.5 million with our public-sector partners. This $18.6 million has been used to directly support anti-poaching efforts on the ground, strengthen prosecutorial and judicial processes, place sniffer dogs in critical transit points, and campaign to stop demand in Asia.
The investment is working. Ten out of the 14 populations of elephants our funding has targeted are stable or increasing. All rhino populations and 7 out of 9 carnivore populations we support are stable or increasing. Prosecutors are building stronger cases and judges are delivering stronger sentences for wildlife crimes. The dogs have registered over 250 finds and counting.
"If we can keep wildlife safe from poachers, make wildlife products difficult to move around, actively involve key local players, and dampen demand for wildlife products, then Africa's magnificent animals have a fighting chance," said Dr. Philip Muruthi, AWF Chief Scientist.