Friday, September 7, 2018

Beijing, China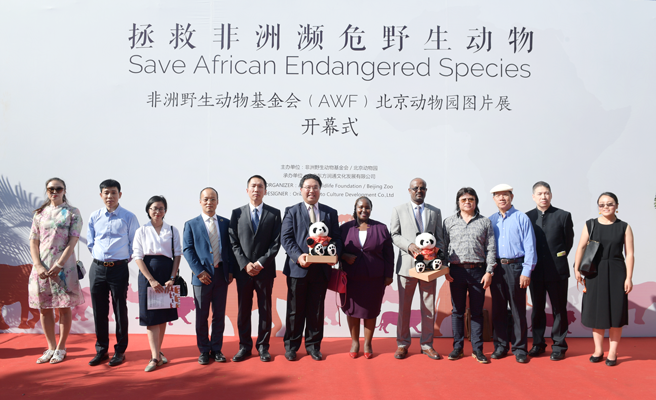 The African Wildlife Foundation (AWF) in partnership with the Beijing Zoo launched the exhibition Save African Endangered Species on September 7, 2018.
The exhibition was officially opened by the Director of Beijing Zoo, Mr Xiaoguang Li and AWF Trustee Gordon Cheng. It will run for two months up to November 7, 2018.
Mr Li said the exhibition will enhance visitor experience at the zoo and help to raise public awareness on the state of Africa's endangered species.
Mr Cheng said the exhibition was part of AWF's goal to build a global coalition to protect African wildlife and wild lands for posterity. He said China was an important player in Africa's socio-economic development and the partnership signifies the need for genuine efforts to ensure sustainable conservation of wildlife and wild lands in a modernizing Africa.
"AWF has been working with Chinese government and institutions to combat illegal trade in wildlife products since 2012. We believe China's leadership is important in the fight against poaching and illegal wildlife trade that are decimating elephants, rhinos and lions, among other iconic species," Mr Cheng said.
AWF is the primary advocate for the protection of wildlife and wildlands as an essential part of a modern and prosperous Africa. Founded in 1961 to focus on Africa's unique conservation needs, AWF articulates a uniquely African vision bridging science and public policy, and demonstrating the benefits of conservation to ensure the survival of the continent's wildlife and wildlands.
AWF signed a Memorandum of Understanding with the Beijing Zoo to build a broader coalition for conservation in Africa on January 22, 2018. The signing came barely a month after China banned trade in ivory, underscoring the country's critical importance to the protection of Africa's natural capital.
To schedule an interview with Mr Gordon Cheng, please contact:
Jia Qiao
Advocacy Officer, China
African Wildlife Foundation
[email protected]
Tel: +86 187-5714-9102