AWF Hosts the First-Ever National African Lion Survey Training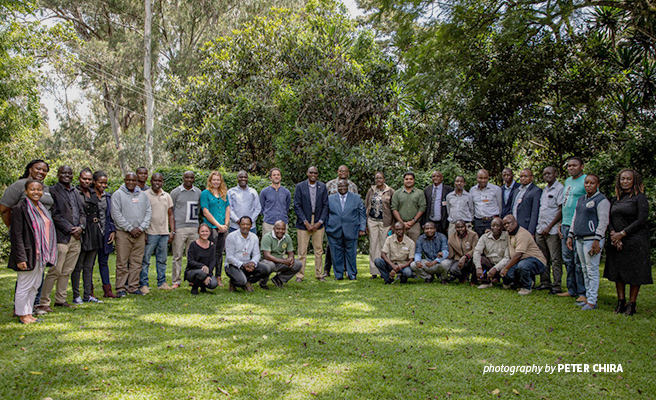 Conservation organizations across Kenya have convened for a week-long National Lion Survey Training at the African Wildlife Foundation headquarters. This first-of-a-kind training held from February 8-11, 2020 has attracted several participants from different regions of Kenya. The participating organizations include the Kenya Wildlife Service, Wildlife Works, Tsavo Trust, Ewaso Lions, Born Free, University of Nairobi, Wildlife Conservation Society, Kenya Wildlife Trust, and Ol Pejeta Conservancy. Being the first-ever national lion census being conducted in Africa, it breaks ground for African leadership in conservation. The fundamental goal of the training is to have a solid foundational understanding of all aspects of the ongoing Spatially Explicit Capture-Recapture (SECR) surveys under the KWS National Lion Survey. Additionally, it has focused on equipping the participants with the technical know-how to conduct this unprecedented national lion census. According to KWS, Kenya loses 100 lions per year and there is a need to call for new ways to stop the declining carnivore numbers.
"Last year, AWF partly funded the lion survey in the Tsavo Conservation Area and we are glad that the training is a stepping stone to the development and implementation of the National Lion Action and Recovery Plan. As AWF ushers in its new 10-year strategy, we acknowledge the need to identify the declining trends in order to mitigate before it is too late," said AWF CEO Kaddu Sebunya.
Kenya has estimated the population of lions to be 1,970 in the country. Although very few landscapes conducted a census of their large carnivores, this figure was mainly derived from experts working in the various lion-rich landscapes in the country. This redundant figure triggered the need for the national lion census in order to come up with an indisputable number.
The participants are expected to go back to their landscapes and conduct a census of the large carnivore using the CyberTracker software and the various best practice methods taught at the workshop. With the new software, the trainees can store, analyze, and interpret data to produce more accurate numbers.
"The software should be made adaptable to the Kenyan situation. This is to ensure that the census is conducted on a routine basis in order to manage data of the population of large carnivores," said Dr. Patrick Omondi, KWS Acting Director for Biodiversity.
There is a need to determine the new population due to the large carnivore natality and mortality rates recorded in 2019. These numbers are very important in planning development in the country an will go a long way in ensuring that the conservation models used in Kenya are working.
"The most important outcome of this survey is to accurately get the numbers of lions and large carnivores. Numbers are basic towards achieving conservation goals," said Dr. Arjun Gopalaswamy, one of the workshop trainers who works as a Wildlife and Statistical Ecologist in India.