Monday, September 26, 2011

Nairobi, Kenya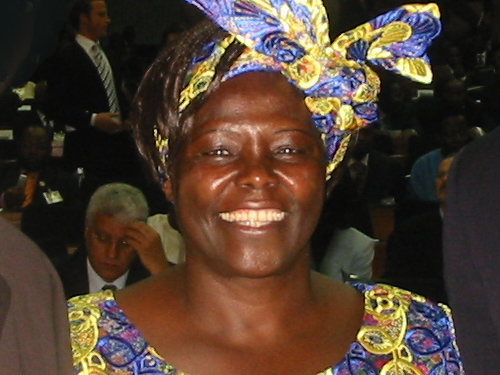 Environmental 'Warrior' Inspired Many Through Her Commitment to Equitable Development, Environmental Sustainability
NAIROBI, Kenya, September 26, 2011 -- The African Wildlife Foundation mourns the passing of Nobel laureate and Kenyan conservationist Wangari Maathai.
Maathai, the first African woman and environmentalist to receive the Nobel peace prize, is the founder of the Green Belt Movement, a grassroots organization that approached the issue of environmental conservation through improving people's livelihoods. She was also a women's rights activist and former member of Parliament.
In accepting the Nobel peace prize in 2004, Maathai said, "There can be no peace without equitable development and there can be no development without sustainable management of the environment in a democratic and peaceful space." Today, AWF's conservation efforts throughout the continent of Africa reflect her philosophy, as AWF works in partnership with communities and governments to ensure smart, sustainable development that benefits both people and wildlife.
"Professor Wangari Maathai can only be described as a warrior for the environment, an icon of the movement, and a truly inspiring leader," said Helen Gichohi, who hailed from the same region as Maathai. "As a woman, she achieved this against great odds. Her deep commitment and belief in doing what was right for the environment was unmatched. I mourn the loss of a role model who I was fortunate to interact with on many occasions, but her spirit and legacy will continue to inspire and the world is a much better place because of her."
AWF extends its deepest sympathies to Dr. Maathai's family.
# # #
About African Wildlife Foundation
For more than 50 years, the African Wildlife Foundation (AWF) has worked as a leading conservation organization focused solely on the African continent. AWF's programs and conservation strategies are based on sound science and designed to protect both the wild lands and wildlife of Africa and ensure a more sustainable future for Africa's people. Since its inception, AWF has protected endangered species and land, promoted partnerships with the private sector for conservation tourism to benefit local African communities as a means to improve livelihoods, and trained hundreds of African nationals in conservation--all to ensure the survival of Africa's unparalleled wildlife heritage. AWF is a nonprofit organization headquartered in Kenya and registered as a 501(c)(3) in the United States.