Friday, December 19, 2014

Nairobi, Kenya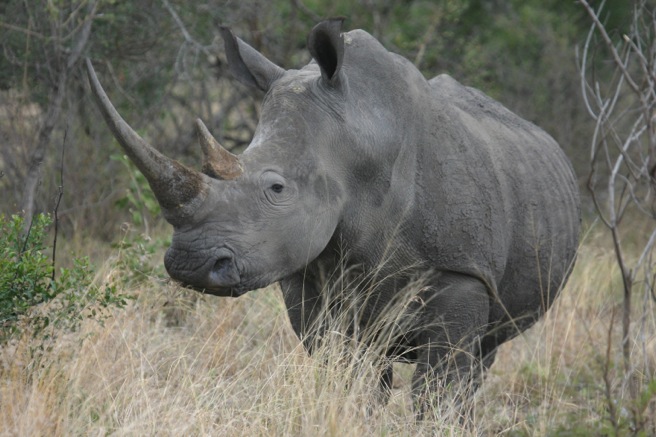 A southern white rhino. Less than 20,000 remain in Africa. Photo credit: Craig R. Sholley
On Sunday, a northern white rhino named Angalifu died at the San Diego Zoo in California, nudging the African rhino subspecies closer to extinction.
Only five northern whites remain in the world and all have surpassed their breeding age, leaving the fate of the species in the hands of artificial reproductive techniques. Even as it mourns the loss of Angalifu, African Wildlife Foundation (AWF) is urgently responding to the threats faced by its African cousin, the southern white rhino, which is plagued by commercial poaching and demand in Asia for rhino horn.
"The southern white rhino came close to the same fate more than a century ago," says Dr. Philip Muruthi, African Wildlife Foundation senior director of conservation science. There were fewer than 50 southern whites at the turn of the 20th century as a result of overhunting and overexploitation, explains Muruthi.
"Only through the determined, unrelenting efforts of the South African government and the conservation community were the southern whites able to recover," Muruthi says. "It shows that we can bring a species back from the brink of extinction if we apply enough resolve and resources. We've been there before and we don't intend to go back there again."
AWF has launched a US $10 million Urgent Response Fund to combat poaching, the trafficking of wildlife derivatives and the demand for rhino horn and ivory products abroad, particularly in Asia. The Fund is already supporting a number of initiatives, including:
Anti-poaching patrols across sub-Saharan Africa, including in Kenya, Tanzania, Zambia, South Africa, Cameroon and the Democratic Republic of Congo (DRC).

Support for the upkeep and continued maintenance of sanctuaries with key rhino populations.

Underwriting the purchase of a helicopter to perform day and night aerial patrols in a game reserve alongside South Africa's Kruger National Park.

Training of sniffer dogs to detect contraband wildlife products such as rhino horn and ivory. Dog teams will be installed at key ports in Kenya, Tanzania, Ethiopia and DRC.

With partners, production of celebrity public service announcements (PSAs) designed to raise awareness in Asia about the poaching crisis and curb demand for wildlife products such as rhino horn and ivory. 
---
Support through AWF's Urgent Response Fund has already yielded positive results. A plot to kill rhinos and other wildlife with poisoned cabbages at South Africa's Sabi Sand Game Reserve was foiled when rangers on patrol in a helicopter AWF helped to fund spotted the cabbages from the air and were able to remove them quickly.
"The reserve has seen a spike in poaching related to incursions and incidences over the past two months as poachers have definitely upped the ante," says Sabi Sand Wildtuin Warden David Powrie. "However, due to the hard work and dedication of our rangers and the support of the helicopter, we have been able to avert their attempts during the last month. We are extremely grateful to have the helicopter in place to respond to the escalating threat."
AWF's support of another reserve in South Africa that is home to a critical population of rhino has helped to increase net patrol coverage by 150 percent. Patrols on foot as well as via motorcycles and an airplane have helped to strengthen protection across the reserve, much of which is rugged terrain.