Friday, November 9, 2012

Washington, D.C.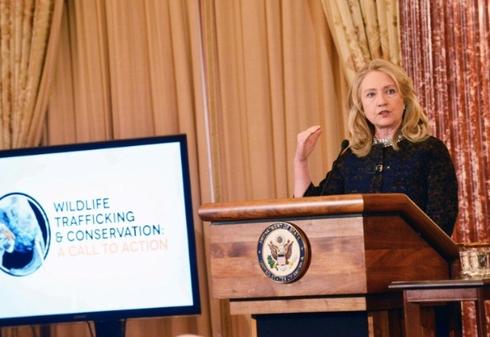 Hillary Clinton at the U.S. State Department Wildlife Trafficking partnership meeting in November 2012
Wildlife Trafficking a 'Global Challenge That Spans Continents and Crosses Oceans,' Says Secretary Clinton
WASHINGTON, November 9, 2012-- In a critical move for African conservation, Secretary of State Hillary Rodham Clinton announced yesterday that the U.S. State Department would add wildlife trafficking to its foreign policy agenda and pursue a four-part strategy to protect wildlife in their environments and dry up the demand for trafficked goods.
African Wildlife Foundation (AWF) commends the Secretary for initiating this process and engaging international partners.
The four-part plan outlined by the Secretary will include:
1. Working with leaders and governments around the world to develop a global consensus on wildlife protection
2. Reaching beyond governments to enlist public support, assisted by U.S. embassies worldwide--a public awareness campaign will be launched on December 4 to coincide with Wildlife Conservation Day
3. Strengthening and expanding enforcement areas
4. Fortifying a global partnership through the Coalition Against Wildlife Trafficking
Wildlife crime is a lucrative black-market business--rivaled only by trade in illegal arms and drugs--with an estimated worth of $10 billion per year. "Wildlife trafficking has become more organized, more lucrative, more widespread, and more dangerous than ever before," Secretary Clinton remarked at the Partnership Meeting on Wildlife Trafficking, where she made the announcement.
Nowhere is this more true than on the African continent, where illegal wildlife trafficking has been linked to organized crime syndicates and even rebel militias using wildlife parts to buy arms and fund their political agendas. These operations have been known to use helicopters, machine guns, powerful veterinary drugs, and more to ruthlessly kill both African wildlife and the rangers protecting them. The result has been the poaching of tens of thousands of elephants and the decimation of a rhino population that had only recently begun to recover from the brink of extinction.
"Wildlife trafficking and wildlife-related crimes are issues that plague the people, wildlife, and wild lands of Africa," says Craig Sholley, AWF's vice president of philanthropy and marketing, who was in attendance at the meeting. "I was encouraged by the Secretary classifying wildlife crime as an issue that deserves global attention. This has been our approach since AWF's inception."
AWF partners closely international governments--both countries in which AWF works on the ground and with governments worldwide that support AWF's mission--to mobilize resources, design strategies, and implement programs that will most effectively conserve Africa's wildlife populations. In particular, AWF is committed to protecting and ensuring the continued existence of Africa's most treasured, and most threatened, species, which include the rhino and elephant. Today, rhino horn sells for up to $65,000 per kg on the black market, while elephant ivory can fetch more than $1,000 per pound.
With the middle class rising worldwide, the demand for these products is increasing. However, while demand may be inexhaustible, the supply is not. With rhinoceros deaths up more than 3,000 percent between 2007 and 2011 and countless tens of thousands of elephants being slaughtered yearly, these unique and beautiful species face an almost certain extinction without intervention.
In addition to its ongoing programs, AWF has implemented a number of measures to combat wildlife crime, including funding the Kenya Wildlife Service sniffer dog program, equipping wildlife scouts to provide on-the-ground monitoring, launching a public awareness campaign with WildAid and Yao Ming to curb public demand for rhino horn, and most recently, hosting a judicial luncheon to urge prosecutors and lawmakers to implement harsher penalties for wildlife-related crimes.
"As Secretary Clinton said, wildlife trafficking is not only an issue for conservation organizations, like African Wildlife Foundation," said AWF CEO Patrick Bergin. "It is also an issue of national, and international, security, not to mention a threat to economies around the world. This is a problem that affects us all, and the battle should not be left to conservationists alone. We are looking forward to working with Secretary Clinton and the U.S. State Department to promote this agenda."
# # #
About African Wildlife Foundation
Founded in 1961, the African Wildlife Foundation (AWF) is a leading conservation organization focused solely on the African continent. AWF's programs and conservation strategies are based on sound science and designed to protect both the wild lands and wildlife of Africa and ensure a more sustainable future for Africa's people. Since its inception, AWF has protected endangered species and land, promoted conservation enterprises that benefit local African communities, and trained hundreds of African nationals in conservation--all to ensure the survival of Africa's unparalleled wildlife heritage. AWF is a nonprofit organization headquartered in Kenya and registered as a 501(c)(3) in the United States. For more information, www.awf.org.
Contacts:
African Wildlife Foundation (AWF)
John Butler
+1 202 939 3313