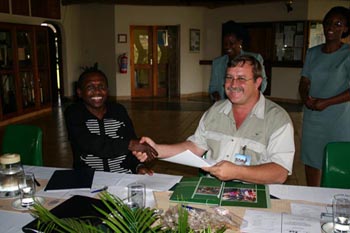 The African Wildlife Foundation (AWF) believes wildlife conservation can directly benefit the livelihoods of local people. In South Africa, home to the some of the most spectacular national parks and wildlife viewing, many communities have not received a share of the financial rewards of tourism. That is about to change, thanks to a new agreement between AWF and South African National Parks (SANParks).
The new Memorandum of Agreement (MOA) was signed on August 18, 2005 between Dr. Simon Munthali, Program Director of AWF's Limpopo Heartland, and Mr. Blake Schraader, acting director of Kruger National Park. The main objective of the MOA is to establish cooperation that can contribute to the improvement of livelihoods of the local communities adjacent to Kruger National Park. This will be achieved through fostering partnerships between community, public and private sectors in the management and sustainable use of biodiversity.
The trust that has been built between the two organizations over the past few years and the positive feelings about the existing relationship are reflected in the longevity of the agreement: the MOA will remain in force for a five-year period with a successively renewable period of five years.
AWF and SANParks have worked collaboratively on community conservation issues since 2000. From the beginning, this partnership has focused on AWF's strength in working with local communities, as reflected in several concrete projects adjacent to Kruger National Park, such as the brokerage of a deal between the Makuleke community and Wilderness Safaris. This has resulted in the construction of an ecolodge on the land successfully reclaimed by the Makuleke community inside Kruger.
The signing ceremony in Kruger National Park was attended by representatives of the two institutions, the Huntington and Mdluli communities, the Speaker of Mbombela Municipality, and invited press. Speakers referenced the role of communities as the heart of this agreement, and the need to deliver concrete outputs and benefits to the communities adjacent to Kruger National Park. Also, speakers noted that this partnership can become stronger only if critical financial support is obtained from donors.
AWF's mission is to conserve wildlife and wild lands of Africa for the benefit of people in Africa and globally. In southern Africa, AWF works in the Limpopo Heartland, a vast conservation landscape that spans South Africa, Mozambique and Zimbabwe, and contains key wildlife areas, national parks such as Kruger, and community lands.