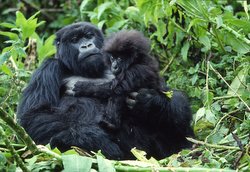 WASHINGTON, D.C.--Together with other conservation organizations and zoo partners, the African Wildlife Foundation (AWF) yesterday celebrated Year of the Gorilla at a special event held at the National Zoo in Washington, D.C. As night fell over the zoo grounds, guests at Grape Apes paired wine samplings from a variety of wineries with an exclusive opportunity to learn about great ape conservation and greet the Zoo's new female baby gorilla, Kibibi (meaning "little lady").
The Zoo's seven resident gorillas are all western lowland gorillas, which are native to the tropical forests of West and Central Africa. Though critically endangered, primarily due to habitat loss and fragmentation and poaching, the recent discovery of a large group of western lowland gorillas in the Congo has brightened the species' prospects of survival.
A featured Grape Apes conservation partner, AWF raised awareness about the mountain gorilla, a highly endangered great ape found in the Democratic Republic of the Congo (DRC), Rwanda, and Uganda. Only about 720 mountain gorillas are left in the wild, and there are none found in zoos. While dangerously small in number, the mountain gorilla population has persevered, saved from extinction because of the work of many dedicated conservationists and local communities.
AWF has been a leader in that effort for more than three decades, most recently in conjunction with the International Gorilla Conservation Program, a coalition of AWF, Fauna and Flora International, and the World Wide Fund for Nature. IGCP is the first entity to work across the entire range of mountain gorilla habitat.
In addition to its mountain gorilla conservation program, AWF specializes in conserving the bonobo, a great ape found only in the remote forests of the DRC. Just this month, AWF opened the Lomako Conservation Science Center in the Congo Heartland. The new center will enable scientists and conservationists to study the habitat and behavior of the rare bonobo.
Of the five great ape species in the world, only one is found outside Africa--the critically endangered orangutan, which lives on the islands of Borneo and Sumatra.
Humankind's closest relatives, every one of the great ape species is at high risk of extinction.
To celebrate Year of the Gorilla, AWF this summer will issue a special 2009-10 16-month calendar centered entirely on mountain gorillas. All members will receive a complimentary copy.
To become an AWF member, click here.
To learn more about AWF's mountain gorilla and bonobo conservation programs, click here.