Wednesday, April 27, 2016

Nairobi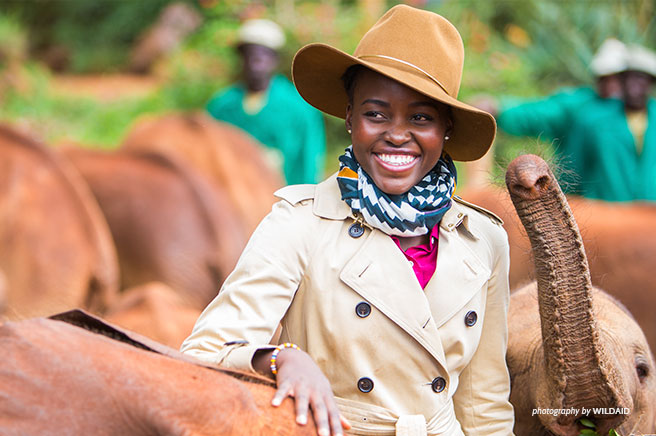 Lupita Nyong'o, Sauti Sol and Caroline Mutoko Launch "Poaching Steals From Us All" Campaign in Kenya
In the run up to the world's largest ever ivory bonfire, to be conducted by the Kenya Wildlife Service (KWS) this weekend, popular afro-pop band Sauti Sol and local radio personality Caroline Mutoko launched an anti-poaching "hearts and minds" campaign with Oscar-winning actress Lupita Nyong'o.
Kenya-based African Wildlife Foundation (AWF) and WildAid's "Poaching Steals From Us All" campaign uses public service announcements, documentary shorts, billboards and social media to urge support for conservation and reporting of wildlife crime. With an initial focus on elephants it will later cover other threatened species, such as lions, rhinos and even vultures.
"Many of us know about the poaching crisis, but too many assume that someone else—the government or a conservation group—will take care of it", said Daudi Sumba, VP of Program Design for AWF. "If we lose our elephants and other wildlife to this threat, it will not be because we lacked the knowledge or tools to save them, but because we all failed to take ownership of our wildlife heritage. None of us can afford to be bystanders when so much is at stake".
In a 2015 campaign survey of 2,000 Kenyans, more than 96 per cent felt wildlife was important for national identity, heritage and the economy. Only 13 per cent said they didn't care about wildlife, 21 per cent said it was a nuisance, and 28 per cent said poaching didn't affect them. A further, 87 per cent said the government should do more about poaching, and 75 per cent said losing elephants would matter to them a great deal. There was little difference between urban and rural Kenyans.
"Clearly the vast majority of Kenyans strongly support conservation and understand its economic value. But our messages are designed to encourage a more active involvement in combating wildlife crime and we hope that this will extend greater protection to animals like pangolins and vultures that are not as charismatic as elephants and rhinos", said Peter Knights, WildAid CEO.
In recent years, KWS and its partners have done much to curb elephant poaching, such as deploying detection dogs to seaports and airports and strengthening the country's wildlife laws and penalties. Numbers of poached elephants fell from 384 in 2012 to 93 in 2015.
Rhino poaching has also declined as a result of intensive protection efforts.  But the pattern of poaching in Kenya has been cyclical, rising and falling in response to a wide range of factors. AWF and WildAid, while acknowledging the progress made to date, warn that poaching is an ever-present threat as long as markets for ivory and other wildlife products exist.
In addition to the PSAs, the campaign also released a mini doc and photo diary of Lupita Nyong'o's trip last year to Kenya, where she visited the David Sheldrick Elephant Orphanage and Amboseli, with the Amboseli Trust for Elephants.
PSAs, stills and Lupita Nyong'o mini doc available at the event or from [email protected].
Media Contacts
Kathleen Garrigan
AWF
+254 (0)704-382310
[email protected]
Peter Knights
WildAid
+1 415 254 3174
[email protected]