Monday, July 7, 2014

Kigali, Rwanda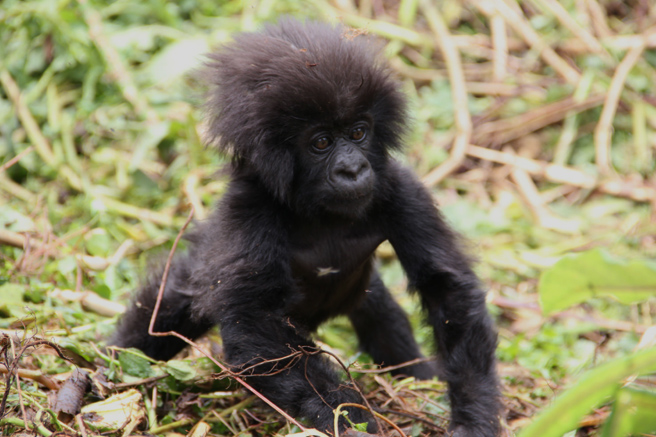 Born last October, this baby mountain gorilla of the Pablo family group is one of 18 gorillas named. Photo: Kwita Izina
At Kwita Izina ceremony, 18 new baby gorillas receive names
Rwandans recently celebrated the birth of 18 baby gorillas at the 10th anniversary of Kwita Izina, the annual gorilla naming ceremony, which took place last Tuesday. The event was held at the foothills of the Virunga Mountains at Kinigi in northern Rwanda and brought together more than 40,000 residents of Musanze District and visitors from all over the world. This year's Kwita Izina was held under the theme: "A Decade: Conserving-Empowering-Growing."
The CEO of the Rwanda Development Board, Ambassador Valentine Rugwabiza said: "We celebrate, for the tenth time, the growth of the gorilla family by naming 18 baby gorillas born over the last year, bringing the total population of the endangered species to over 600 in the Virunga Transboundary Parks." Ambassador Rugwabiza added that the increase in mountain gorilla numbers is thanks to the tireless collaborative efforts of the government of Rwanda, the local communities neighboring the park, and conservation partners.
"We acknowledge the role of local communities in the sustained conservation of the Volcanoes National Park, specifically the protection of the gorillas and their habitat," said Ambassador Rugwabiza. "We believe that in the empowerment of our local communities, we also gain sustainable tourism development."
The 10th Kwita Izina was marked by a series of activities ranging from conservation, business, cultural and entertainment that led up to the big day. These included the launch of Basumba Primary School in Bigogwe, Nyabihu District. The school of six classrooms was built with funds from the Shared Revenue Scheme, which gives 5% of tourism profits from the national park back to the communities surrounding the gorilla habitat.
"You cannot succeed in conserving a critically endangered species like the mountain gorilla without the cooperation and support of the people who live closest to them," said Craig Sholley, vice president of philanthropy and marketing for the African Wildlife Foundation (AWF). Sholley, on behalf of AWF, was invited to vote on the gorilla names. "The Kwita Izina ceremony shows that, from the government to the local communities, protection of mountain gorillas stems from a sense of duty and a source of pride," he said.
Over 100 regional and international tour operators and media came to experience Rwanda and took park in business-to-business meetings organized with RwandAir. These meetings led to business partnerships with local tour operators. In addition, Kwita Izina guests joined in Global Umuganda (community work) in Nyamata. They also participated in the Igitaramo, a community celebration with residents in Kinigi, Musanze at which local artist Jay Polly performed.
Kwita Izina is inspired by the ancient Rwandan tradition of naming babies soon after they are born. The ceremony has transformed from being a local event in 2005 to becoming an international gorilla conservation event that also promotes tourism. Early this year, Kwita Izina won second prize in the UNWTO Ulysses Award for Innovation in Public Policy and Governance. In the nine years since the event was established, 161 gorillas have been named in a celebration of nature and the communities who protect the majestic mountain gorilla.
This year's Kwita Izina has attracted over 470 international guests from countries including Kenya, Nigeria, China, Uganda, Tanzania, Somalia, Russia, Japan, South Sudan, South Africa, Gabon, Ghana, among others.
List of designated 2014 gorilla namers:   
1.     Rt. Honourable Pierre Damien Habumuremyi- Prime Minister of the Republic of Rwanda
2.     H.E Leoni Cuelenaere – Ambassador of Netherlands to Rwanda
3.     Mr. Omar Samra –Tour operator representing Egypt and the Middle East
4.     General Mushyo Kamanzi  -  Army Chief of Staff
5.     Mr. Charles Onyango Obbo – Editor, Mail and Guardian AFRICA
6.     Amb. Tegla Loroupe  – Kenyan Athlete and Peace Ambassador
7.     Mr. Ikechi Uko  – Publisher, ATQ Publisher- Nigeria
8.     Ms. Uwamahoro Agnes – Local Community President of COPAV Mararo, Nyangye Sector
9.     John Sempebwa – Deputy CEO United Tourism Board, Uganda
10.  H.E Donald W. Koran – Ambassador of the United States of America to Rwanda
11.  Mr. John Mirenge  – Chief Executive Officer RwandAir
12.  Mr. Ibrahim Mohamed – Principal Secretary for Commerce, Tourism and East African Affairs, Kenya
13.  Ms. Lisa Karanja – Senior Director Business Competitiveness, Trade Mark
14.  Hon. Barnaba Marial Benjamin – Minister of Foreign Affairs and International Cooperation, South Sudan
15.  Mr. Bigirimana Francois  –Volcanoes National Park Guide, Rwanda Development Board
16.  Dr. Adam Woo – Chief Operating Officer, Chinese Business Network
17.  Ms. Keiko Mori – Japanese Friends
18.  Mr. Fidel Nizeyimana- Tracker, Volcanoes National Park, Rwanda Development Board