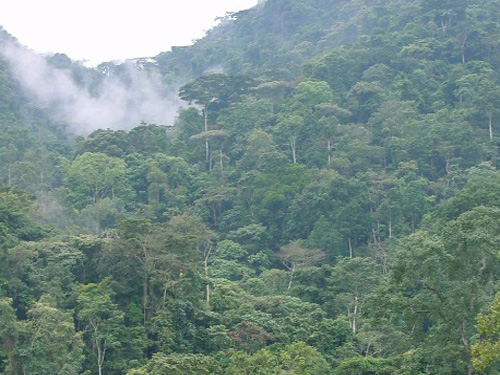 Bwindi Impenetrable Forest National Park is home to approximately half of the world's remaining mountain gorillas.
AWF Mourns Loss of Blackback Mountain Gorilla in Virunga Heartland
VIRUNGA HEARTLAND, Uganda, June 24, 2011 -- The sole blackback gorilla (Mizano) from the Habinyanja group was killed in Uganda's Bwindi Impenetrable Forest National Park on Friday morning.
The gorilla was reportedly found dead with evidence of spear wounds about the shoulders and neck. An official release by the Ugandan Wildlife Authority (UWA) suggests evidence that poachers killed a duiker, a small antelope, and then stabbed the gorilla when they unexpectedly came upon him in the forest. According to that same report, sniffer dogs tracked the scent found at the site of the dead gorilla to three homes in a nearby town, one of which housed a known poacher. The UWA found strong evidence in the homes linking several residents to the gorilla killing. This led to the arrests of three men. UWA and local police continue to pursue the arrest of at least four others.
The International Gorilla Conservation Programme (IGCP), a coalition of African Wildlife Foundation (AWF), Fauna & Flora International, and the World Wide Fund for Nature, reports that many groups are coming together to discuss future anti-poaching strategies in the wake of the gorilla's death.
Ecologically, the magnitude of this loss is demonstrated by a recent census in the Virunga Heartland that counted just over 780 mountain gorillas remaining in Africa. While this represents a substantial population increase from the early 2000's, even one death has a significant impact on a species whose total population hovers below 800.
"AWF and its IGCP partners have worked for years to ensure the ongoing stability of this gorilla population and will continue to do so in the face of this sobering loss," said AWF's Regional Director of Eastern and Southern Africa Programs Daudi Sumba.
Please continue to check our website and IGCP.org for updates and further developments on this tragedy and related mountain gorilla news.
# # #
Please consider making a special gift to help AWF protect mountain gorillas in the Virunga Heartland against poachers.