Tuesday, May 14, 2013

Nairobi, Kenya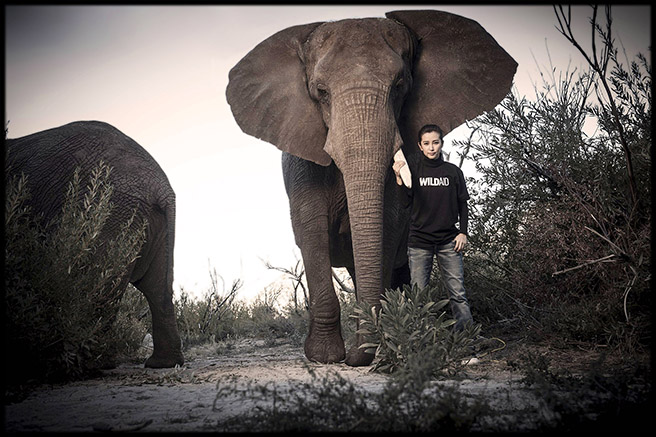 Photo courtesty of: WildAid
"War" PSA featuring Li Bingbing unveiled following screen star's tour of Kenya
NAIROBI, Kenya, May 14, 2013 -- China's top actress and UN Environment Programme (UNEP) Goodwill Ambassador, Li Bingbing, is joining the world's largest wildlife awareness campaign against the ivory and rhino horn trade in a series of public service announcements beginning with "War." The screen star will appear in five live action spots currently being scheduled to air throughout China as part of the "Say No to Ivory and Rhino Horn" Campaign. Li joins fellow countryman and WildAid Ambassador Yao Ming, who launched the campaign last month in Beijing with WildAid, Save the Elephants, and the African Wildlife Foundation (AWF).
Li recently completed an official mission with UNEP to learn more about Kenya's wild elephants and confront the impacts of poaching that are threatening elephants and rhinos across Africa.
"The African Wildlife Foundation continues to intensify our on-the-ground efforts to stem the tidal wave of poaching taking place on the African continent. We've provided additional paramilitary training for rangers and scouts, supplied equipment to ensure those on the front lines have the best chances to defend against poachers, supported aerial surveillance efforts, and funded canine detection units," said Philip Muruthi, senior director of conservation science at the African Wildlife Foundation. "No amount of effort on the ground will completely stop the poaching, however, unless we curb demand. This is why the African Wildlife Foundation's campaign with WildAid is so critical. We commend Li Bingbing and Yao Ming for their commitment to saving Africa's wildlife."
Said WildAid Executive Director Peter Knights, "We are incredibly thankful that Li Bingbing is joining our campaign as a WildAid Ambassador to shift China's view of ivory and rhino horn consumption. Due to the ivory and rhino horn trade, as many as 25,000 elephants are killed every year and up to 95 percent of the world's rhinos have been lost in the past four decades, with the last of the species in Mozambique recently falling victim to poachers. We must act now to save these endangered animals from extinction."
The importance of raising awareness within China, the leading country for ivory consumption, is central to Li's campaign. As the actress states in her first PSA:
"There is a war in Africa you don't hear about in the news. A war that kills 25,000 elephants a year, for ivory. A war that sponsors civil wars and criminal gangs, paid for with ivory. But this is a war we can stop, by simply saying no to ivory. When the buying stops, the killing can, too."
In 2012, WildAid launched an inaugural awareness campaign seeking to ban shark fin consumption in China. The campaign centered on multimedia components, and a vital partnership with CCTV, to highlight the cruelty inherent in shark finning and the vital role that sharks play in the marine ecosystem. According to the South China Morning Post: "…the Census and Statistics Department of Hong Kong reported that shark fin imports have reduced from 10,292 tons to 3,087 from 2011 to November 2012; over a 70 percent decline."
 
###
About WildAid:
WildAid is the only organization to focus on reducing the demand for wildlife products with the strong and simple message: when the buying stops, the killing can too. WildAid works with Asian and Western celebrities and business leaders to dissuade people from purchasing wildlife products via public service announcements and educational initiatives, reaching up to one billion people per week in China alone. For more information: www.wildaid.org.
About Save the Elephants:
Save the Elephants (STE) aims to secure a future for elephants in a rapidly changing world. Pioneers in cutting-edge science, their research provides vital insights into elephant behavior, intelligence, and long-distance movement. Given the current crisis, STE has now marshaled its resources to combat elephant poaching, prevent ivory trafficking at all levels, and bring to the attention of ivory consumers the catastrophic impact of their purchases. For more information: www.savetheelephants.org.
About African Wildlife Foundation:
African Wildlife Foundation (AWF) together with the people of Africa, works to ensure the wildlife and wild lands of Africa will endure forever. Founded in 1961, AWF is a leading conservation organization focused solely on the African continent. Since its inception, AWF has protected endangered species and land, promoted conservation enterprises that benefit local African communities, and trained hundreds of African nationals in conservation—all to ensure the survival of Africa's unparalleled wildlife heritage. AWF is a nonprofit organization headquartered in Kenya and registered as a 501(c)(3) in the United States. For more information: www.awf.org