Tuesday, March 3, 2015

Washington, D.C.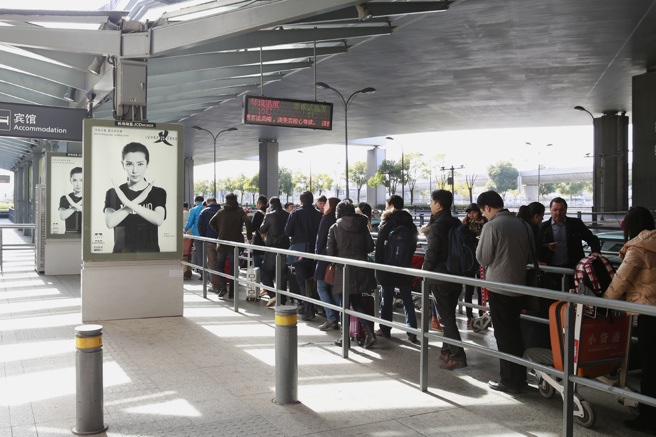 A poster featuring Chinese film icon Li Bingbing urging consumers to say no to ivory in a high visibility area at Beijing Airport. Photo credit: WildAid
Chinese consumer awareness of the ivory and rhino horn trade's devastating impact on African wildlife has grown rapidly over the past two years, the result of major public awareness campaigns by wildlife organizations and state media, according to two new reports from WildAid, the African Wildlife Foundation and Save the Elephants as part of their joint campaigns in China.
With this growing awareness, the Chinese government has announced increasing commitments to curtailing the market — with the most recent on Thursday, when the State Forestry Administration imposed an immediate ban on African ivory carving imports to mainland China.
The reports summarize surveys conducted in China's three largest cities — Beijing, Shanghai and Guangzhou — on ivory and rhino horn from November 2012 to November 2014. Findings demonstrate a significant improvement in awareness on how rhino horn and ivory are obtained as well as how the trade in these products is devastating elephant and rhino populations while supporting criminal networks in Africa and Asia.
The surveys also found that 95 percent of respondents supported an ivory ban, while an equal percentage favored stricter punishments for rhino horn trade offenders.
Key survey findings on elephant ivory:
---
Key survey findings on rhino horn:
---
Following the baseline surveys in 2012, WildAid partnered with the African Wildlife Foundation in early 2013 to launch a public awareness campaign focused on reducing demand for rhino horn. In the same year, Save the Elephants joined the partnership to launch a parallel campaign to reduce the demand for elephant ivory.
The campaigns use public service announcements, billboards and subway ads featuring some of China's biggest celebrities, including former NBA superstar Yao Ming, action hero Jackie Chan and top Chinese actress Li Bingbing, as well as The Duke of Cambridge (Prince William), David Beckham, actor/director Jiang Wen and others. A documentary film featuring Yao Ming about elephant and rhino poaching in Africa was also produced and released in both China and the United States. Media partners in China donated an estimated $90 million last year in pro bono broadcast and media placement for campaign messages.
"This poaching crisis was started by increased demand and will only end when it's reduced. A ban on legal sales of ivory in China already proposed by members of the consultative body at the National People's Congress is the greatest single step that could be taken for elephants and would clearly be a popular move," said WildAid CEO Peter Knights.
"The fight to save Africa's elephants and rhinos continues to rage on the ground, but these results and other small but hopeful signs of progress suggest that efforts to tackle the trade in both supply and demand countries are working," said African Wildlife Foundation CEO, Dr. Patrick Bergin. "We're on the right path and increasingly we're seeing signs that China wants to be on that path too."
Iain Douglas-Hamilton, founder of Save the Elephants, said, "China holds the key to the future of Africa's elephants, and it's encouraging that those surveyed are increasingly aware that buying ivory kills elephants. Their voices can't be heard soon enough: 100,000 elephants were killed for their tusks in just three years between 2010 and 2012."
Though some domestic ivory sales remain legal in China under a government-controlled system, the Chinese government has taken encouraging steps in the right direction over the past two years. Among China's accomplishments:
---
Download the 2014 State of Rhino Horn Demand, and the 2014 State of Ivory Demand in China. Also view the elephant and rhino PSAs created by AWF and its partners.
About the surveys: 
The ivory and rhino horn surveys were conducted in November 2012 and November 2014 in Beijing, Shanghai and Guangzhou. The November 2012 surveys polled a sample of 961 urban residents on ivory and a sample of 963 residents on rhino horn. Both follow-up surveys in November 2014 polled a sample of 935 residents on ivory and rhino horn. The margin of error for the samples is plus or minus 1.84 percent.