Monday, November 17, 2014

Addis Ababa, Ethiopia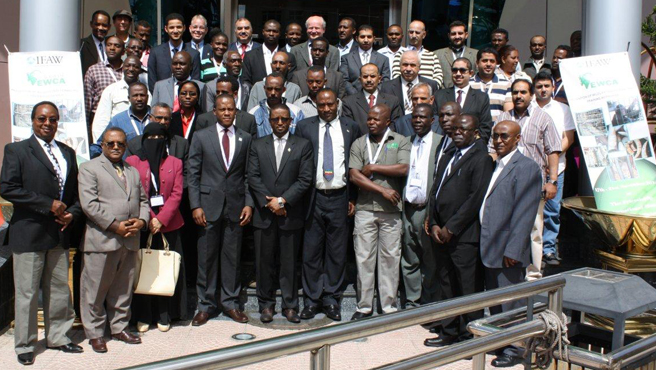 Law enforcement training begins in Addis Ababa, Ethiopia. Photo credit: International Fund for Animal Welfare
A training workshop to increase the expertise of law enforcement officers to tackle wildlife trafficking began today in Addis Ababa, Ethiopia.
The training workshop hosted by the Ethiopian Wildlife Conservation Authority (EWCA) in partnership with International Fund for Animal Welfare (IFAW), African Wildlife Foundation (AWF), Freeland Foundation and Lusaka Agreement Task Force (LATF) aims to empower officers from Interpol, wildlife law enforcement from Customs Departments and CITES management authorities with the necessary skills to deter wildlife trafficking. Participants are drawn from Kenya, Uganda, Ethiopia, Somalia, Tanzania, Yemen, Saudi Arabia, United Arab Emirates, Oman and Jordan.  
The training is part of a larger strategic framework to strengthen the law enforcement response to combat wildlife crime at the regional level through the establishment of wildlife enforcement networks. The work would be carried out under a continent-wide program called ARREST (Africa's Regional Response to Endangered Species Trafficking) and implemented through a partnership between IFAW, African Wildlife Foundation and Freeland Foundation.  
Training will ensure law enforcement officials from the Horn of Africa, East Africa and the Arabian Peninsula are better equipped to combat wildlife trafficking and reporting of wildlife crimes.  Interactive sessions will teach practical, hands-on skills used in the identification and correct handling of species commonly trafficked in the regions. Training will focus on the wildlife trade status of species, wildlife crime and enforcement, international trade conventions and organizations and inter-agency cooperation to improve international and regional communications.
"Wildlife trafficking has become a major threat to wildlife conservation not just in Africa where most of the wildlife is sourced but also in the transit and destination countries of the West and East Asia. Regional trainings such as the one starting today are a step in the right direction to maximize international and inter-agency collaborations to prevent this vice," said His Excellency Amin Abdulkadir, Ethiopia's Minister of Culture and Tourism, at the opening ceremony. He went on to welcome the participants and lauded IFAW and EWCA for organizing the workshop, and made special note of the continued partnership with Interpol and LATF.
Wildlife trafficking represents a serious threat to the survival and conservation of many wildlife species globally. Elephant ivory, rhino horn, reptile skins and leopard skins are amongst the most illegally traded wildlife products in the region. Live animals including big cats such as cheetah and lion cubs as well as primates, reptile and live birds are also trafficked.
"We at IFAW have long recognized the intricacies of wildlife trafficking and have in response strived to nurture and support transnational and multiagency networks as a means of countermanding this iniquity," said Azzedine Downes, IFAW President and CEO.
"IFAW's partnership with organizations such as Interpol, EWCA and LATF recognises that success in addressing wildlife trafficking can only be attained by forming linkages or networks that allow for structured and sustained coordination and collaboration among law enforcement agencies not only across departments but across national borders and continents."
ARREST partner AWF has conducted similar trainings in other countries to strengthen in-country and cross-border collaboration in combating the illegal wildlife trade.
"Wildlife crime is a local, regional and global problem, so it must be tackled at the local, regional and global level," said African Wildlife Foundation CEO Patrick Bergin. "Smart partnerships—between international agencies, wildlife authorities and conservation groups—will be key in shutting down the illicit industry."
Wildlife trafficking is one of the world's most lucrative criminal activities – valued at billions of US dollars annually. It ranks in the top most lucrative transnational organized crimes, behind drug trafficking, money laundering and counterfeiting. According to an IFAW report Criminal Nature: The Global Security Implications of the Illegal Wildlife Trade, ivory smuggling and the wildlife trade has been linked to other forms of organized crime including terrorism, illegal arms and drug trafficking. Ethiopia has become a major transit hub for illegal ivory in recent years and the country's stockpile of confiscated ivory is estimated to be 6.3 tons. 
IFAW has trained more than 2,450 officers in Africa, the Middle East, Asia, Oceania and the Caribbean since 2006. Trainings are held in collaboration with national institutions in the respective countries and other organizations including Interpol, Lusaka Agreement Task Force (LATF) and Ethiopian Wildlife Conservation Authority (EWCA).