Thursday, September 29, 2005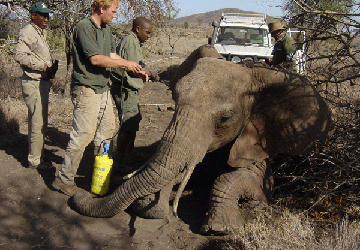 AWF elephant research and conservation efforts in the Kilimanjaro Heartland got a major boost when elephant researcher Alfred Kikoti successfully fitted GPS collars on six elephants near Mt. Kilimanjaro in northern Tanzania.
The six GPS (Global Positioning System) collars communicate with satellites to track and record information on the elephants' movements. The West Kilimanjaro region is an important crossroads for elephants moving between protected areas in southern Kenya and those across the Tanzanian border. The research will help AWF and other conservation groups identify the key habitats and movement corridors that must be conserved, as expanding human populations and agricultural areas threaten to cut off traditional elephant corridors.
The collaring occurred between September 1st and 3rd and was the culmination of several months of preparation during which Alfred obtained necessary approvals and permits from national and local authorities and assembled a diverse team of experts and representatives from a number of organizations, including the Tanzanian Wildlife Research Institute (TAWIRI), the Tanzanian National Parks Authority (TANAPA), other non-profits and local communities.
Alfred spent several weeks carefully selecting the target elephants. Crucial to the surveillance were members of the Maasai game scout network established by Alfred (called the Hifadhi Network), nearby safari camps, and local communities, who radioed the team information on elephant movements and locations.
Two 30-35 year-old males and four 20-25 year-old females were selected for the collaring. Each of the females belongs to different family groups, and this will enable Alfred to track the movements of each of these elephant families.
Alfred, two veterinarians, several elephant researchers, representatives of local safari operators, and Hifadhi scouts worked from vehicles to locate and sedate the elephants.
Once each of the elephants was tranquilized, the team moved quickly to attach the collars. The collaring was done in the morning to avoid the heat of the day, and the team sprayed water on the elephant's ears to keep them cool. DNA samples and various measurements were taken.
Alfred receives daily updates on this data at the University of Massachusetts at Amherst, where he is currently pursuing in his Ph.D. AWF staff are monitoring the collared elephants in the field. According to Alfred, the elephants have not shown any dramatic movement to date because it is the dry season and they are staying close to local water sources. Once the rainy season starts, however, I expect to see a lot more dramatic movement. Of particular interest will be to see which elephants cross over the border into Kenya, and when they make the crossing.
While Alfred has collared six elephants, AWF has an urgent need to raise additional funds to continue his valuable research. Click here to help.