Monday, June 26, 2017

Nairobi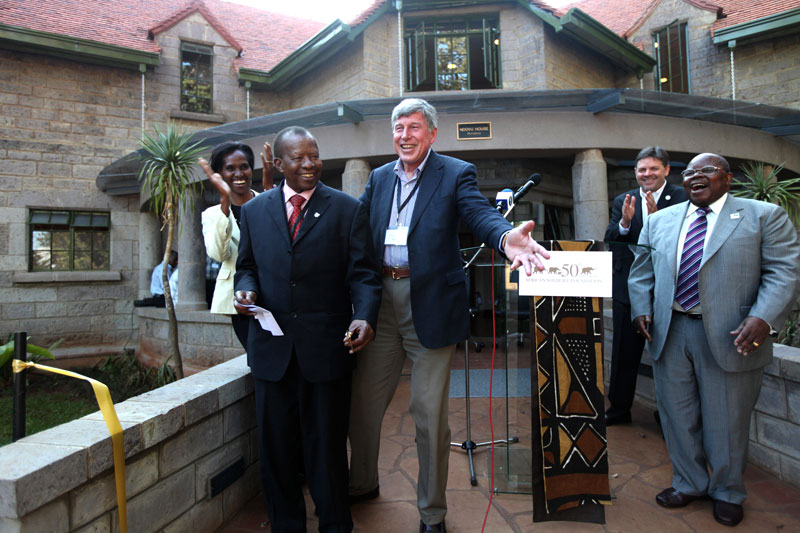 The African Wildlife Foundation will miss an exemplary leader and an incredible friend. Africa will miss an inspirational Democrat and a peacemaker. Former President of the Republic of Botswana Sir Ketumile Masire's loss will also be felt in places most people will not immediately think of – in Africa's wilds.
Masire was a long-time board member and trustee of the African Wildlife Foundation. It is part of Masire's legacy, among other things, that Botswana has more elephants than any other country in Africa - 130,451 in all, according to the results of Great Elephant Census released in 2016.
In a continent that loses anything between 30,000-40,000 a year to poachers who kill them for their tusks to supply the illegal global trade in ivory, that is remarkable. In fact, while elephants fence extinction in other countries, Botswana has the opposite problem: some conservation officials in the country argue that it has more elephants than it can cope with.
At independence in 1965, Botswana was one of the poorest countries in the world, with a per capita GDP of barely $70. By 2015 it was one of the fastest-growing economies in the world, with an eye-popping GDP (based on purchasing power parity) of about $18,825 per year. It is one of the most honest countries in Africa, again topping Transparency International's Corruption Perceptions Index for 2016. 
Masire was vice-president to Botswana's legendary founding father Sir Seretse Khama, and took over as president after the latter's death in 1980.
He has been credited as one of the architects of the country's remarkable economic transformation. Though Botswana has a relatively small population, with vast mineral wealth, the key to its economic success was that these resources were used well and efficiently. It was in keeping with Masire's reputation as a highly competent and scrupulous technocrat.
The same approach was extended to conservation, with Botswana adopting stringent anti-poaching laws and practices ahead of countries that had even fewer elephants, for example. The enduring conservation lesson Masire left us with is that a country can still grow economically and become rich, with sound conservation policies.
Africa and Botswana are thankful for his life and work. African conservation and we at AWF will forever equally cherish the time he gave us.