Forest protectors in rural Cameroon safeguard communities during COVID-19
Forest protectors in rural Cameroon safeguard communities during COVID-19
By Jacqueline Kubania | May 29, 2020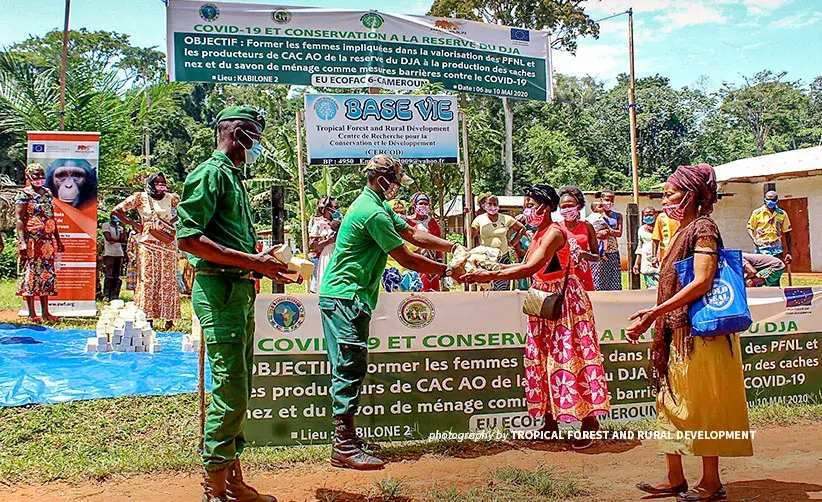 About the Author
Jacqueline Kubania is African Wildlife Foundation's Manager, Field Communications. She joined AWF in 2018 after spending five years at Nation Media Group, East Africa's largest media house, and specialized in the in-depth reporting of everyday stories, with a bias towards the cross-section of ... More
On a Saturday morning in early May, a group of women gathered in an open field in Kabilone II village adjacent to the Dja Faunal Reserve in south-eastern Cameroon. They patiently waited their turn as a government representative from the reserve's Conservation Service handed over face masks and bars of soap for the women to distribute and use within their communities.
Each person at the event wore a colorfully printed face mask and rather than cluster around in groups as is the norm, they stood a few feet away from each other — the new mode of interaction since the COVID-19 outbreak. The ceremony did not last long, but the conservator representative shared critical information about the ongoing pandemic and stressed the importance of using face masks and washing hands with soap to reduce the risk of transmission. Armed with knowledge and essential supplies for their families and communities, the women dispersed and went home.
But these women were not just recipients of government aid; many of them have been actively involved in the production of these essential goods. With assistance from the African Wildlife Foundation, they worked tirelessly for three days to produce 1,000 face masks and 1,596 bars of soap for the benefit of their communities. As members of an organization called Femmes Active de Bintina, which is supported by AWF and local partner Tropical Forest and Rural Development, they ordinarily process and sell non-timber forest products, but they have since added sewing and soap making to their repertoire.
"The women have done a great job. We provided training on the production of soap and masks and sourced the raw materials they needed. Our goal during this pandemic is to provide as much support as possible to ensure that the vulnerable communities living in close proximity to wildlife and in places where the public health system does not function very well remain healthy and safe," says Manfred Epanda, AWF's Cameroon Country Coordinator.
The organization is also focused on raising awareness to ensure that protective measures against COVID-19 are properly understood and followed.
"It is one thing to have a mask, it is another thing to use it properly. So we are trying to ensure that everyone knows how to wear them properly and why it is important to do so," he explains.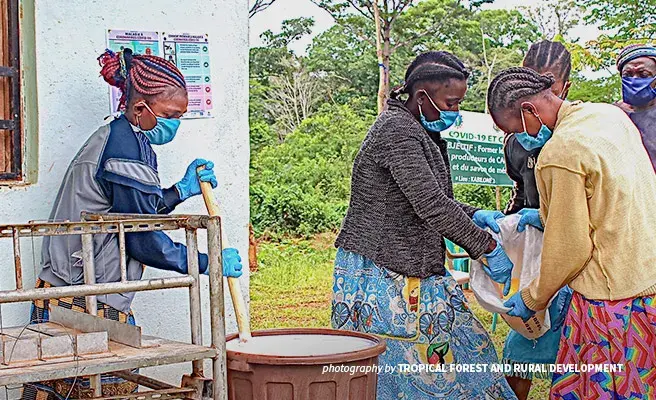 AWF and local partner Tropical Forest and Rural Development supported women from Femmes Active de Bintina to produce soap and face masks
Women produce masks and soap to prevent a health crisis
Elise Bitabot Menze is one of the women AWF and its local partner Tropical Forest and Rural Development have mobilized to produce face masks and soap. The 63-year-old has been a seamstress since 1970 and learned the craft in the capital city of Yaoundé, where she honed her skills sewing masks for nurses at a clinic before coming back home to Dja to set up her workshop.
"Generally, from my experience, it takes about 15 to 20 minutes to produce one mask. Tropical Forest and Rural Development invited me to come and sew masks that were to be distributed to our group members to help prevent COVID-19," she says.
The Dja Faunal Reserve is a 5,260 sq. kilometer dense tropical forest that is recognized as a UNESCO World Heritage Site. It is home to many iconic species including the giant pangolin, forest elephants, western lowland gorilla, and the endangered chimpanzee. Some of the biggest conservation threats currently facing the landscape include commercial logging, poaching, mining and infrastructure development. In addition, high population growth has led to accelerated rates of deforestation as the surrounding villagers clear land for agriculture and settlement.
In response, AWF teamed up with Tropical Forest and Rural Development to implement conservation interventions such as sustainable agriculture, anti-poaching patrols, and the growth of women-led non-timber forest product enterprises. These important efforts are funded by the European Union as part of the sixth phase of its Programme to Support the Conservation of Biodiversity and Fragile Ecosystems in Central Africa (or ECOFAC IV).
Elise is a member of Femmes Active de Bintina and has trained in the production and value addition of non-timber forest products by AWF and Tropical Forest and Rural Development to reduce over-reliance on natural resources such as timber. The women of Femmes Active de Bintina collect and clean forest berries, fruits, seeds, and bark which are then processed into oils and butters used in skincare products such as soaps and lotions. This initiative has helped to reduce the rate of deforestation at Dja Faunal Reserve and provide sustainable livelihoods for the community. And now, the women's group has turned its focus to COVID-19 mitigation.
"We have been trained by Tropical Forest and Rural Development on soap production using our own locally extracted natural resources like palm oil thanks to funding from the European Union and AWF. The quality of soap we produce is more economical for the community. It can also last for a longer period when it is used by the entire household of about 10 to 20 people. The masks are equally important to help us protect ourselves and avoid any contamination if we get in contact with infected persons," says Elise.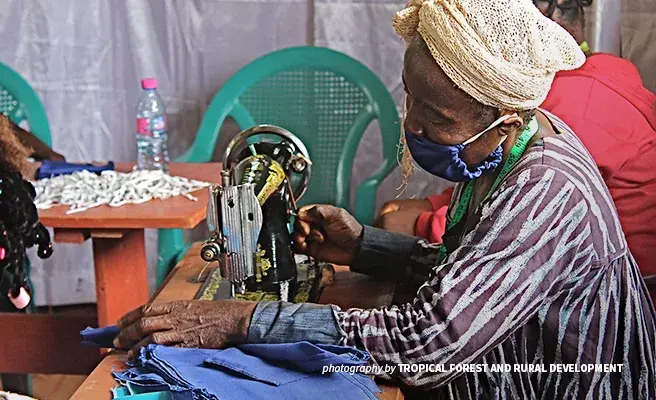 Elise Bitabot Menze sewing face masks with fellow members of the AWF-supported women's organization Femmes Active de Bintina
AWF's commitment to conservation empowers people across the continent
Despite Dja's remote location (it lies 190 kilometers from Yaoundé but the journey there is hampered by poor roads), the effects of COVID-19 have been felt in the surrounding villages. The landscape is yet to register a single case of infection, but villagers are beginning to run low on food stocks due to restrictions that have crippled the flow of goods from the city.
"Before the crisis, my children who are in the cities would usually send me basic necessities to sustain daily living like stock fish, rice, salt, soap, [and] Maggi cubes. Unfortunately, COVID-19 came with strict measures of confinement to lock down stores and markets, and even the travel agencies that sent things to the village couldn't get right to the village," she said.
In addition, schools have been closed and religious gatherings have been banned, impacting on people's way of life.
"My children were also sent back from school to the village since all classes were suspended till further notice. We are no longer going to church freely as it was the case before COVID-19. Everything has become so difficult to do," she says.
However, Elise remains optimistic that the face masks and soap that she and the other members of Femmes Active de Bintina have worked so hard to produce will help things get back to normal much faster.
"The masks and soap already play a very important role in the prevention of the disease because we now have easy access to soap and we don't need to travel [nearly] 30 kilometers to the main market, especially during this period of confinement," she notes.
Currently, AWF and its partner Tropical Forest and Rural Development remain the only NGOs still working in the landscape after several others paused their operations due to COVID-19. According to Epanda, this only emphasizes AWF's commitment to not just Africa's wildlife and wild lands, but its people as well.
"Our priority remains supporting African governments to deliver their conservation and sustainable development mandate from the grassroots to international levels. We are proud to be a reliable and trusted partner, and we are committed to working with our communities through this crisis and long after it is over," he says.
> Learn how AWF is helping forest communities in the Democratic Republic of Congo to mitigate COVID-19 impacts