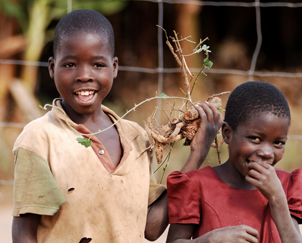 ZAMBEZI HEARTLAND, ZAMBIA--At the invitation of the African Wildlife Foundation (AWF), the Green Living Project recently visited the Chiawa Community Cultural Village, holding it up as a unique model of cultural and environmental sustainability.
"We arrive after sundown at the bush camp that serves as headquarters for Conservation Lower Zambezi (CLZ) just across the legendary river from Mana Pools in Zimbabwe. Bags over our shoulders, we head to our tents on quiet pathways lit by the moon.
I was awakened at 2 am - outside, the slow crunch of great weight against the earth, followed by thundering defoliation that sounded like whole trees were being wrested to the ground. After scraping myself off the mosquito-netted ceiling, I looked out and could see the figure in the shadows...."
To read the full dispatch, click here.
About the Green Living Project
A leading media production and marketing company focused on global sustainability initiatives, Green Living Project is focused on documenting, promoting, and supporting successful and unique models of sustainability from around the world. Now in Africa, the team is documenting projects administered by AWF and other conservation organizations. The resulting reports, videos and photographs will be incorporated into the company's content distribution platforms to educate and inspire individuals and communities to adopt a more sustainable lifestyle.
Dispatches from the Heartlands
One of the first AWF projects Green Living visited was Sabyinyo Silverback Lodge in Rwanda, a high-end, AWF-supported lodge designed to conserve the highly endangered mountain gorilla while benefiting local people.
From there, the Green Living team moved south, touring the Maasai Steppe Heartland in Tanzania and stopping at Manyara Ranch, which occupies a key wildlife corridor linking Tarangire and Manyara National Parks. AWF secured the ranch for conservation in 2007 and rebuilt the Manyara Ranch Primary School, garnering praise from the Green Living Project.
"To give an example of the improvements - each child now has their own bunk - they were formerly four to a single bunk. Overcrowding is an understatement of former conditions and the improvement is marked," the team wrote.
Other projects profiled have included the Burunge Wildlife Management Area, which local communities formed with AWF's help, and Esilalei Cultural Boma, an enterprise run by an AWF-supported women's group.
Follow all the team's dispatches from the African Heartlands and other destinations at www.greenlivingproject.com.
To learn more about Chiawa Cultural Village, click here.
To plan your visit to Chiawa, contact:
Chiawa Cultural Village
P.O. Box 360330, Kafue, Zambia
Cell: +260-97-9343419
Fax: 263-61-3507
Email: [email protected].