Highlighting the links between conservation and public health
Highlighting the links between conservation and public health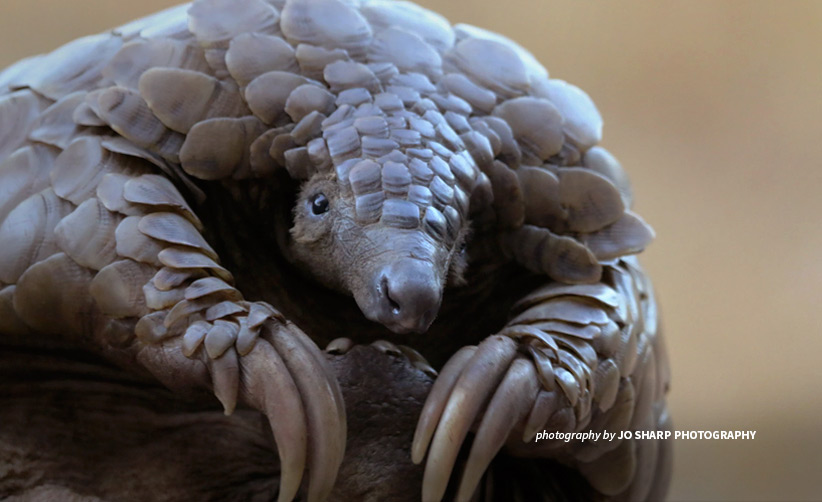 Zoonotic diseases, or zoonoses, are those diseases transmitted from animals to humans. Scientists say that every year zoonoses account for more than 60 percent of known infectious diseases reported globally, causing approximately 2.5 billion cases of illness and 2.7 million deaths.
COVID-19, which is caused by the zoonotic coronavirus SARS-CoV-2, has had devastating impacts since the first outbreak was reported in December 2019. By mid-February 2021, according to the World Health Organization, there were over 109 million confirmed infections worldwide and more than 2,242,000 deaths.
The illegal wild animal trade heightens the risk of zoonotic disease infection and transmission among humans. In fact, said former U.S. Fish and Wildlife Service director Dan Ashe in a Congressional testimony in July 2020 : "Wild animals are the source of most emerging infectious diseases in humans." Since the emergence of the COVID-19 pandemic, AWF and other organizations have sounded the alarm about why the conservation of wildlife and wild lands is crucial to public health.
Seventy-two percent of zoonotic diseases are linked to wildlife (as opposed to domesticated animals), and scientists believe the current pandemic could have spread from bats to another animal such as a pangolin (the world's most trafficked mammal) and then to humans. According to a National Public Radio report , investigators "found traces of the virus in 22 stalls and a garbage truck at a live animal market in the city of Wuhan."
Holistic approaches to restore healthy natural ecosystems
Without a concerted effort internationally to more effectively address the illegal wildlife trade — and habitat loss, which puts people in closer contact with wildlife — serious viruses may continue to emerge. AWF has stressed that efforts to address illegal wildlife trade must be done carefully to avoid harming local communities. "In Africa, illegal wildlife trade flourishes when we neglect sustainable development," says AWF CEO Kaddu Sebunya. "That's why we need to prioritize biodiversity and ecosystems within national and global strategies and conventions to help promote human security and public health."
In November 2020, AWF convened conservation, law enforcement, and health experts for a special briefing with the International Conservation Caucus Foundation and the U.S. Senate Conservation Caucus in support of legislation fighting against illegal wildlife trade. The Eliminate, Neutralize, and Disrupt (END) Reauthorization and Improvement Act of 2020 furthers the wide-ranging gains from global anti-poaching and anti-trafficking programs since the bipartisan bill was passed in 2016.
The late Benjamin Mkapa, AWF trustee and former Tanzanian president, likewise called upon governments to recognize the links between public health and conservation. "As humanity, we must start to see nature as our insurance policy against diseases like COVID-19," he wrote in May 2020. "The disease lays bare the consequences of neglecting nature and thinking that human health and economic development are separate from it. It is healthy biodiversity and ecosystems that provide us with food, medicines, wood energy and water."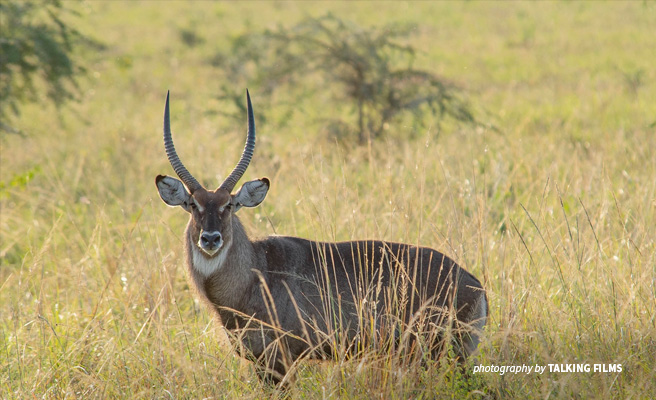 Waterbuck grazing in Kidepo National Park in Uganda
Mobilizing a pandemic response for people and wildlife
Sustaining and even increasing investments in protected areas will help safeguard wildlife conservation gains made over decades. But COVID-19 has resulted in seriously depleted national budgets in Africa, which severely impacts protected area management and capacity. Among the many potential costs of the pandemic is the prospect of losing decades' worth of hard-won conservation gains. Our support to community members and protected area staff on the frontlines of conservation has been robust , rapidly addressing the ecological and human impacts of the pandemic.
More than ever, protecting wildlife and wild lands means supporting local communities that urgently need assistance because the conservation enterprises they depend on, particularly tourism-based ventures, have suffered major setbacks. Without jobs and income, people may escalate levels of bushmeat hunting (which in many places is legal) and poaching (illegal) to provide for their families.
AWF quickly mobilized a comprehensive crisis response to limit the spread of COVID-19 and reduce its impact. We helped communities scale up prevention measures, providing resources to conservation authorities, and directly supporting communities.
As of January 2021, we had reached nearly 30,000 people with COVID-19 awareness and prevention messaging and distributed more than 36,000 hygiene kits (masks, gloves, and hand sanitizer). So that rangers and community conservancy scouts can continue their anti-poaching patrols, we provided over 95,000 liters of critically needed fuel as well as food rations and personal protective equipment. Our relief to the Uganda Wildlife Authority includes the donation of 24 motorbikes and riding gear, as well as 300 tents and mattresses procured with the support of the U.S. Agency for International Development and the U.S. Forest Service. In Ethiopia, we provided food rations to tourism-dependent communities living near Simien Mountains National Park and initiated cash-for-work programs to help maintain the protected area to create income opportunities for people during an economic crisis.
Strong African leadership at all levels is crucial to ensure conservation is embedded into the long-term COVID-19 response and, on a larger scale, Africa's recovery and future development plans. AWF is working with African leaders to support a strategic, holistic approach that recognizes the role of conservation in public and economic health.
> Learn why revaluing biodiversity is crucial during the global health and economic crisis of COVID-19