Thursday, September 9, 2010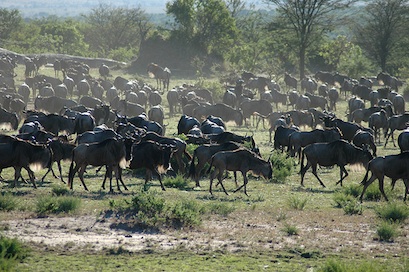 News sources are reporting that the Government of Kenya has joined the growing number of parties urging the Tanzanian government to stop plans to build a highway through the Serengeti National Park.
The road would cut directly through the Serengeti wilderness, bisecting the wildebeest migration -- one of the natural travel wonders of the world.
"We're very concerned about this road, and are waiting for details while hoping the authorities have thoroughly investigated all possible alternatives," Jake Grieves-Cook, Head of Kenya's Tourist Board, reportedly told allafrica.com on September 9.
AWF this past June issued a Position Statement opposing the construction of the road, when news of the road first surfaced. "AWF believes such a road would negatively impact conservation, wildlife and human security, and park revenues. Most importantly, the road would mar a national and global asset in which the rule of nature still predominates and the footprint of human activities is hardly visible," reads the statement.
Acknowledging the need to balance conservation planning with economic development, AWF outlined alternative routes that would circumvent the Serengeti and achieve the commercial goals outlined by the government.
The Kenyan officials join AWF and other conservation organizations as well as a network of 5,000 people from around the world who have voiced their concerns about the effects of the road plan.
Read the full story on allafrica.com.
Read AWF's Position Statement.