Tuesday, September 6, 2016

Washington, D.C.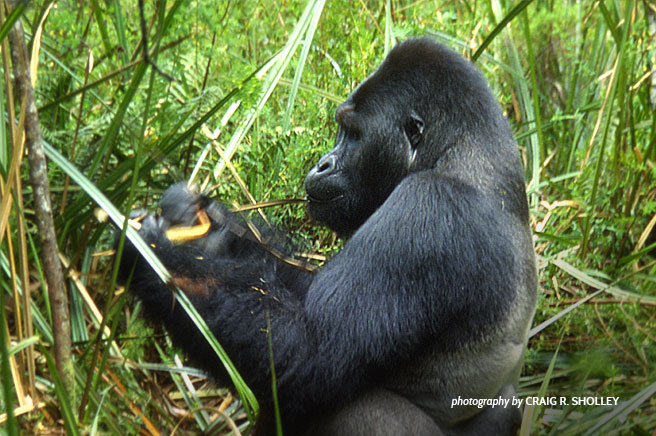 The Eastern Gorilla also known as Grauer's Gorilla – the largest living primate – has been listed as Critically Endangered, according to the latest update of The IUCN Red List of Threatened Species™ released on 5 September 2016 at the IUCN World Conservation Congress taking place in Hawaii.
The African Wildlife Foundation is extremely concerned about the plight of great apes across Africa. We call for governments and international agencies to rapidly ramp up awareness about the critical plight of Africa's great apes and to significantly scale up a concerted global effort to protect great apes and their habitats, including stopping illegal hunting.  The presence of logging, mining and other extractive industries near their range also greatly exacerbates threats to these apes.  Without concerted action, these rare and beautiful species could be extinct in just a few years. The IUCN listing of the Eastern Gorilla as Critically Endangered underlines the threats facing all great ape populations and the need to work quickly to stop poaching and protecting great ape habitats that are in greatest need of conservation interventions.
The situation in eastern Democratic Republic of the Congo (DRC) is complicated due to political instability, extractive mining and illegal hunting where this sub-species exists. Rampant poaching, rapid illegal expansion of logging, and lack of legal habitat protection have escalated the situation and the updated Red list from IUCN make us come face-to-face with the reality that the loss of the eastern gorilla within a decade is a distinct possibility.
AWF has a long history of work in the Virungas and the eastern DRC region, one of the world's most important biodiversity sites. AWF's African Ape Initiative is an innovative program designed to protect representative populations of each of the four great apes, and each of their nine sub species existing on the continent. We are extremely concerned about the plight of the Eastern Gorilla and all other great ape species across Africa. To see these close cousins being decimated as the world watches is a devastating and sad commentary on our stewardship as humankind.
Media Contact:
Sandra Coyle
Senior Director, Strategic Communications
Tel: +1 202-731-0374
[email protected]