Mobilizing Africa on Earth Day's 50th anniversary
Mobilizing Africa on Earth Day's 50th anniversary
By Harleen Sehmi | April 17, 2020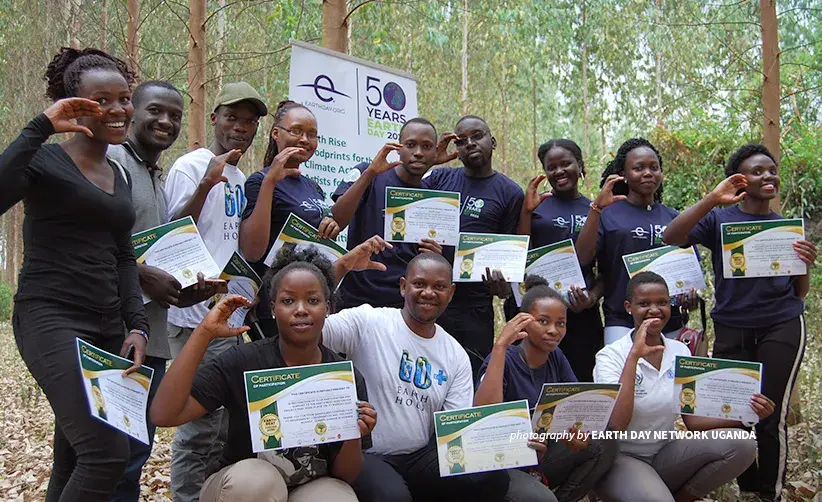 About the Author
Harleen Sehmi is the Senior Digital Content Officer at African Wildlife Foundation. She develops articles for AWF's website and publications, connecting audiences with the organization's work in diverse landscapes and showcasing the impact of community-centered conservation.
...
More
"Every day is Earth Day," says Derrick Mugisha. An environmental scientist and active member of youth-led biodiversity protection groups, he is leading the 50th-anniversary celebration of Earth Day in Uganda.
Mugisha is one of nine Earth Day Network organizers in nine African countries supported by African Wildlife Foundation to mobilize volunteers and engage in cross-sector partnerships. Ahead of the 50th Earth Day on April 22, 2020 — and beyond — their objective is to help everyday citizens contribute to positive and sustainable change to protect the environment. Since last year, Mugisha and his fellow organizers from Kenya, Tanzania, The Gambia, Zimbabwe, Uganda, Cameroon, Democratic Republic of Congo, Niger, and Senegal have mobilized hundreds of volunteers in their countries to participate in educational events, tree-planting initiatives, clean-ups, and climate strikes.
But the coronavirus outbreak has drastically shifted how people come together, and Earth Day Network's country organizers are pivoting their efforts online. Where thousands of Africans would have joined hands in protest for climate justice, or planted trees and cleaned up public spaces together, digital action is equally powerful in uniting people for a common cause — no matter what the date is. As Mugisha puts it, "Earth Day is not just a day, it is a movement."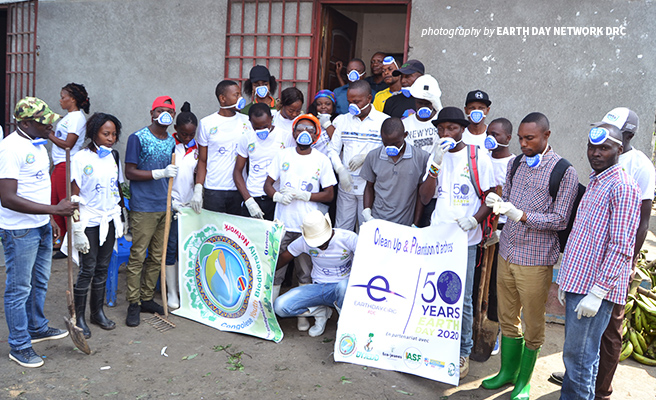 Earth Day Network DRC Coordinator Yoba Alenga Extasié with volunteers during a clean-up project before the COVID-19 outbreak
Seizing the power of digital action
For Earth Day Network organizer Yoba Alenga Extasié from the Democratic Republic of Congo, the awareness campaigns and teach-ins have allowed people to take ownership of the struggle and commit to making the environment better than it was before. "Earth Day has been the only initiative that has enabled all African and especially Congolese citizens to become aware of environmental issues in their respective communities and to actively engage in the search for sustainable solutions," he says. Importantly, the movement has enabled people to ask leaders for inclusive climate change mitigation strategies and policies to stop biodiversity loss. For instance, after awareness-raising and clean-ups led by Earth Day Network volunteers in Kisangani before the COVID-19 outbreak, the sanitation provider took steps to improve waste management in the city.
Ghaamid Abdulbasat, who is leading Earth Day Network's country-wide initiatives in Tanzania notes the importance of providing a platform for citizens to air their views on the state of the environment. Using digital tools, they can also share how they contribute to environmental protection and highlight their action as individuals. His team plans to engage thousands of Africans in Earth Challenge 2020, a unique citizen science project to measure worldwide air and plastic pollution levels. "They can take part in collecting environmental data to fight climate change simply by using their smartphones," he says. 
While Senegal's Earth Day Network volunteers have had to downsize their tree-planting initiatives and other in-person activities due to the unfolding global health crisis, they are utilizing various digital tools to keep sharing knowledge and building awareness. Online workshops covering waste management and climate change are ongoing, as well as webinars drawing on the insight of regional biodiversity experts. Earth Day Network's West African organizers co-hosted a plastics pollution webinar on April 10, 2020, on which AWF's Vice President, Conservation Strategy, Knowledge Management & Implementation served as a panelist. 
The nine AWF-supported organizers have also planned Twitter chats on specific topics and are using Facebook Live to reach new audiences, inviting local bloggers and artists to participate as well. Their efforts show that it is possible to engage diverse voices across sectors and hold leaders accountable online — the action is still powerful. In tandem, the 24-hour digital mobilization event EARTHRISE held on April 22, 2020 will spark political action and accountability in Africa and the around the globe.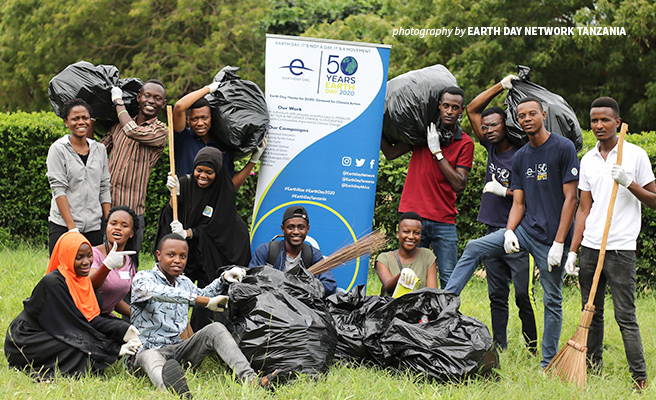 Before the COVID-19 outbreak, Earth Day Network volunteers in Tanzania participated in a clean-up event in honor of the 50th anniversary of Earth Day
Supporting youth action across Africa
Djibril Niang, Senegal's Earth Day Network organizer, is optimistic about Earth Day in the coming years. He notes, "In Africa, it is important to have these kinds of mechanisms because it allows [young Africans] to have concrete actions in the field." He is pleased to belong to an African network where experience-sharing and exchanges of practical cases are done sustainably.  
One of his team's successful initiatives was to create environmental clubs in 10 schools and eight universities in Senegal in honor of the 50th anniversary of Earth Day. They have also engaged 10 partner associations to widen the scope of their work. The foundation is set for environmental protection and climate action post-Earth Day, as the clubs will be the framework of future environmental protection initiatives.
Mugisha wishes for Earth Day to be a national holiday in his country to expand activities across Uganda by tapping into individual and institutional capacities in the arts, music, and sports. "We hope to have a movement of over 20 million people, both young and old as stewards and champions for Earth Day," he says, adding that it is impossible to ignore a movement, especially when it is so integral to sustainable development.
According to Mugisha, the legacy of Earth Day encourages us to rethink our actions and embrace the spirit of environmentalism. He ponders, "We take action because it is the only way possible to survive and build a healthy planet while leaving in harmony with nature."
> Learn from AWF's Senior Manager, Youth Programs and Engagement David Onenchan why youth are the future of biodiversity conservation