More habitat for Rwanda's mountain gorillas means a better life for all
More habitat for Rwanda's mountain gorillas means a better life for all
By Harleen Sehmi | March 21, 2022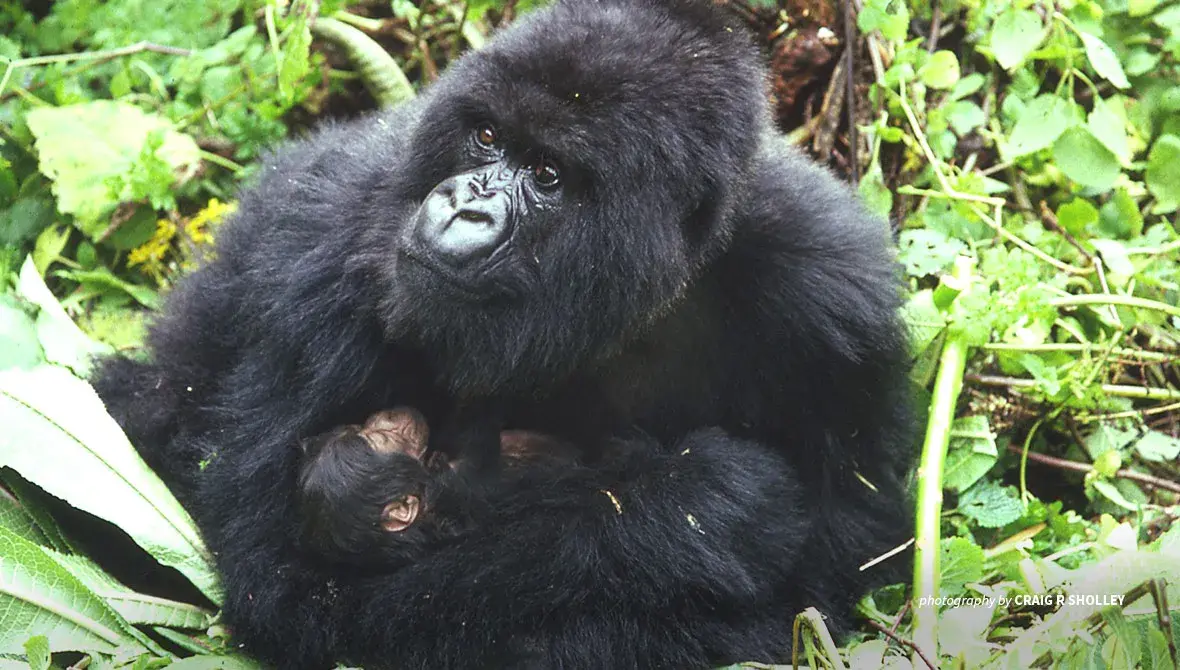 About the Author
Harleen Sehmi is the Senior Digital Content Officer at African Wildlife Foundation. She develops articles for AWF's website and publications, connecting audiences with the organization's work in diverse landscapes and showcasing the impact of community-centered conservation.
...
More
Intensive conservation efforts over the last few decades saved the mountain gorilla from extinction. Securing a larger forest habitat for the growing population will allow the endangered species to flourish. In January 2018, African Wildlife Foundation donated a 27.8-hectare parcel of land adjacent to Volcanoes National Park to the Rwanda Development Board, effectively expanding the protected area.
The donation marked the first expansion to the park in nearly 30 years. It also cemented AWF's years-long commitment to recover the mountain gorilla and ensure that local communities benefit from conservation. The historic park expansion and partnership between AWF and the Government of Rwanda has since birthed an innovative conservation strategy that adds 3,740 hectares of afromontane habitat for Rwanda's mountain gorillas (thereby boosting viewing opportunities for tourists) and improving the quality of life of thousands of people settled around the protected area.
As the Government of Rwanda's technical advisor for this innovative and resource-intensive initiative, AWF invites partnerships for a pilot phase of the expansion focused on recovering 450 hectares of mountain gorilla habitat in the Bisoke area. The pilot program seeks to enlist 500 families to contribute to the process, which involves ecological restoration, provision of social amenities, and the introduction of sustainable economic activities.
With the support of Ubuntu Travel, Wilderness Safaris, Elephant Cooperation, Rwanda Development Board, and Swarovski Optik, AWF is holding a panel discussion and information session in Costa Mesa, California, on April 14, 2022. AWF Senior Vice President Craig Sholley is one of the panelists. He spent his early career studying mountain gorillas in Karisoke with Dian Fossey and later joined a National Geographic team assessing Rwanda's mountain gorillas after the civil war. He notes, "A growing gorilla population requires more space and this is why the Volcanoes National Park expansion program is so important." At AWF, Sholley has overseen the organization's history of mountain gorilla conservation, including the development of the community-owned Sabyinyo Silverback Lodge and the park expansion in 2018. He adds, "The land AWF donated is already receiving visits from gorillas living in that part of the park. As the park grows and gorillas thrive, local Rwandan businesses do better because of increased tourism in the region."

Why is Volcanoes National Park important for mountain gorillas?
Mountain gorillas are found across the Virunga Massif, a volcanic, forested mountain range connecting the borders of Uganda, Rwanda, and the Democratic Republic of Congo. These are the only African countries home to mountain gorillas, and each has faced significant challenges in maintaining wildlife populations and habitats. Currently, Rwanda holds the largest population of mountain gorillas, and they are all habituated in the Volcanoes National Park.
"Rwanda's mountain gorilla population has grown over the past four decades as a result of a sustained partnership between conservation NGOs like AWF and the Government of Rwanda that links a successful future for gorillas to the improvement of livelihoods of local people," says Sholley. "Using this approach, both wildlife and people are better off and this is what gives me hope for the future."
In addition to Sholley, AWF's Belise Kariza and Edwin Tambara will share their insights on the significance of expanding Volcanoes National Park in the panel discussion moderated by Vice Chair of AWF's Board of Trustees Larry Green. Kariza served as Chief Tourism Officer at the Rwanda Development Board before taking up her role as AWF Country Director, Rwanda in 2021. As Director, Global Leadership, Tambara draws on more than a decade of experience in conservation strategy focusing on business and tourism planning and program development.
Describing the Volcanoes National Park as a cornerstone of the mountain gorilla's recovery in the last few decades, Tambara notes that poaching incidents in the protected area are extremely rare. "This is not a chance phenomenon but a testimony to the positive attitudes and role that local communities have played with the park. We have witnessed local communities benefit in tangible ways from tourism in Volcanoes National Park mostly driven by mountain gorillas. A holistic expansion of the protected area as envisioned opens up further opportunities for communities living next to the park." He underscores the broader potential of the initiative: "As the expansion is part of a wider conservation and development masterplan, it will attract investment capital and businesses in other sectors of the economy, stimulating economic growth in the region."
The in-person panel discussion on April 14 will be livestreamed to a global audience. Green notes, "Through this event, we'll be able to bring awareness to people in Orange County and the world about Rwanda and just how forward-thinking this country is on so many fronts. Specifically, its partnerships with AWF, local communities, and the private sector to further economic development and improve the lives and livelihoods of people — all whilst expanding on an already successful conservation model that fosters increasing natural habitat and mountain gorilla population growth."
> Register for the event to learn more about Rwanda's mountain gorillas and partner with AWF