Wednesday, September 7, 2011

Ruhija, Uganda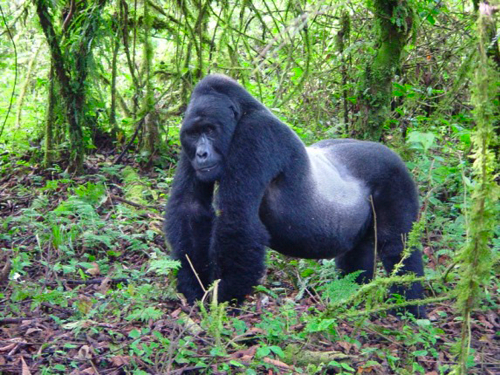 A new census in Bwindi Impenetrable National Park will help determine the entire population size of the critically endangered mountain gorilla, including unhabituated groups.
Constant Threats to Critically Endangered Species Means Ongoing Transboundary Efforts to Ensure Accurate Population Count
RUHIJA, Uganda, September 7, 2011 -- A census of the critically endangered mountain gorilla has just begun in Uganda's Bwindi Impenetrable National Park. If security allows, this census will also include the contiguous Sarambwe Nature Reserve in the Democratic Republic of Congo (DRC).
The census is being conducted by the Uganda Wildlife Authority and the Institut Congolais pour la Conservation de la Nature, with support from the Rwanda Development Board, local governments, and partner organizations, including the International Gorilla Conservation Programme (IGCP), a coalition of the African Wildlife Foundation (AWF), Fauna & Flora International, and the World Wide Fund for Nature; Max Planck Institute for Evolutionary Anthropologym Conservation Through Public Health; the Mountain Gorilla Veterinary Project; the Institute for Tropical Forest Conservation; and the Dian Fossey Gorilla Fund -- International.
"While it may seem like only yesterday that we reported on a mountain gorilla census, the fact is, these censuses require significant amounts of time and coordination, as they typically involve the efforts of several dozens of people from multiple organizations and countries," said Daudi Sumba, AWF's regional director for East and southern Africa. "It must also be noted that the mountain gorilla population is under constant threat, whether it's from planned poaching incidents or unexpected occurrences of human--wildlife conflict. Thus ensuring an accurate count of the species becomes an ongoing challenge and need."
For this census, six trained teams will collect data within Bwindi Impenetrable National Park, with an additional team dedicated to Sarambwe Nature Reserve. The teams will move from region to region in a coordinated effort, searching for recent trails of mountain gorilla groups.
When a trail is found, teams will follow it for three consecutive nights, recording detailed data from the mountain gorillas' night nests. Mountain gorillas build an individual nest out of vegetation each night. It is the nests that will be recorded and counted, that data serving as a basis for scientific analysis of the population as a whole. This technique is referred to as the indirect sweep method.
A team is already in Bwindi Impenetrable National Park doing a pre-census sweep, and additional measures and analysis are in place to ensure as accurate a count as possible. Most notably, fecal samples will be collected from the nests for genetic analysis to ensure that undercounting or double counting of individuals or groups does not occur. Fecal samples will also be collected for a complete health screen of the entire population.
This is the second time genetic analysis will be used as a census tool with the Bwindi--Sarambwe population. Results from the last census in 2006 yielded 302 genetically unique individuals, whereas the indirect sweep method yielded 336 individuals. In this case, it was determined that some of the gorillas were making more than one nest a night, and several groups and solitary males were counted more than once as different individuals. The genetic verification ensures that this potential double counting does not occur during the analysis of the results.
As is now the practice, only the result incorporating the genetic analysis will be released as the most accurate estimate of the population. Because of this, we anticipate the results of this census will be released no sooner than nine months after the field census is complete.
"This census of mountain gorillas, like others IGCP has led in the past, is a truly collaborative effort. Staff from NGOs and government agencies throughout the region will be participating in this census, including a team from Kahuzi--Biega National Park in South Kivu Province in the Democratic Republic of Congo, outside of mountain gorilla territory," said Maryke Gray, technical advisor for IGCP and a lead coordinator of the 2011 Bwindi census.
Currently, there are an estimated 786 mountain gorillas in the world, existing in and near transboundary protected areas in the Democratic Republic of Congo, Rwanda, and Uganda. While habituated groups of mountain gorillas--those accustomed to researchers and tourists--are monitored on a regular basis, the unhabituated gorillas are not. It is only through periodic scientific census that the entire population size can be estimated. A census of the Virunga Massif population of mountain gorillas in 2010 yielded 480 individuals along with four orphaned mountain gorillas in a sanctuary outside Virunga National Park.
Funding for this census is coming from the World Wide Fund for Nature -- Sweden via IGCP, with supplemental support coming from Berggorilla & Regenwald Direkthilfe e.V. and the Wildlife Conservation Society. Results are expected no sooner than June/July 2012.
# # #
About the International Gorilla Conservation Programme
The International Gorilla Conservation Programme (IGCP) is a coalition of the African Wildlife Foundation, Fauna & Flora International, and the World Wide Fund for Nature. The organization's mission is to ensure the conservation of mountain gorillas and their regional afromontane forest habitat in Rwanda, Uganda, and the Democratic Republic of Congo.
About African Wildlife Foundation
Founded in 1961, the African Wildlife Foundation (AWF) is the leading conservation organization focused solely on the African continent. AWF's programs and conservation strategies are based on sound science and designed to protect both the wild lands and wildlife of Africa and ensure a more sustainable future for Africa's people. Since its inception, AWF has protected endangered species and land, promoted partnerships with the private sector for conservation tourism to benefit local African communities as a means to improve livelihoods, and trained hundreds of African nationals in conservation--all to ensure the survival of Africa's unparalleled wildlife heritage. AWF is a nonprofit organization headquartered in Kenya and registered as a 501(c)(3) in the United States.