Wednesday, August 2, 2017

Nairobi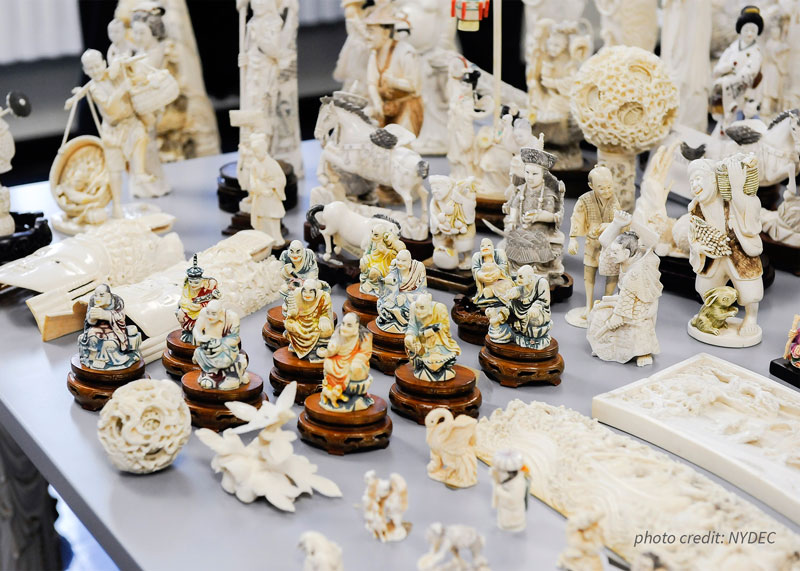 New York State's Department of Environmental Conservation (DEC), WCS and Tiffany and Co., will destroy more than one ton of illegal ivory on Thursday, August 3, 2017. The event will be held in Central Park, New York City. 
The ivory was seized from individuals and companies illegally selling it in New York and is estimated to be worth millions of dollars. Governor Andrew M. Cuomo introduced and signed a new law in 2014 that effectively banned the sale of ivory and rhino horns, and strengthened penalties for illegal trade in wildlife products of endangered species. The law allowed for limited exceptions on products such as antiques demonstrated to be at least 100 years old and containing less than 20 percent of ivory. The adoption of these stricter sanctions was a major step in deterring the ivory trade in the U.S. and protecting endangered species like elephants, rhinos, and pangolins.
This is the second time in two years the State is crushing illegal ivory and it is meant to send a clear message that the U.S. will not tolerate wildlife crime that threatens the extinction of Africa's elephants.
The crush also seeks to:
Increase public awareness about the role consumers play in the plight of elephants, and ultimately, reduce global consumer demand for ivory by halting its illegal trade; 
Reduce the volume of illegally trafficked ivory crossing U.S. borders by sending a strong message that contraband ivory will be seized and destroyed and criminals will face serious penalties.
Ensure the U.S. public understands it is generally illegal to import or export ivory, and that poaching and illegal ivory trade undermine governments and are threats to national security.
Acknowledge the successes of New York State law enforcement in prosecuting and seizing illegal ivory for sale in the state.
Encourage other countries to destroy their stockpiles of illegal ivory or other illegal wildlife products made from highly endangered species.
The event is supported by AWF and a coalition of wildlife organizations: International Fund for Animal Welfare, Association of Zoos and Aquariums, The Humane Society of the United States, Natural Resources Defense Council, Save Animals Facing Extinction, United States Wildlife Trafficking Alliance, and WildAid. 
An estimated 96 African elephants are killed every day by poachers for their ivory. This translates to an elephant being killed every 15 minutes. The Great Elephant Census released in September 2016 revealed a 30 percent decline in Africa's savanna elephant population between 2007 and 2014. Poaching was identified as the predominant cause of this dramatic loss. Additionally, more than 20 tons of poached elephant ivory, prized as "white gold" in parts of Asia and China, as well as the United States, was seized globally in 2016.
"This crush demonstrates that we are united in our efforts and desire to put an end to the ivory trade. AWF continues to urge all countries to implement a complete ban on ivory trade and those with ivory stockpiles to destroy as a message to the market that there is no future in ivory trade," Mr Kaddu Sebunya, AWF President, said in Nairobi. 
Statewide ivory bans have also been passed in California, Hawaii, New Jersey, Oregon, and Washington. A federal ivory ban was enacted last year. Since 1989, 22 countries and territories have destroyed more than 270 metric tons of confiscated ivory.
 
"The battle against elephant poaching is far from over, but New York is showing the world that it is serious about stopping the killing, stopping the trafficking, and stopping the demand," said John Calvelli, WCS Executive Vice President for Public Affairs and Director of the 96 Elephants Campaign. "We encourage all New Yorkers to attend this dramatic event and see first-hand the ravages of poaching, and what is being done to stop it."
The crush follows spirited campaigns by conservation organizations to end the trade in wildlife products. On July 6, 2017, Japanese giant Internet retailer Rakuten announced it was banning the sale of ivory on its site, with trading to be phased out over the next month. 
Over 36,500 individuals and organization, including the AWF, sent letters to Rakuten's president earlier in the year urging the closure of the platform's ivory sales. In December 2016 China announced a ban on ivory products that will go into effect in at the end of 2017. In the US, federal and state sanctions are helping stop the trade in ivory and other wildlife products.