Tuesday, November 18, 2014

Sydney, Australia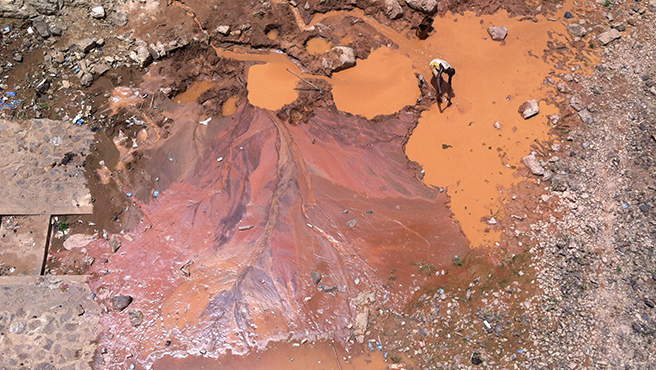 Mining near chimpanzee habitat in Senegal. Senegal's Niokolo-Koba National Park, a World Heritage Site, was recently listed as "critical" by an IUCN World Heritage Site survey. Photo credit: Kelly Boyer
The Zoological Society of London (ZSL) joins forces with 8 other world-leading conservation organisations (African Wildlife Foundation, Fauna & Flora International, Frankfurt Zoological Society, Royal Society for the Protection of Birds, The Nature Conservancy, The WILD Foundation, Wildlife Conservation Society and WWF) to call for urgent action to protect natural and mixed UNESCO World Heritage sites from industrial mining, oil and gas activities.
The joint 'no-go' and 'no-impact' statement will be presented at the IUCN World Parks Congress today in Sydney, Australia.
Despite international recognition as flagship protected areas, the growing demand for natural resources has meant that around a quarter of natural World Heritage sites are now under threat from commercial mining, oil or gas exploration or extraction in and around their borders.
The resulting environmental impacts, which include deforestation, topsoil contamination and water pollution, may not only lead to loss of status as a World Heritage Site but, more importantly, potentially irreversible habitat and species loss that will have wide-ranging repercussions for generations to come.
Professor Jonathan Baillie, Director of Conservation at ZSL, comments: "World Heritage Sites cover less than 1% of the earth's land surface and represent some of the most biologically important and magical places on earth. It is essential that governments and the conservation community take a firm stand against these sites being degraded or destroyed by mining or oil and gas exploitation.  If these sites cannot be protected for future generations and all life, then we have little hope of protecting anything.''
"It is a lengthy, arduous process to get a place listed as a World Heritage Site," says African Wildlife Foundation Program Design Director, Dr. Karen Ross, who played a key role in the listing of Africa's Okavango Delta as the 1000th World Heritage Site. "Once that esteemed designation is given, though, it lends a much needed extra layer of protection for these areas. They are natural wonders with outstanding universal value and nothing should be allowed to destroy or disrupt that value. Such sites should be sacred."
High profile examples where extractive activities have threatened World Heritage Sites include Virunga National Park in the Democratic Republic of the Congo, Selous Game Reserve in Tanzania, the Virgin Komi Forests in Russia and the Belize Barrier Reef System.