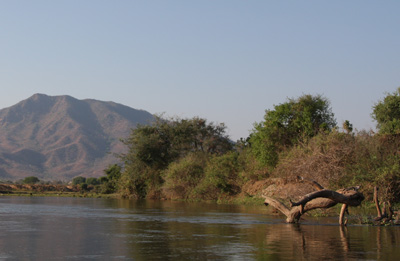 Large Hotel Group Will Reconsider Proposal for Development in Zambia
ZAMBEZI HEARTLAND, ZAMBIA--The Protea Group of Hotels has withdrawn its proposal to develop a large hotel and conference center on the banks of the Lower Zambezi River in Zambia, heeding concerns raised by conservation groups and community leaders that the complex as originally designed could have a serious ecological impact on the wilderness area where it was to be located.
"[W]e have decided not to progress, taking the view that further clarity on the matter is needed," said The Protea Group in a statement issued last week.
The African Wildlife Foundation (AWF) was among the groups recommending that plans for the proposed development be revamped. "AWF believes the people of Zambia can and should benefit from increased tourism-related investment related to the country's wildlife resources," says AWF Zambezi Heartland Director Jimmiel Mandima. "But any such investment must result in a project that is properly scaled, designed, and located."
The original proposed site was located in the Chiawa Game Management Area, a pristine wildlife-rich expanse on the Lower Zambezi River that adjoins and supports the Lower Zambezi National Park (LZNP) ecosystem. Zambia's newest national park, LZNP is home to enormous herds of elephant, herds of buffalo and waterbuck, leopards and lions, and other mammals. AWF helped create the General Management Plan for the LZNP and recently partnered with the people of the Chiawa Chiefdom to open the Chiawa Cultural Center, which brings economic benefits to local people supporting conservation.
As debate about the proposed facility grew, AWF issued a position statement to Zambia's environmental agency recommending that The Protea Group of Hotels relocate and downscale the bed-size of the lodge. AWF also spelled out its concerns that the proposed hotel plan did not fully consider the impact of supportive services related to the facility's development and that the design plans were out of keeping with the nature and wilderness setting in which the lodge would have been located.
In the face of similar concerns raised by community leaders and conservationists, The Protea Group withdrew its application. "Protea Hotels currently has five properties in Zambia and is committed to further investment. We will continue to have productive and meaningful dialogue with the Zambian authorities on further development in the country," the company said.
AWF believes the wildlife-rich Lower Zambezi region has enormous potential in bringing greater prosperity to the people living there and would greatly benefit from greater diversity of types of tourism offerings. As plans for the hotel and conference facility are reexamined, AWF urges The Protea Group of Hotels to work with the Zambian authorities to design a facility that provides optimal benefit both to visitors and to the people and environment of Zambia.
View a video of the AWF-supported Chiawa Cultural Center.
Read more about the Zambezi Heartland.