Tuesday, February 28, 2017

Nairobi, Kenya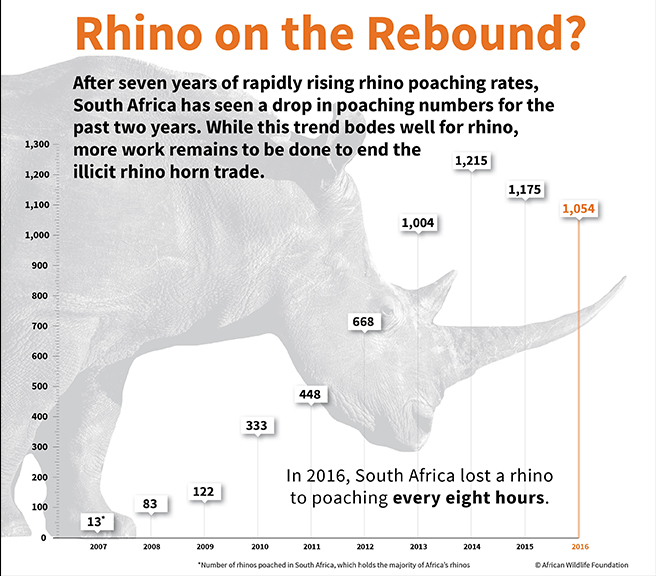 For the second consecutive year, South Africa has announced a drop in rhino poaching numbers compared to the previous year. The country lost 1,054 rhino to poaching in 2016, down from 1,175 in 2015 and 1,215 in 2014. While the trend shows movement in the right direction for the country's rhino, African Wildlife Foundation (AWF) finds that the current rate of poaching, with a rhino killed every eight hours, remains unacceptable.
"With the numbers for 2016 lower than the previous year, it's clear that South Africa is making progress in the battle against poaching," says Philip Muruthi, African Wildlife Foundation's (AWF's) vice president for species protection. "Now, the focus needs to be on keeping this positive trend going. We should not take actions that would detract from this progress, including allowing the sale of rhino horns on a legal market." 
South African Environmental Affairs Minister Edna Molewa announced on Feb. 8 that the country plans to permit domestic trade in rhino horn and international export of horns only for "personal purposes." Members of the public have 30 days to submit written objections to the new rules before the draft regulations go into effect. AWF is seriously considering making a submission.
Even with some of the positive development around rhino poaching numbers, AWF continues to work with wildlife authorities and NGO partners in South Africa to maintain security. AWF support, for example, allowed authorities in KwaZulu-Natal to initiate a rapid response force to bolster rhino security throughout the province. Meanwhile in Sabi Sand Reserve, which borders South Africa's Kruger National Park, AWF support in 2014 enabled the purchase a helicopter for anti-poaching purposes. More recently, AWF supported the launch of a collaborative project involving Sabi Sand Reserve, the South African Police Services and National Intelligence Unit to disrupt poaching syndicates through sophisticated intelligence measures.