Wednesday, August 5, 2015

Washington, D.C.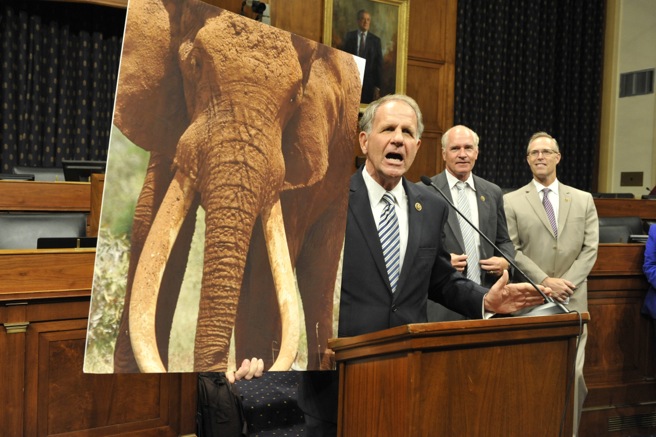 The U.S. House Foreign Affairs Committee takes on wildlife trafficking with new Global Anti-Poaching Act. Photo credit: © Jay Mallin
On Wednesday, U.S. Secretary of the Interior Sally Jewell praised the formation of a new coalition of corporate, foundation and non-profit leaders that will work closely with the U.S. government to combat wildlife trafficking in the United States and abroad.
The new U.S. Wildlife Trafficking Alliance fulfills one of the directives outlined as a strategic priority under the National Strategy for Combating Wildlife Trafficking, which called for the creation of innovative public-private partnerships to raise awareness in the United States about wildlife trafficking, reduce consumer demand for wildlife products, and help corporations ensure their goods, services and platforms are not being appropriated by wildlife traffickers.
"Our efforts to stop the poaching and trade of wildlife must move beyond relying solely on governments to provide the solutions," said African Wildlife Foundation CEO, Dr. Patrick Bergin, who serves on the White House's Advisory Council on Wildlife Trafficking. "This needs to become a public issue and a mass movement in the United States until we reach that critical mass of advocacy and action, and the illegal wildlife trade is stamped out for good."
African Wildlife Foundation (AWF) was an early member of the Alliance and supported its formation, alongside other conservation leaders. The Alliance will also recruit leaders in the technology, communications and social media community who can use their platforms to enhance the visibility of wildlife trafficking issues in the United States and around the world. Coalition partners will work closely with the Department of the Interior and other government agencies tasked with addressing wildlife trafficking issues in the United States.
"How the United States responds to the wildlife trafficking crisis, at all levels of society, is extremely important and speaks to the country's credibility as a leader on this issue," said Bergin. "Not only can the United States serve as a model for other countries combating wildlife trafficking but it also can use its influence and leadership to challenge other countries to stop the killing and trafficking."
In a press release distributed on Wednesday by the Department of the Interior, Secretary Jewell emphasized the United States' commitment to a "multi-pronged fight" against wildlife trafficking—one that first begins at home.
"To put an end to this scourge of killing and trafficking rare and iconic wildlife, we need the help of companies and others outside the government," said Secretary Jewell, who serves as a co-chair on the President's Task Force on Wildlife Trafficking. "Already, many companies are leading by example by raising public awareness and implementing best practices to support sustainable supply chains that avoid contributions to illegal wildlife trade. The creation of this Alliance will provide invaluable assistance in our fight. There is no question that how we deal with wildlife trafficking activities here in the United States will have an enormous influence on our global success in dealing with the crisis."
In addition to AWF, other Alliance members include National Geographic, World Wildlife Fund, Wildlife Conservation Society, WildAid, the Natural Resources Defense Council, the Wildlife Conservation Network, The Nature Conservancy-North America, the Humane Society of the United States, Conservation International, the International Fund for Animal Welfare, TRAFFIC and RESOLVE. Companies, foundations and luxury brands such as eBay, Facebook, Google, Vulcan, the Paul G. Allen Foundation, the Wyss Foundation, Tiffany's and Berkshire Hathaway have either begun discussions or are already working with the Alliance.
Last month, while in Kenya, President Obama announced a proposal to create new regulations that would prohibit most interstate commerce in African elephant ivory and further restrict commercial ivory exports, resulting in a near total ban on ivory trade in the United States.
"The cumulative effect of all of these actions will ensure the United States is not dumping ground or transit hub for illegal wildlife products nor a safe haven for wildlife traffickers," said Bergin.
To learn more about the U.S. Wildlife Trafficking Alliance, please visit their website.