Serengeti: Enjoying safe wildlife experiences during COVID-19
Serengeti: Enjoying safe wildlife experiences during COVID-19
By Harleen Sehmi | October 23, 2020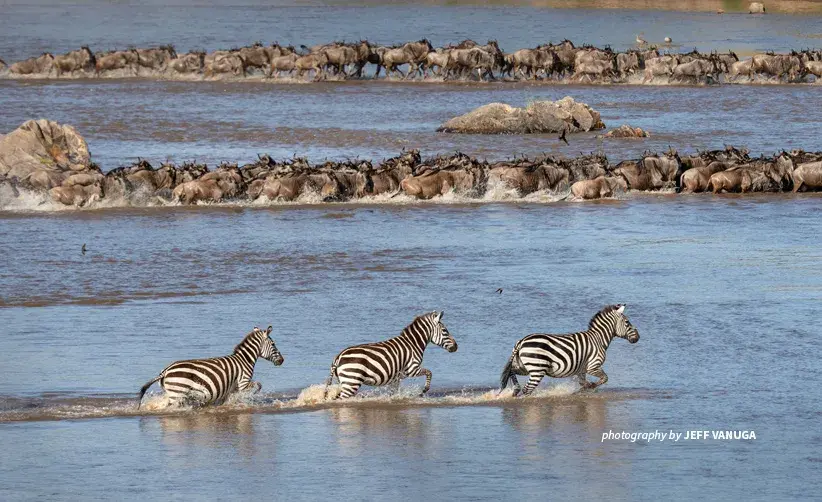 About the Author
Harleen Sehmi is the Senior Digital Content Officer at African Wildlife Foundation. She develops articles for AWF's website and publications, connecting audiences with the organization's work in diverse landscapes and showcasing the impact of community-centered conservation.
...
More
Every year, during the dry July-September season, millions of wildebeest thunder across the vast Serengeti-Mara ecosystem, following the rain in their quest for breeding grounds and fresh pasture. On this centuries-old journey, massive herds plunge into the dangerous Mara River as they make their way to the Serengeti plains — a spectacle that brings tourists from far and wide to Kenya and Tanzania. But this year, the wildebeest's avid audience all but disappeared.
The COVID-19 pandemic necessitated international and local travel restrictions in March 2020, leaving lodges and hotels in Mara and Serengeti with no bookings for one of the region's most highly anticipated wildlife events. In late August, when lockdowns were easing and some lodges had resumed operations, African Wildlife Foundation CEO Kaddu Sebunya ventured to Serengeti with his family. Not only was it their first trip during the pandemic, it was also their first time witnessing the wildebeest migration. He speaks to AWF Safari Manager Carter Smith, who organized this milestone trip with Senior Vice President Craig Sholley in close partnership with Thomson Safaris to create a memorable wildlife experience while adhering to COVID-19 regulations.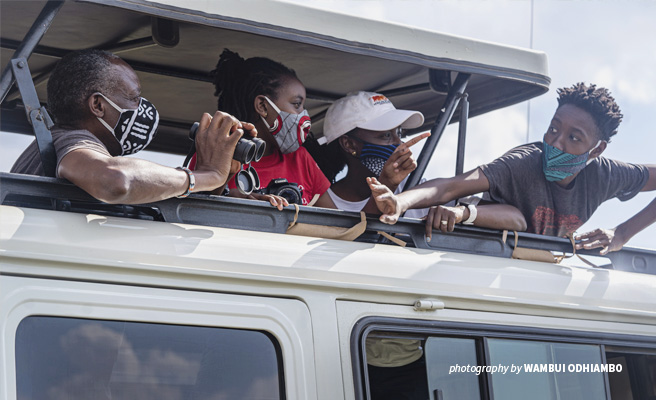 AWF CEO Kaddu Sebunya and his family visited Serengeti National Park in Tanzania for a COVID-safe safari
Carter: Kaddu, I was so pleased, for many reasons, to learn that you were interested in traveling to Serengeti. When Craig and I began to plan your trip, we knew that you would be in excellent hands with Thomson Safaris. Apart from our valued partnership and their incredible professionalism in terms of safari protocol, we were fully aware that Thomson Safaris had spent the last few months developing new COVID-safe travel guidelines and instituted the necessary safety measures to receive guests since closing their camps in mid-March. We knew that your safari would be a memorable one, but also a safe one.
This Serengeti trip was truly a 'safari of firsts.' The first AWF staff to travel on safari since this pandemic begin; the first time for you and your family to travel to Serengeti; your first experience of the wildebeest migration; and the first guest for Thomson Safaris while the COVID-19 pandemic is a part of our lives. Could you share more about why you chose to visit Serengeti?
Kaddu: If you are to be anywhere in Africa between July and September, you have two choices: either to be in Mara or to be in Serengeti. I chose to travel from Nairobi to the biodiversity gem in northern Tanzania so I could see first-hand how African Wildlife Foundation's longstanding conservation partnerships are faring under COVID-19 conditions. We have been working with Tanzania National Parks for over 60 years and our Canines for Conservation training center is based at Usa River near Arusha. Before the COVID-19 crisis, our sniffer dogs were deployed to detect traffickers at points of entry. However, we have repurposed this expertise and the canines as a tracker dog unit. Serengeti is the first national park where we implemented this COVID-19 emergency response to mitigate wildlife crime in protected areas like Serengeti National Park during the pandemic. We want to expand this further as we tackle some of the complications arising from the pandemic in terms of law enforcement and boots-on-the-ground activities that park management authorities need to boost in absence of tourism.
Tourism operators across the continent have also shifted their approach and I wanted to experience the 'new normal' when it comes to wildlife viewing. Driving with my family from Nairobi to Arusha has shown me that the post-COVID world is definitely different. We were sanitized and given masks as soon as we arrived at the border. At the lodge, they sprayed our shoes, and luggage, and everything else. Our safari vehicle was also sanitized every morning. We were social distancing as the guides and rangers interacted with us; we also sat differently during meals and had conversations shouting to each other across separate tables!
What Serengeti offers that is different from any other safari destination in Africa that we have visited as a family is the sheer volume of wildlife. We have all seen zebras before, but never in their hundreds like we did in Serengeti; the wildebeest were in their thousands. Thomson Safaris, took care of all our health and safety needs so we could immerse ourselves in this once-in-a-lifetime experience. We were lucky to explore this vast landscape with our guide Freddy Mushi by our side. The depth of his naturalist knowledge is exceptional. Every game drive and conversation with him has underscored my belief that safari guides are the biggest assets, both in the tourism industry and conservation. The stories and knowledge they possess about wildlife and the ecosystem are immense — whether he is talking about a big mammal or a tiny bird. He showed my children how to identify wildlife prints on the ground and tell at what speed they were running, and what might have been chasing them. Guides like Freddy bring a passion and raw emotion to watching wildlife — this is the spirit we want each and every visitor to embody after going on an AWF Safari.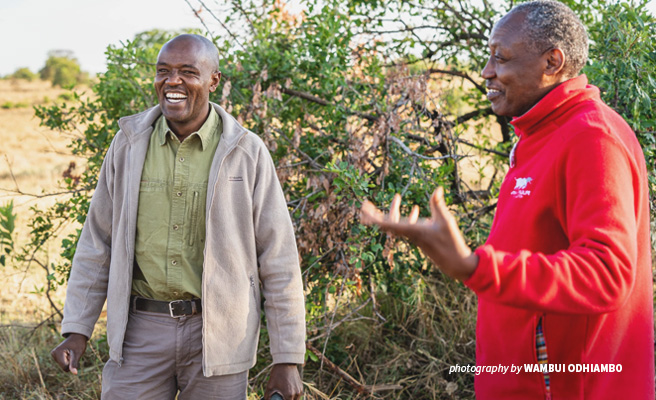 Serengeti safari expert and naturalist Freddy Mushi has guided numerous AWF Safaris in the landscape
Carter: There are so many incredibly talented and dedicated guides in Serengeti but I was delighted to learn that Freddy was going to be your guide. He has guided many AWF Safaris in the past and I have had the privilege of guiding with him on our last trip to Serengeti. He is a true conservationist and dedicated naturalist. One can always travel on one's own, but a local safari guide acts as an ambassador and sets the tone of the entire expedition. From your experience visiting iconic destinations across Africa, what difference does it make to travel with safari experts and conservation specialists?
Kaddu: When you travel to Africa's rich biodiversity hotspots alongside AWF, you will interact with people who have vast experience in every facet of wildlife conservation. There are park managers and rangers, as well as AWF staff, who open up their work to guests to add an educational dimension to the safari. In going behind the scenes — as I did, for instance, with our Canines for Conservation program — one has the opportunity to gain a new appreciation for the impact of AWF's work on the ground the last almost 60 years.
My trip to Serengeti came at a time when the safari industry is still coming to terms with the sudden shift in operations due to the COVID-19 pandemic. Safari operators and lodge owners alike are reeling from the substantial financial burden and pain of having to turn away tourists so it was encouraging to see the optimism of Thomson Safaris CEO John Bearcroft with regard to wildlife and the safari industry. Everyone from the guides and the managers are fired up and looking forward to the reopening. In other landscapes where we work, it has also been heartening to see that many tourism operators have not abandoned their commitments as a result of the travel restrictions — they continued to pay salaries; they are still making contributions to communities.
Carter: I am so encouraged to see so many East African residents beginning to travel locally. As a longtime Kenya resident, I was fortunate to travel with my family as often as possible to the Kenya and Tanzania coast. Living and working in Kenya, I was consistently inspired by the overall positivity of people and their support for one another during times of crisis. It is so heartening to see this resilience during the pandemic as well. With COVID-19 safety protocols in place, there has been an immediate and encouraging upswing in domestic tourism, particularly in Kenya. Can you tell us more about the value of local travel now that safety protocols have been put into place?
Kaddu: Domestic tourism is closely linked to AWF's belief that wildlife conservation on the African continent will not be successful if Africans are not involved. Tourism enterprises provide employment for people living in wildlife-rich areas — they can become guides like Freddy or community wildlife scouts; they can run lodges and campsites. At the same time, more Africans can contribute to the industry through in the viewing of wildlife and experiencing the continent's wonderful assets by visiting national parks. When we increase the number of Africans visiting these parks, we come one step closer toward getting Africans involved in conserving and protecting wildlife.
We already know that safari industry is one of the largest funders of park management operations, with park entrance fees and other services being a key source of income for protected areas. In the case of community conservancies or private landowners, 100 percent of their revenue comes from safari operators and the services they offer tourists. However, as the COVID-19 crisis has shown us, the safari industry cannot solely depend on international arrivals that can shut down overnight.
Carter: AWF Safaris will only resume in May 2021 — this was a difficult but necessary decision. We are already looking forward to our first safaris since the pandemic, starting in Namibia, followed by Tanzania, Zimbabwe, and Uganda. In the meantime, we have launched a virtual safari series to engage our supporters and travelers. AWF virtual safaris are special because they are not designed only for the wildlife enthusiasts patiently waiting to travel; we also want to engage and support the safari industry that has been so dramatically affected by the pandemic. Our interactive virtual platform gives participants a chance to hear stories and make meaningful connections with featured guests such as local guides. We also introduce virtual safari-goers to AWF teams with years of on-the-ground experience who are now leading our COVID-19 Emergency Response. They are delivering essential support to wildlife management authorities and communities living near protected areas, mitigating the negative impacts of the pandemic on the continent's essential ecosystems.
> Learn how AWF provided handwashing stations and face masks for remote forest communities in the Democratic Republic of Congo