Sniffer Dogs Ready to Combat Wildlife Trafficking
Sniffer Dogs Ready to Combat Wildlife Trafficking
General Inquiries
Tel:+254 711 063 000
Ngong Road, Karen, P.O. Box 310
00502 Nairobi, Kenya
On Friday, rangers from Tanzania's Wildlife Division and the Kenya Wildlife Service (KWS) graduated alongside their four-legged partners—eight ivory detection dogs—following two months of intensive training under African Wildlife Foundation's (AWF's) Conservation Canine Programme.
The programme specifically combats the "trafficking" component of the illegal wildlife trade by installing ivory detection dogs at seaports, airports and other ivory trafficking chokepoints, and aims to establish a "canine centre of excellence" on the continent. A ceremony to honour the graduates and a mock demonstration of the dogs at work was held near Arusha, and was attended by representatives from Wildlife Division, KWS, Tanzania National Parks and Ngorongoro Conservation Area Authority, among others.
Under a Memorandum of Understanding (MOU) signed between AWF and Wildlife Division, a dog detection team will first be installed at the Port of Dar es Salaam, where it will search shipping containers for smuggled ivory moving through the busy East African port.
"Wildlife Division appreciates the efforts done by African Wildlife Foundation and other stakeholders in the initiation of a conservation canine programme," said Wildlife Division Head of Anti-Poaching Faustin Masalu, who delivered remarks during Friday's graduation ceremony. "The use of sniffer dogs is indeed a big score for law enforcers and a defeat for illegal traffickers. We hope that the experience of using sniffer dogs at Julius Nyerere International Airport, Kilimanjaro International Airport and Dar es Salaam Seaport will generate a good approach, and the same technique can be applied at other checkpoints like Songwe airport and Tanga seaport."
Masalu noted that his department would do everything to ensure the AWF canine programme is successful and sustainable.
"The use of sniffer dogs will help to crack down on the poaching of elephants and other wildlife species, and illegal traffickers will not be safe at any point, particularly at checkpoints," he said.
A similar MOU was signed between AWF and KWS to install dog detection teams at the Port of Mombasa, as well as other identified export hubs—Jomo Kenyatta International Airport and the border crossings of Lunga Lunga and Namanga, for example—through which ivory is trafficked.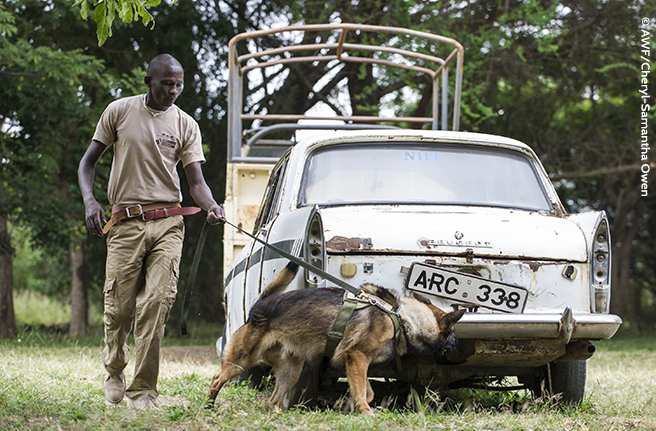 "We are most grateful to African Wildlife Foundation for supporting this important initiative," Kenya Wildlife Service Director General William Kiprono said in a statement. "The rigorous training by eminent instructors will help to strengthen and supplement our existing canine unit, which was one of the first in the region designed to disrupt the illegal wildlife supply chain through our airports and seaports, among other places. This training will help to modernize the KWS force and improve the effectiveness of patrols by use of canines for conservation."
KWS Deputy Director of Security Robert Muasya attended Friday's event and said the anti-trafficking effort would go a long way toward bringing to book ivory smugglers.
"The skills acquired by both the rangers and the canines that have completed the training programme are of immeasurable importance to both Kenya and Tanzania, and we look forward to utilizing those excellent and rare skills," Muasya said.
The Ports of Dar es Salaam and Mombasa have long been identified as primary export hubs for trafficked ivory out of Africa. Between 2006 and 2014, more than 85 per cent of seized savannah elephant ivory was traced back to East Africa, much of it from southeastern Tanzania. Between 2009 and 2015, an estimated 188,170 kg of ivory was reportedly smuggled through Kenya's Port of Mombasa.
AWF's CEO, Dr Patrick Bergin, praised Wildlife Division and KWS for their commitment to reverse these trends and be part of the solution in tackling wildlife trafficking.
"Man's best friend can be wildlife's best friend too," said Bergin, who participated in Friday's ceremony. "A well-trained dog and a skilled handler are one of the best ways to detect and deter the smuggling of wildlife products across international borders. Unlike some of the newer technological solutions that have been proposed, detection dogs are a tried and proven technology. If we can make it more difficult and more risky for traffickers to get their products to market, then we make this business less attractive to those looking for a quick, easy profit."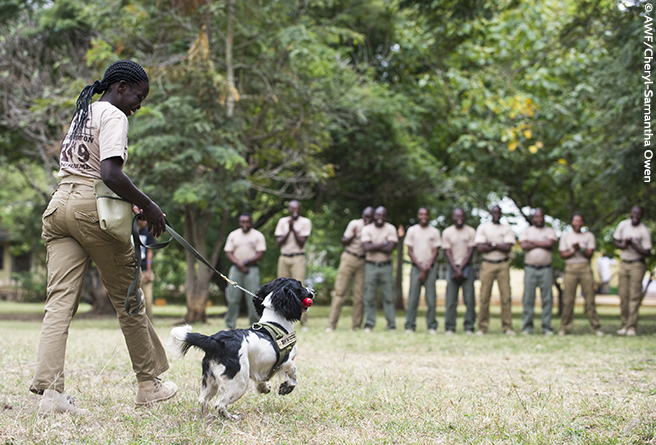 In the design and launch of the programme, AWF Conservation Canine Director Will Powell emphasized the need to think beyond simply training dogs and handing them over.
"Too often the focus is only on training the dog, with little thought about the person working with that dog on a daily basis or the environment needed to care for our canine partners," said Powell, who for many years trained dogs to detect landmines and explosives before turning his attention to the conservation theatre.
"The relationship between the dog and his or her handler is one of the most important factors in the success of any programme like this," he said. "If the dog and handler don't trust, respect and love one another, the partnership breaks down. Happy dogs are motivated dogs, and we have to ensure the handlers not only know how to make their dog happy but also why it is important."
In Africa, dogs are already being used to help track poachers in the bush. AWF's partner, Honeyguide Foundation, uses tracker dogs to combat poaching on an AWF-managed conservancy between Tanzania's Lake Manyara and Tarangire National Parks, and a number of Wildlife Management Areas (WMA), including Burunge WMA, Enduimet WMA and Randilen WMA.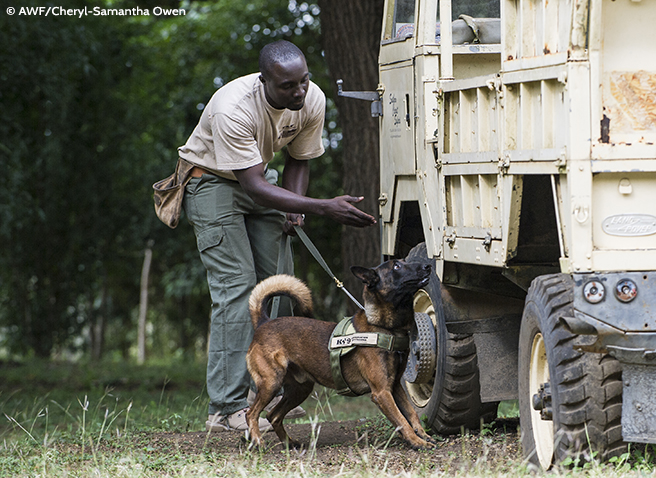 Dr Philip Muruthi, AWF's Vice President of Species Protection, explained AWF's vision to establish a "canine centre of excellence" on the African continent: "We see this serving as a model for anyone or any group wanting to deploy detection dogs in Africa. We have started with Kenya and Tanzania because wildlife trafficking remains a big problem in these two countries and because we have a longstanding partnership with KWS and Wildlife Division. We have identified other areas of weakness in the ivory trafficking chain and will soon look to deploy dogs to these sites."
Muruthi noted the detection dogs are part of AWF's overall strategy to stop the killing, stop the trafficking and stop the demand. He said AWF was already looking into training a new class of handlers and dogs for countries such as Ethiopia, the Democratic Republic of Congo and Mozambique and that soon the dogs would be trained to sniff out rhino horn.
During Friday's event, four dogs and six handlers from Tanzania graduated alongside four dogs, six handlers and one corporal from Kenya. The dogs selected for ivory detection were brought in from Europe earlier this year, and comprise a mix of breeds, including spaniel, German shepherd, Malinois and a German short-haired pointer.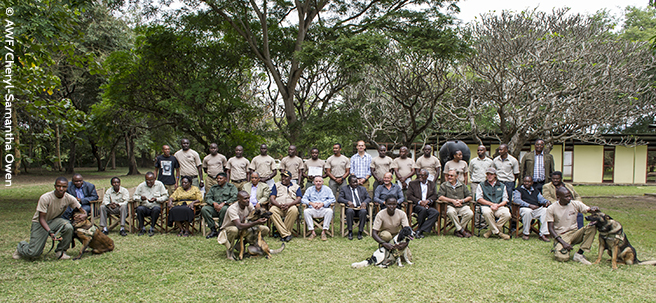 Officials and key partners who attended Friday's graduation ceremony include: Wildlife Division Head of Anti-poaching Faustin Masalu; Wildlife Division Head of Intelligence John Ngowi; Tanzania National Parks Director General Allan J.H. Kijazi; KWS Deputy Director of Security Robert Muasya; KWS Human Capital Manager Elizabeth Njeri; KWS Canine Master Mark Kinyua; Ngorongoro Conservation Area Authority Conservator Freddy Manongi; Honeyguide Foundation Chairman Ole Kirimbai; Mweka College of African Wildlife Management Rector Alex Songorwa; and members of Tanzania's tourism community.