Tuesday, October 6, 2015

Addis Ababa, Ethiopia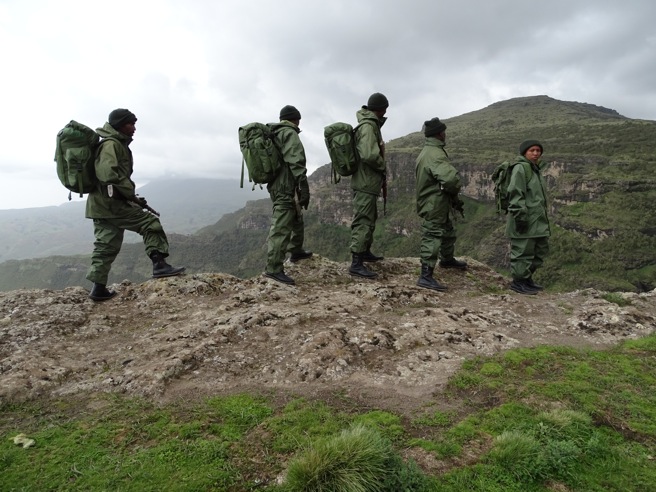 Rangers with the Ethiopian Conservation Wildlife Authority patrol in the Simien Mountains National Park. Photo credit: Zeleke Abuhay/African Wildlife Foundation
On Tuesday, law enforcement officials, wildlife protection managers, prosecutors, judges and magistrates from Ethiopia will participate in a Wildlife Criminal Justice Assistance training in Addis Ababa.
Hosted by African Wildlife Foundation (AWF) and the Ethiopian Wildlife Conservation Authority (EWCA), through support from the U.S. Department of State's Bureau of International Narcotics and Law Enforcement Affairs (INL), the two-day training will provide an analytical legislative review of Ethiopia's existing wildlife laws and assist in identifying ways to improve the investigative, prosecutorial and judicial responses to wildlife crime. His Excellency Amin Abdulkadir, Ethiopia's Minister of Culture and Tourism, will provide an address during the opening session.
"The envisaged wildlife criminal justice assistance training is expected to narrow down the existing breach, as there are considerable knowledge gaps among the judiciary bodies in understanding the deep-rooted challenges associated with wildlife crime," says Dawud Mume, Director General of the Ethiopian Wildlife Conservation Authority. "The training has also significant contribution in raising awareness of all stakeholders and thus it plays vital role in strengthening wildlife law enforcement and gives the opportunity to reinforce the inter-agency collaboration in all matters of wildlife crime."
Ethiopia's Bole International Airport has long been identified as a transit point for illicitly trafficked wildlife products, including ivory. According to Ethiopia's National Ivory Action Plan, authorities have arrested more than 700 people—many of them Chinese nationals—for ivory trafficking in the last five years. In March 2015, the Government of Ethiopia destroyed more than six tons of confiscated ivory.
"Ethiopia is not only a wildlife trafficking hotspot, but it is also the home of the African Union," says African Wildlife Foundation's vice president of species protection, Dr. Philip Muruthi. "The decisive action that it is taking toward combating the illegal wildlife trade is therefore important, because it sets an example for the rest of the continent."
Representatives from AWF, EWCA, INTERPOL, the United Nations Office on Drugs and Crime, and the Lusaka Agreement Task Force will lead the various training sessions.
"It is AWF's hope that this training will enhance inter-agency collaboration which is key in addressing wildlife crimes," says AWF Law Enforcement Manager Didi Wamukoya, noting that Ethiopia's wildlife laws are strong but maintain weaknesses that undermine the country's efforts to effectively combat the illegal wildlife trade. "It will also stimulate proper application of the laws by key players in the judicial system including application of tougher laws on anti-money laundering and organized crime."
Wamukoya indicated that one such weakness was that few convicted traffickers received deterrent sentences.
INL, which assists foreign countries in their efforts to combat transnational crimes, including wildlife trafficking, is supporting this training as part of a larger strategic framework under a continent-wide program called Africa's Regional Response to Endangered Species Trafficking (ARREST). Led by AWF in partnership with the Freeland Foundation and the International Fund for Animal Welfare, ARREST aims to strengthen law enforcement responses to combat wildlife crime at the regional and sub-regional levels.
Says an INL Senior Official: "Strengthening prosecutorial assistance and engaging the judiciary to elevate wildlife crime as a priority is part of a larger series of law enforcement capacity building efforts that we support. Strict criminal laws will better deter future criminals from engaging in wildlife trafficking."
AWF and its partners have conducted a number of law enforcement and judiciary trainings in East and Central Africa, including two recent workshops in Kinshasa and Mbandaka in the Democratic Republic of Congo.