Thursday, November 12, 2009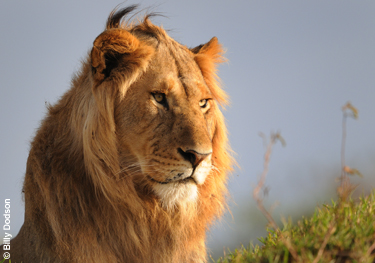 Nairobi, Kenya--The U.S. Environmental Protection Agency (EPA) took another step to eliminate use of the pesticide carbofuran in the United States.
Although issued by a U.S. agency, the ruling is being followed closely in Kenya, where lions poisoned by livestock owners after their cattle fell prey to lion attacks have been widely attributed to carbofuran, called Furadan in Africa.
Conservationists say such poisonings are contributing to what is being called an "extinction crisis" for Africa's lions. Recent surveys show the population of the Africa lion has declined by as much as 50 percent in recent decades, with current estimates ranging between 23,000 -- 39,000.
Although FMC Corporation, the Philadelphia-based manufacturer of carbofuran, says there is no proof its product has been involved in lion poisonings, it halted sales of carbofuran to Kenya in May 2008 and to Tanzania in May 2009 and has taken other measures to bolster proper use of the pesticide.
Late last month, the EPA announced it is moving forward to implement the agency's ruling to revoke tolerances, or residue limits, for the pesticide carbofuran in the United States.
"The evidence is clear that carbofuran does not meet today's rigorous food-safety standards,"said Steve Owens, assistant administrator for EPA's Office of Prevention, Pesticides and Toxic Substances. "EPA has carefully evaluated the scientific issues and has provided more than 500 days of public comment on this decision. It is now important to move forward with the needed public health protections, especially for children."
Potential short-term health effects from ingesting carbofuran include headache, sweating, nausea, diarrhea, chest pains, blurred vision, anxiety and general muscular weakness, according to the EPA.
The ban of the pesticide in the United States will likely make it easier to halt its use in Kenya.
"This ruling is good news for lions and other wildlife that can be poisoned by this inexpensive pesticide. The next step in Africa is to get the pesticide banned locally, a process that has begun in Kenya," says Philip Muruthi, African Wildlife Foundation's (AWF's) Director of Conservation Science.
Although the EPA first began limiting the use of carbofuran in 2006, the chemical's use in Africa came under great scrutiny this year after conservationists highlighted its use as a poison and a segment of 60 Minutes this March detailed the fate of lions poisoned with common pesticides.
Usually after eating a carcass or other bait laced with pesticide, the lion begins to vomit, rapidly loses motor function, and suffocates as its nervous system shuts down.
"Livestock predation and retaliatory killing of predators is a huge conservation challenge in Kenya and Tanzania because of the dynamic interaction between people and wildlife," says AWF Lion Researcher Bernard Kissui. 'Understandably, livestock owners who lose cattle are angry -- and retaliatory poisonings and spearings claim the lives of scores of lions every year, a trend that is threatening the species' survival.'
Through a specially funded program, AWF works with local villagers to protect their herds by reinforcing their bomas with special fencing. (Bomas, or kraals in southern Africa, are thorn bush enclosures where livestock are kept.) AWF is also promoting other improvements in livestock security; educating communities about the habits of lions; and helping to develop warning systems that alert people when lions are near.
More broadly, through its Africa Heartland program, AWF is working to secure vast conservation landscapes that generate livelihood benefits for people while giving large predators the habitat and space they need to survive.
"Inexpensive and readily available agricultural products are misused by a few but needed by many in poor rural communities,' says Dr. Muruthi. 'It comes down to human needs versus wildlife needs, and conservation will succeed on a large scale only if we are able to balance the two.'
To learn more about AWF's lion conservation work, click here.
To help stop the lion extinction crisis, click here.