Wednesday, February 11, 2015

Washington, D.C.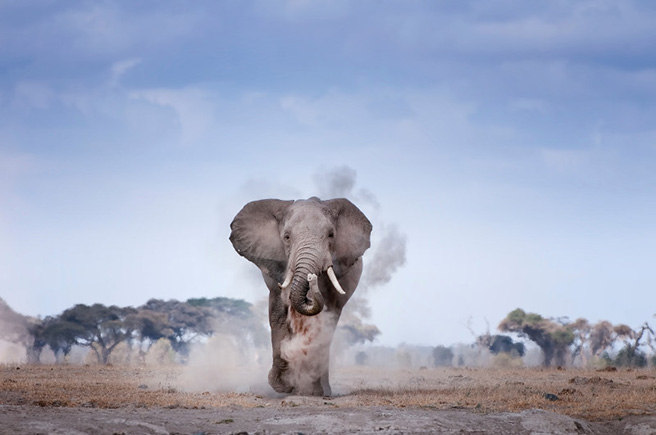 An elephant kicks up dust in Tanzania. Photo: Billy Dodson.
Today the U.S. Departments of Interior, State and Justice released the implementation plan for the U.S. government's National Strategy for Combating Wildlife Trafficking.
While the strategy, issued by President Obama on February 11, 2014, established the guiding principles and priorities around U.S.-led efforts to stem the illegal wildlife trade, the implementation plan directs federal agencies in their execution of the strategy. Both the national strategy and plan serve as models for countries in Africa and Asia where the African Wildlife Foundation (AWF) is working with partners to stop poaching of wildlife and disrupt the illicit trade in ivory, rhino horn and other animal derivatives.
"While first and foremost this is a road map for 'battening down the hatches' in the United States and leveraging the power and purview of different government agencies to tackle the problem, it also serves as a model for the rest of the world and is an indication that the U.S. government is leading on this issue," says Dr. Patrick Bergin, African Wildlife Foundation CEO and a member of the White House Advisory Council on Wildlife Trafficking, an advisory body which provided recommendations on the strategy and its implementation.
The plan focuses on three strategic areas as outlined by the National Strategy:
Strengthening enforcement in the United States to stop the illegal trade in wildlife—through enforcement of laws prohibiting and penalizing wildlife trafficking—while also improving global enforcement efforts through support to partner countries.
Reducing demand for illegally traded wildlife through public awareness campaigns and outreach in the United States alongside public diplomacy abroad.
Building international cooperation and commitments, as well as public-private partnerships, to mobilize global support for the fight against wildlife trafficking.
---
In a similar vein, and at times in partnership with the U.S. government, African Wildlife Foundation's (AWF's) efforts to stop the poaching of elephants, rhinos and other species in Africa and disrupt the trafficking of wildlife parts abroad is already complementing the work of the US government. The conservation group's US$10 million Urgent Response Fund is being leveraged to support a variety of projects in Africa and Asia, including:
Sniffer dogs. AWF has contracted a Tanzania-based canine specialist group to train sniffer dogs and handlers, and is working with wildlife authorities in Africa to position these canine detection units at ports and border areas in key countries, including Kenya, Tanzania, Ethiopia and the Democratic Republic of Congo. A thorough analysis of wildlife laws in those countries and accompanying judicial and law enforcement training will also take place.
Demand reduction. AWF, WildAid and other partners have produced and are continuing to produce celebrity-studded public service announcements (PSAs) for the Asian market. These include PSAs starring former NBA star Yao Ming, actor Jackie Chan and a new PSA by Chinese actress Li Bingbing (link). In China, the PSA campaign is reinforced by strategically placed billboards in airports, at bus stops, along highways and on ferries.
Strengthening law enforcement. AWF is supporting and enhancing anti-poaching operations in a number of landscapes in sub-Saharan Africa. Helicopters, tracker dogs, CyberTrackers and other equipment underwritten by AWF has led to sharp declines in poaching and an increase in arrests of poachers. In other high-risk areas, AWF is partnering with environmental security firms to install order and protection in otherwise lawless areas.
---
"Our efforts, and the efforts of the United States and other governments, to combat the illegal wildlife trade will bring an end to this insidious industry and a respite to Africa's wildlife," says Bergin.