Monday, June 15, 2015

Washington, D.C.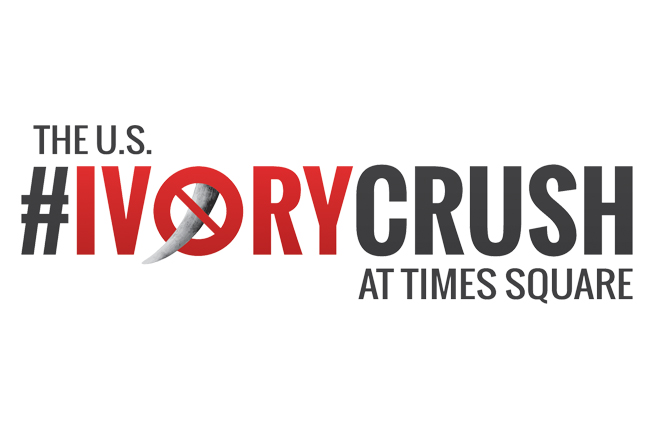 On Monday, the U.S. Fish and Wildlife Service (USFWS) announced it will destroy more than one ton of illegal ivory in New York City's Times Square.
The event, which will take place on Friday, June 19, is intended to raise awareness about the ongoing plight of elephants, especially in Africa, where as many as 35,000 elephants are poached every year. Organized by the USFWS with support from a coalition of conservation groups, including the African Wildlife Foundation, the Times Square Ivory Crush will be attended by U.S. Secretary of the Interior Sally Jewell, USFWS Director Dan Ashe, New York State Senator Brad Hoylman and other special guests.  
"By publicly destroying illegally-obtained ivory in Times Square—one of the most recognizable and iconic intersections in the world—the United States is giving the elephant crisis the kind of global spotlight it deserves," says African Wildlife Foundation CEO, Dr. Patrick Bergin. Appointed by Secretary Jewell to serve on the White House Advisory Council on Wildlife Trafficking, Bergin helped to shape the government's national strategy and subsequent implementation plan for combating the multi-billion dollar illegal wildlife trade.
"It is critical for the future of Africa's elephants that we keep the world's attention focused on this crisis for as long as it takes," says Bergin.
The illegal killing of elephants is being fueled by demand for ivory products in countries such as the United States, China, Thailand, the Philippines and other nations where they are coveted by the wealthy to convey status, or else for cultural reasons. It is estimated that poachers kill one elephant every 15 minutes in Africa.
In May, the Mozambican government announced a 48 percent decline in its elephant population, largely due to poaching. Earlier this month, Tanzania announced that it had lost more than 60 percent of its elephants in a five-year period, falling from 110,000 elephants in 2009 to a little more than 43,000 in 2014. Tanzania, together with Botswana and Zimbabwe, has historically held half of the continent's elephants.
The Ivory Crush in Times Square will mark the second time the U.S. government has destroyed a stockpile of illegal ivory, following a similar event in Denver, Colorado in 2013.
Jimmiel Mandima, AWF's program director who will be attending Friday's Crush, says that the United States is helping to establish the pace and the path forward in shutting down the illegal trade in ivory at home and abroad.
"The U.S. government is demonstrating that it not only intends to serve as a model in shutting down domestic trade in illicit wildlife products, but that it will also serve as an important partner to other nations, especially Africa's elephant range states, in the fight to save elephants from extinction," says Mandima.
The Times Square Ivory Crush is being sponsored by African Wildlife Foundation, Wildlife Conservation Society, World Wildlife Fund, International Fund for Animal Welfare, Natural Resources Defense Council and the Humane Society of the United States.
Ivory has been destroyed at a number of public events this year, including 15 tonnes in Kenya, six tonnes in Ethiopia, five tons in Congo-Brazzaville and, more recently, 662 kg in Beijing, China. Kenya's government has committed to destroying its entire stockpile by the end of the year, while China's State Forestry Administration alluded to a government decision to phase out domestic trade in ivory. 
Learn more about the Times Square Ivory Crush at www.fws.gov/ivorycrush.