Monday, September 16, 2013

Washington, D.C.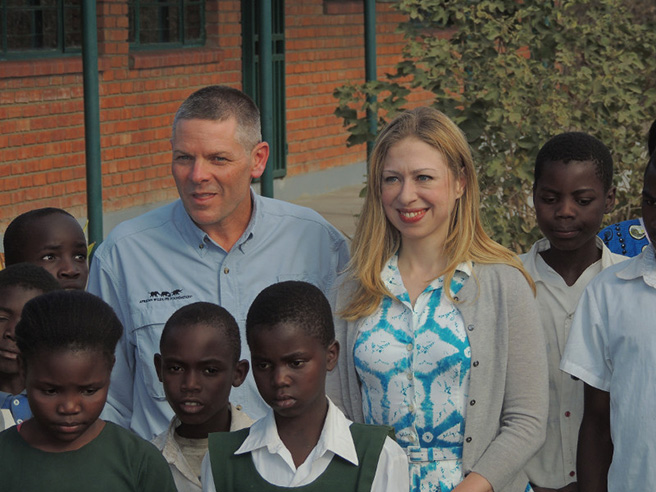 Chelsea Clinton and AWF CEO Patrick Bergin with school children at AWF's Lupani Conservation Primary School in August 2013
Administration taps AWF's CEO to Help Advise Presidential Task Force on Wildlife Trafficking 
WASHINGTON, D.C., September 13, 2013—Last Monday U.S. Secretary of the Interior Sally Jewell appointed several members to a new national council on wildlife trafficking at an event held at the White House and attended by Former U.S. Secretary of State Hillary Clinton, Clinton Foundation Vice Chair Chelsea Clinton, and Deputy National Security Advisor Ben Rhodes. The Advisory Council on Wildlife trafficking is the first in a series of actions initiated by U.S. President Barack Obama's July 1 Executive Order committing U.S. resources and support to those countries combatting the illegal wildlife trade, which generates between US$10 billion and $20 billion annually, putting it on par with the illegal trade in arms, drugs, and humans. The trade is currently driving wildlife, in particular Africa's elephants and rhinos, to the brink of extinction.
"Poaching of wildlife has become a crisis that threatens large numbers of species including elephants, rhinos, great apes, tigers, sharks, tuna, and turtles," Jewell said during last week's White House event. "With guidance from the new Advisory Council on Wildlife Trafficking, we will continue to work in partnership with countries where these animals live and roam and other nations to shut down the illegal trade in wildlife products and to bring poachers and traffickers to justice."
The Council will advise and support the Presidential Task Force on Wildlife Trafficking as it creates a national strategy to stop poaching, combat trafficking, and reduce demand for illegal wildlife products. Of the eight members appointed to the Advisory Council, four are key conservation leaders, including the African Wildlife Foundation's CEO, Dr. Patrick Bergin.
"The killing of Africa's rhinos and elephants was once only a regional issue, but the growth of the illegal wildlife trade has made this a matter of global concern, and rightly so. It's estimated that more than 35,000 African elephants were killed last year from poaching, and Africa is on track to lose more than 900 rhinos this year," said Bergin. "If governments, conservation groups, and international bodies do not all work together to combat this horrific slaughter, the world could see the loss of these two iconic species within our lifetime."   
In addition, beyond the threat to species' survival, wildlife trafficking threatens economic stability, peace efforts, and security interests, and endangers the lives of park rangers and others protecting the world's fauna and flora, a point underscored by Former U.S. Secretary of State Hillary Clinton in her remarks at the event.
"Illegal poaching and trafficking also represent an economic and security challenge in Africa and beyond," Clinton said. "Wildlife trafficking has become more organized, more lucrative, and more dangerous than ever before. Poachers now use helicopters, automatic weapons, night vision goggles, satellite phones to overwhelm and even murder park rangers and other local authorities."
With more than 25 years' experience in Africa, including six years working with Tanzania National Parks, Bergin acknowledges the necessity of working with local communities in addressing conservation challenges like the illegal wildlife trade.
"No solution is ever going to be sustainable if it doesn't involve the full faith and support of the local community where the problem resides," said Bergin. "That's why AWF's conservation approach works. Once we have identified a landscape with high biodiversity value and which we estimate could benefit significantly from conservation actions, we immediately engage stakeholders on the ground, including and most often local communities, who can help us achieve our conservation objectives."
For more than 52 years, AWF has been engaged in groundbreaking work throughout Africa to conserve some of the world's most magnificent and rare species while also achieving the collaboration, participation, and buy-in from local communities most impacted by wildlife. AWF's commitment to both the wildlife and people of Africa was commended by Clinton Foundation Vice Chair Chelsea Clinton, who recently returned from Africa where she visited two AWF projects in Zambia with AWF CEO Patrick Bergin.
"Elephant populations across Africa are declining rapidly due to poaching and we need new approaches to stop the killing," said Clinton after the White House event. "AWF's inventive work to support schools and establish community enterprise projects signifies a long-term commitment that benefits local communities and wildlife, for today and the future." 
Zambia, along with Zimbabwe, Botswana, and Namibia, hosts the largest population of elephants in Africa and has been a focus of AWF's conservation and community development work for nearly 10 years. Currently tens of thousands of elephants are lost every year—an estimated 96 elephants per day—as a result of the illegal ivory trade. To bring attention to this issue, Secretary Jewell announced that the U.S. Fish and Wildlife Service would orchestrate an ivory "crush" on October 8, when the agency will destroy approximately six tons of elephant ivory seized by special agents and wildlife inspectors for violations of U.S. wildlife laws.  
"Rising demand for ivory is fueling a renewed and horrific slaughter of elephants in Africa, threatening remaining populations across the continent," Jewell said. "We will continue to work aggressively with the Departments of Justice and State, as well as with international law enforcement agencies, to disrupt and prosecute criminals who traffic in ivory, and we encourage other nations to join us in that effort."
# # #
About African Wildlife Foundation
Founded in 1961, the African Wildlife Foundation (AWF) is a leading conservation organization focused solely on the African continent. AWF's programs and conservation strategies are based on sound science and designed to protect both the wild lands and wildlife of Africa and ensure a more sustainable future for Africa's people. Since its inception, AWF has protected endangered species and land, promoted conservation enterprises that benefit local African communities, and trained hundreds of African nationals in conservation—all to ensure the survival of Africa's unparalleled wildlife heritage. AWF is a nonprofit organization headquartered in Kenya and registered as a 501(c)(3) in the United States. For more information, visit: www.awf.org